US Navy Deploys 2 Combat Ships To South China Sea: Show Of Force Or Global Marketing Stunt?
USS Gabrielle Giffords and USS Montgomery under way in the South China Sea
A military commentator calls it an advertising campaign to sell ships to allies
U.S. Navy continues to oppose China's expansive claims in the South China Sea
Things are heating up in the South China Sea as the United States Navy has deployed two of its newest ships to the region. This signifies a very specific show of force to China, which continues to assert expansive claims to the waters of the region despite the fact that these claims are opposed by several other nations.
The USS Gabrielle Giffords and USS Montgomery are both under way in the South China Sea.
The Navy ships are not there to conduct any particular offense of operations, but they are fully prepared to respond to any situation that might arise. According to a report by Business Insider, the Navy ships are there to enforce international law and allow for safe passage of any and all shipping in the region.
China has been building military outposts and full air bases on artificial islands in the area, bolstering its military presence and generally making the area intimidating for ships from other nations. The U.S. Navy directly opposes these actions by China, which pretty much amount to bullying.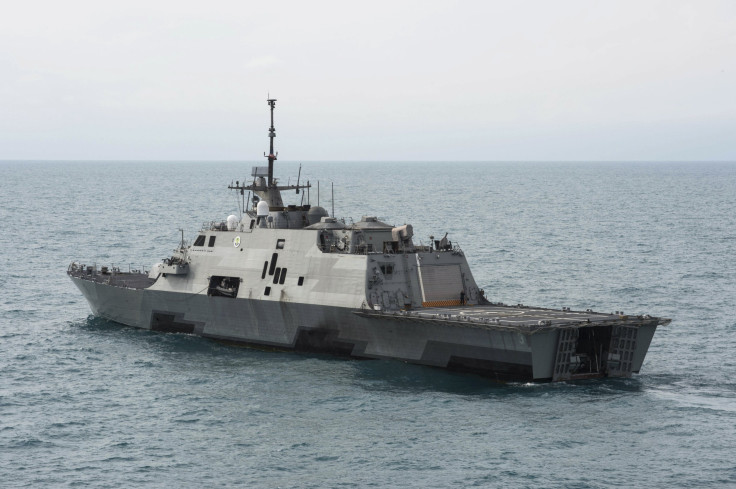 The two Independence-class littoral combat ships specialize in nearshore operations, with a hull design that allows them to travel in extremely shallow waters at an astonishingly high rate of speed -- up to a reported 50 knots. This makes them a perfect platform for ship-to-ship interdiction operations.
These ships are not very popular with the U.S. Navy, and a simulation exercise in 2013 found them underarmed and underprotected when going against the Chinese warships they were pitted against. A Hong Kong-based military affairs commentator, Song Zhongping, has told the Business Insider that this might be an advertising campaign for the United States to market this class of ship to its allies in the vicinity. He claimed that the ships did not pose a serious threat to China because they are "fragile" and that China could easily respond to them by stepping up patrols with aircraft or deploying an aircraft carrier in the region, maybe even use anti-ship missiles.
The political situation with China has been deteriorating for quite some time as even a partial trade deal cannot be agreed upon by the U.S. and China. Various countries in the South China Sea region with competing territorial claims have responded variously to China's strong-arm tactics: Vietnam has been the most aggressive, deploying its Coast Guard ships against Chinese ones, leading to tense months-long standoffs; Philippines has swung between angry words and tacit agreement to Chinese claims, even agreeing to shared oil exploration deals with the Asian giant.
Recently, China warned the United States against "flexing muscles" in the region, as the United States continues to sail battleships through the sea to assert freedom-of-navigation rights. It is highly unlikely that there will be any preemptive military action but the U.S military will keep its presence in the area, and they are in fact encouraging other nations to assert their claims to the same waters.
© Copyright IBTimes 2023. All rights reserved.