U.S. Navy Yard Shooting: Police Searching For Gunman After Shots Fired, Police Say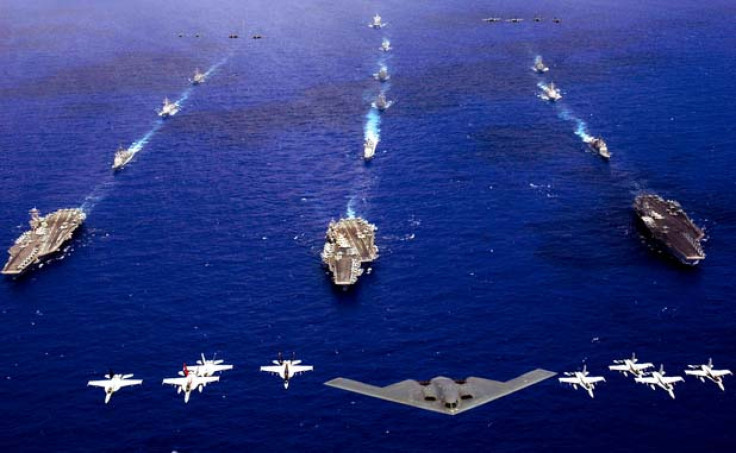 UPDATE 4:31 p.m. EDT: D.C. officials have updated the number of people killed in the attack to at least 13.
UPDATE 3:22 p.m. EDT: Several law enforcement officials have identified the deceased suspect as Aaron Alexis, a 34-year-old from Texas.
UPDATE 3:06 p.m. EDT: The U.S. Navy has issued an order to account for all uniformed Navy personnel stationed in the D.C. metropolitan area.
UPDATE 2:17 p.m. EDT: D.C. Police have raised the number of dead to at least 12, but still have yet to confirm the number of shooters. Cathy Lanier said that "Right now, we have multiple pieces of information that would suggest we have at least two other individuals seen with firearms."
Lanier also said that from this point forward the FBI would be taking over the investigation.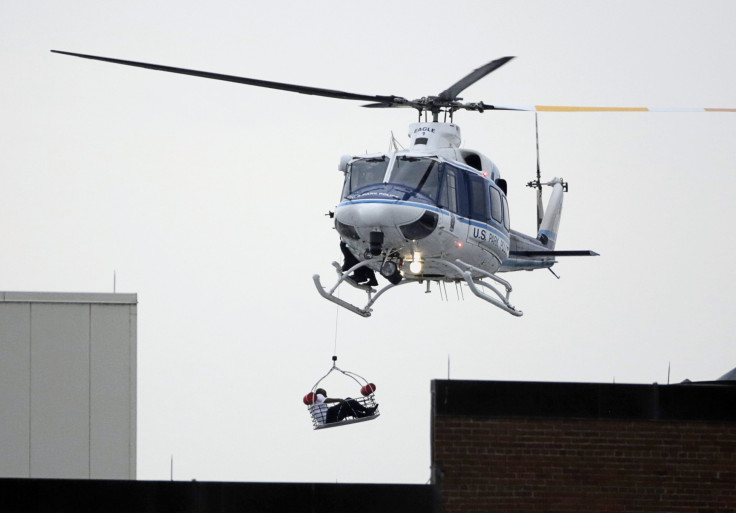 UPDATE 1:35 p.m. EDT: Authorities have updated the number of fatalities at the Washington Navy Yard to at least 7, but none of the dead have yet to be identified. Cathy Lanier, Chief of Police, said that although one of the suspected shooters had been killed, "We potentially have two other shooters that we have not located at this point."
UPDATE 1:15 p.m. EDT: CBS and NBC retracted a report incorrectly identifying one of the shooters. Pete Williams of NBC said that the misidentification came from an ID card that was found at the scene.

UPDATE 12:36 p.m. EDT:
- 12 shot
- 6 dead
- Shooter dead
- 1 officer dead
- 2 outstanding shooters may be wearing military uniforms.
Obama addressed the Navy Yard Shootings in his live address on the financial crisis, calling it a "cowardly act," and pledging that the responsible individuals would be held accountable.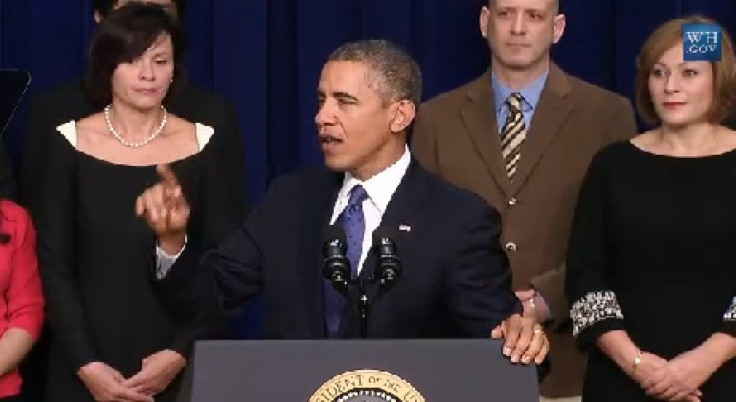 UPDATE 12:12 p.m. EDT: According to the Associated Press, Navy officials say that at least six people have died at the Navy Yard. Capitol Police spokeswoman Lt. Kimberly Schneider told reporters in an e-mail that the U.S. Capitol complex is not under threat, but that "enhanced security measures may be visible & observed as the USCP continues to concentrate our assets on the Capitol Grounds."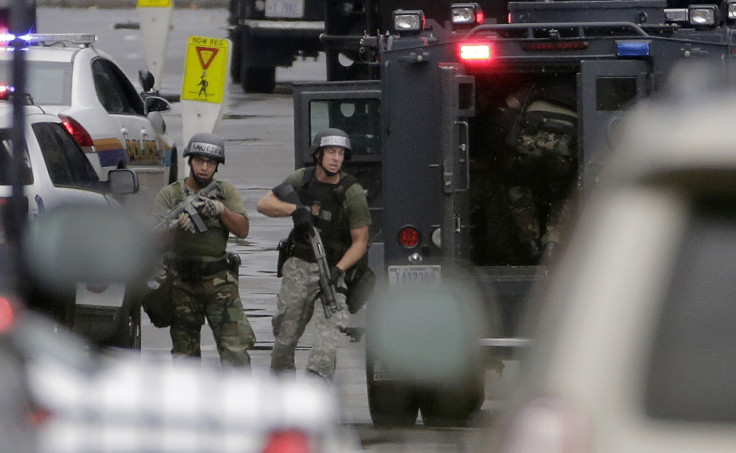 UPDATE 11:46 a.m. EDT: The Associated Press has reported that a shooter has died at the Washington Navy Yard, according to a federal law enforcement official.
UPDATE 11:38 a.m. EDT: In a news conference, a spokeswoman for the Washington Hospital Center said that the hospital was treating three gunshot victims, including at least one metropolitan police officer, and two civilians, and hospital staff were "told to expect more." The victims included one man and two women; the man had a leg wound, while the two women had gunshot wounds to the shoulder, and the head and hand respectively. The spokeswoman described the crisis as a "fluid situation," and said: "I would tell you from the reports of the victims, [the weapon] had to be a semiautomatic. Because they're talking about gunshots that they heard in rapid succession."
UPDATE 11:09 a.m. EDT: Steve Taubenkibel, a communications manager at George Washington University Hospital, confirmed to the Washington Post that at least one victim had been transported to the hospital from the Navy Yard by helicopter. He said he could not comment on the victim's condition.
UPDATE 11:01 a.m. EDT: Police now believe there may be two shooters involved, at least one of whom is reportedly "down."
View live video of the Navy Yard from Post TV
UPDATE 10:49 a.m. EDT: Rob Yingling, a spokesman for the Metropolitan Washington Airports Authority, said that the FAA lifted a ground stop on all flights at Reagan National Airport just after 10 a.m. The organization cautioned that there would likely be "residual delays as we return to normal operations." Roughly 30 flights were affected by the 30-minute hold.
UPDATE 10:35 a.m. EDT: Four people have reportedly been killed in the ongoing shooting rampage, according to U.S. Navy spokesman Ed Buclatin.
UPDATE 10:20 a.m. EDT: Police say that three shooters are involved in a shooting incident that has already injured 10 people, including two police officers and eight civilians, at the Washington Navy Yard since 8:20 a.m. this morning. The U.S. Navy confirmed reports of multiple fatalities in a tweet.
D.C. police and FBI officials are still searching for two active shooters -- one is reportedly "down" -- and have said that at least one is dressed in fatigues and one is carrying a long rifle. Police have closed several streets near the Washington Navy Yard and all flights at Reagan National Airport are currently being held.
In a statement released Monday morning, the White House said: "The President has been briefed several times about the unfolding situation at the Washington Navy Yard by Assistant to the President for Homeland Security and Counterterrorism Lisa Monaco and Deputy Chief of Staff Alyssa Mastromanaco. The president directed his team to stay in touch with our federal partners, including the Navy and FBI, as well as the local officials. We urge citizens to listen to the authorities and follow directions from the first responders on site."
A D.C. police officer was reportedly among the victims, although the officer has not been identified, the Washington Post reported. A base officer was also shot. According to the Associated Press, FBI and local police have confirmed that a gunman was reported to be inside the Naval Sea Systems Command Headquarters (Bldg. 197). The U.S. Navy broke the news on its Twitter account Monday morning, writing that three shots had been fired, and confirming that there was at least one injury.
The U.S. Navy also reported on Twitter that they were searching for a gunman, and that a "shelter in place" order had been issued to all personnel at the facility.
The Navy Yard writes on its website that it is the Navy's oldest shore establishment. In addition to housing the headquarters for the Naval Historical Center, it is also the base for the chief of naval operations and employs roughly 3,000 people.
In a release issued Monday morning, the Navy said that the organization has an annual fiscal budget of almost $30 billion, which accounts for one-quarter of the Navy's entire budget.
© Copyright IBTimes 2023. All rights reserved.