U.S. New Auto Sales January 2014: GM Sales Fell Almost 12% While Nissan Jumped Almost 12%; Five Of The 'Big 8' Global Automakers Saw Declines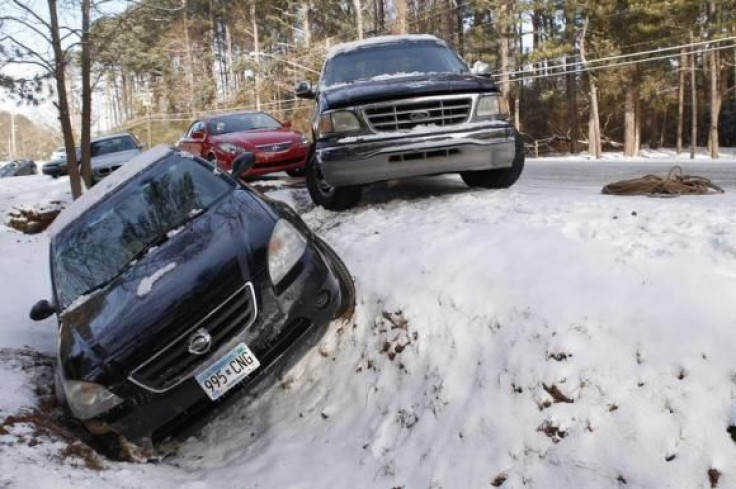 NOTE: Click here for a summary of the "Big 8" automakers' U.S. new-auto sales results for January.
The story of January U.S. auto sales performance is largely a tale of weather. As expected, the winter blast that covered much of the country for many days hit new-auto sales in a month that traditionally sees the softest dealership foot traffic of the year. What was unexpected was the extent of the effect.
"This is definitely lower than expected, and people hate when other people blame things on weather, but I think we really did see some pronounced patterns," said Jessica Caldwell, senior autos analyst for auto information and pricing provider Edmunds.com. "Looking at our transaction data during that time period [the cold wave that struck just after New Year's], we saw our transaction data look really, really low. Sales were brought to a near-halt in affected areas. The bright side was that when temperatures went up we saw a makeup of those lost sales."
But then another cold front struck toward the end of the month, sending icy conditions into the Deep South (ice was seen as far south as palmy and balmy New Orleans) that kept customers away in large portions of the country.
Edmunds.com estimated Monday afternoon that U.S. auto sales came in a 1,010,000 units, a 3 percent drop from January 2013. That's roughly 40,000 fewer sales than many analysts expected and about 130,000 fewer units than January 2006, in which sales hit a 10-year-high of 1.14 million vehicles. The seasonally adjusted annualized rate (SAAR) came in below forecasts at between 15.1 million and 15.2 million.
General Motors (NYSE:GM) saw the most pronounced decline among the high-volume sellers. (Volkswagen sales dropped more by percentage, but GM sells about seven times more units in the U.S. than its German competitor.) North America's largest automaker by sales volume saw a nearly 12 percent drop in volume, in part due to its reluctance to boost incentive spending, where it typically leads the pack.
"Although GM saw broad declines across their product portfolio in January, they enjoyed a 2.1 percent increase in average transaction prices," said Alec Gutierrez, senior analyst for auto pricing and information provider Kelley Blue Book. "With transaction prices up and incentive spend on trucks down, GM is pursuing profitability rather than volume, a strategy that will benefit their resale values in the long term."
But so far nobody seems too concerned about how January might affect sales later this year. Both Ford and GM have higher-than-desirable inventories that they expect to sell down as the first quarter continues.
The Purchasing Managers' Index – a measurement of what companies are buying that gauges sentiments among producers of goods – shows a decline in orders, but pointed to the weather as the main driver of the decline.
The University of Michigan consumer confidence reading for January declined slightly, thanks to more negative sentiments from households with incomes of less than $75,000 a year, but households at all income levels reported improvements in personal finances compared to this time last year.
"As we look into 2014, we do see a continued improving trend in the incoming indicators and some indications that growth this year could be better than the first estimate of 1.9 percent [U.S. new-auto sales] growth rate for the full year 2013," Emily Kolinski Morris, Ford's senior economist, said during a conference call on Monday.
© Copyright IBTimes 2023. All rights reserved.
FOLLOW MORE IBT NEWS ON THE BELOW CHANNELS