US Oil Trains' Routes Should Remain Secret, Railroad Company Argues In Lawsuit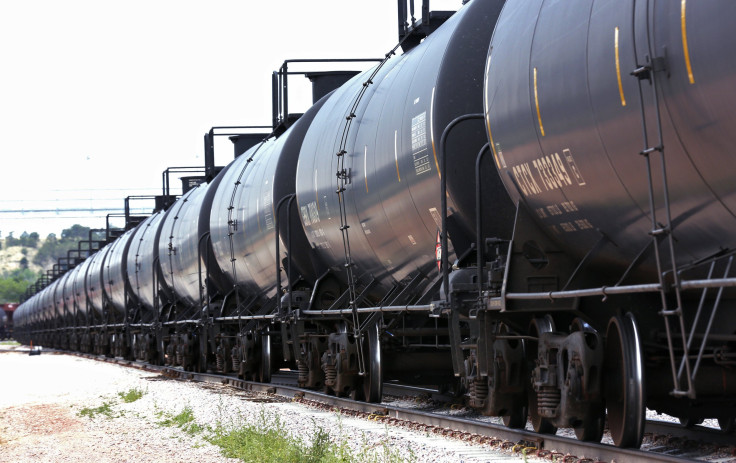 A major rail company is suing Maryland to block national media organizations from learning about crude oil shipments through the state, and another railroad may soon file such a lawsuit. The privacy tussle comes as regulators ramp up their scrutiny of the industry amid rising concerns about crude oil train derailments and spills.
Norfolk Southern Corp. (NYSE: NSC), an eastern rail company from Norfolk, Va., filed a lawsuit in a Baltimore City court this week to stop the public release of information about the shipments. Two weeks earlier, the publishing company McClatchy Co. (NYSE: MNI) and the Associated Press had filed state Public Information Act requests, which Maryland officials indicated they would fulfill, McClatchy's Washington bureau reported.
A similar lawsuit from CSX Corp. (NYSE: CSX), a rival eastern rail company, is reportedly likely to also file suit in Maryland.
While railcars have moved crude oil in the past, shipments are reaching unprecedented levels amid the oil boom in North Dakota's Bakken shale region. The area lacks sufficient pipeline infrastructure, forcing oil companies to move supplies via rail tankers instead of underground. Last year 415,000 rail-carloads of crude moved through the United States, compared to just 9,500 loads in 2008, according to a new report by the U.S. Department of Transportation (DOT).
The uptick in rail activity has led to a spate of derailments and several serious oil accidents. In July 2013, an oil train in Lac-Megantic, Quebec, exploded and killed 47 people. Most recently, an oil-carrying freight train in May derailed in Lynchburg, Va., and spilled 30,000 gallons of oil into the James River.
In response, the DOT has pushed to improve the safety of rail tankers carrying hazardous materials. On Wednesday, the department proposed rules that include phasing out older and more vulnerable cars and replacing them with stronger cars, reducing operating speeds and upgrading braking systems. And in May, the DOT issued an emergency order requiring rail companies to alert state emergency management officials about shipments of 1 million gallons or more of crude rail shipments within state borders. The notifications were meant to help fire departments better prepare for potential derailments, McClatchy reported.
Rail companies asked state officials to sign confidentiality agreements, arguing that sharing the data with the public could threaten security and market share. The DOT found that no federal law protects the information from public disclosure, and several states – including California, Washington, Illinois and Florida – have fulfilled open records requests, McClatchy noted.
The Norfolk Southern lawsuit appears to be the first time a rail company has gone to court to keep the information confidential.
© Copyright IBTimes 2023. All rights reserved.
FOLLOW MORE IBT NEWS ON THE BELOW CHANNELS