Bakken Crude Oil Rail Shipments Concern Federal Regulators: What Rail Shippers Want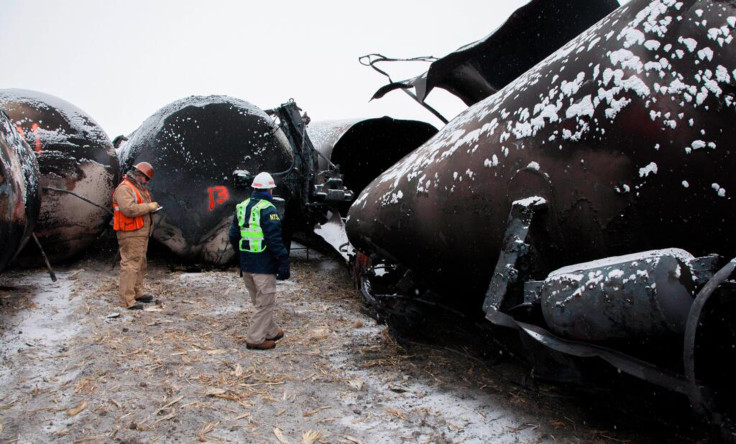 Crude oil and rail industries, as well as U.S. federal regulators, are discussing ways to make rail shipments of crude oil safer, in light of recent derailments and subsequent explosions near North American communities.
A train derailment and explosion July 6 in Lac-Mégantic, Quebec, Canada, that killed 47 people was viewed as a fluke. But an oil train derailment and explosion in Alabama four months later and another such incident in December in North Dakota made local officials in the affected towns apprehensive about crude passage, the Wall Street Journal reported.
Regulators are looking into the specific type of oil involved in the three major explosions, extracted from the Bakken formation located in northwest North Dakota and parts of Montana. Crude oil is not usually explosive before it is refined, but officials say Bakken crude is highly combustible and also corrosive to current rail tankers.
Currently, investigators haven't determined the exact composition of the Bakken crude, but they say it may contain high levels of combustible gases such as butane and propane.
The U.S. Transportation Department, along with oil and rail representatives, brokered a deal that would improve oil-by-rail shipments from North Dakota.
The rail industry agreed to look at rerouting trains around high risk areas in the next 30 days and work on speed-reduction plans in densely populated areas.
The petroleum industry agreed to give information on the kind of crude oil they are putting on rail-tankers and give recommendations on changing tank-car standards within 30 days.
The agreement follows the Association of American Railroads (AAR) calling on the U.S. Department of Transportation (DOT) to tighten federal tank car regulations for petroleum product shipments and said 85 percent of tank cars currently in North American service are unsafe.
In November the AAR suggested retrofitting or phasing out current tanker cars and urged stricter standards for new cars being built.
"We believe it's time for a thorough review of the U.S. tank car fleet that moves flammable liquids, particularly considering the recent increase in crude oil traffic," Edward R. Hamberger, the AAR president and CEO, said. "Our goal is to ensure that what we move, and how we move it, is done as safely as possible."
Here is a look at what AAR is recommending to the Pipeline and Hazardous Materials Safety Administration.
• Increase federal tank-car design standards for new cars to include an outer steel jacket around the tank car and thermal protection, full-height head shields and high-flow-capacity pressure relief valves.
• Require additional safety upgrades to tank cars built since October 2011, when the rail industry instituted its latest design standards that today exceed federal requirements, including installation of high-flow-capacity relief valves and design modifications to prevent bottom outlets from opening in the case of an accident.
• Aggressively phase out older-model tank cars used to move flammable liquids that are not retrofitted to meet new federal requirements.
• Eliminate the current option for rail shippers to classify a flammable liquid with a flash point between 100 and 140 degrees Fahrenheit as a combustible liquid.
In September the DOT granted millions of dollars to 50 states to train and improve the nation's response to hazardous materials transportation incidents.
"Hazardous materials are transported throughout our nation every day, and most shipments arrive without incident," said Anthony Foxx, secretary of the DOT, in a statement. "But we have to be prepared for those rare instances when something goes wrong, and these grants do just that, by funding training and drills for our first responders so they can protect our families and communities."
Since 1993 more than 2.8 million emergency responders across the country have received training assistance using Hazardous Materials Emergency Preparedness grants.
The grants from the U.S. DOT's Pipeline and Hazardous Materials Safety Administration are funded by annual user fees paid by shippers and carriers of certain types of hazardous materials.
© Copyright IBTimes 2023. All rights reserved.
FOLLOW MORE IBT NEWS ON THE BELOW CHANNELS