US Ready To Send Advisers, Helicopters To Help Retake Ramadi, Iraq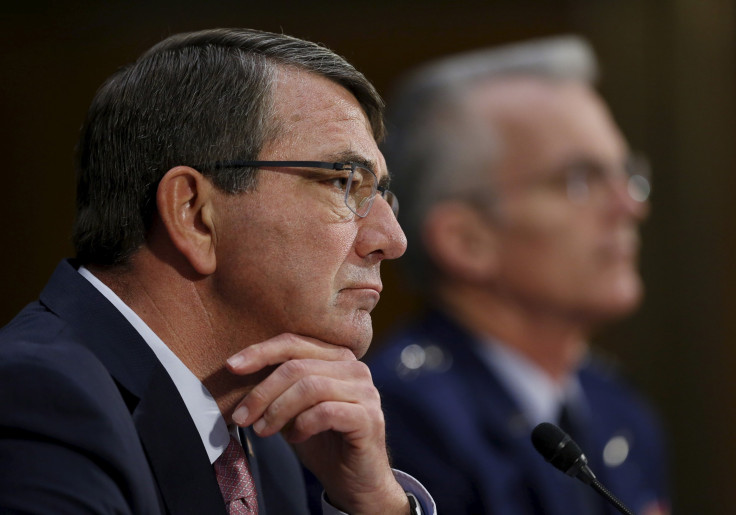 By Phil Stewart and Yeganeh Torbati
WASHINGTON (Reuters) -- The United States is prepared to deploy advisers and attack helicopters if requested by Iraq to help it "finish the job" of retaking the city of Ramadi from Islamic State, U.S. Defense Secretary Ash Carter said on Wednesday.
Carter's remarks were the latest sign of U.S. preparations to intensify its military campaign against the group, which controls wide swaths of Iraq and Syria and has orchestrated and inspired attacks abroad.
Islamic State captured Ramadi, a provincial capital just a short drive west of Baghdad, in May in its biggest conquest since last year. Retaking it would be a major victory for Iraqi Prime Minister Haider al-Abadi.
Carter, speaking at a Senate Armed Services Committee hearing, said it has taken a "frustratingly long time" for Iraqi security forces to claw back territory.
But he pointed to significant gains, including recapturing the Anbar Operations Center on the northern bank of the Euphrates River in the past 24 hours.
"The United States is prepared to assist the Iraqi Army with additional unique capabilities to help them finish the job, including attack helicopters and accompanying advisers, if circumstances dictate and if requested by Prime Minister Abadi," Carter said.
A U.S. defense official, speaking to Reuters on condition of anonymity, said the U.S. advisers would be prepared to provide advice to Iraqi security forces on how to move through the center of Ramadi over the next several weeks.
The White House cautioned later on Wednesday that President Barack Obama had not yet approved the use of the helicopters, and that Abadi would first have to request such support.
"Any decision like this would only come at the request of Prime Minister Abadi, and after explicit sign-off from the president of the United States," said White House spokesman Josh Earnest. "And that sign-off has not been given at this point."
Earnest noted that Iraqi security forces are making "modest progress" in retaking the city on their own.
For Obama, who is deeply averse to being dragged into another Middle East ground war, deployment of advisers and use of attack helicopters would both be examples of an increased willingness to expose U.S. troops to risk.
Reuters has previously reported on the possible deployment of Apache attack helicopters, and U.S. forces to operate them, to bolster Iraq's fight against the group.
Obama is under mounting pressure to escalate America's military role in Iraq and Syria, particularly after the Nov. 13 assaults in Paris that killed 130 people, claimed by Islamic State, and last week's paramilitary-style attack in California by a couple believed by authorities to have been inspired by Islamist militancy.
"These attacks make it clear that ISIL's threat against our homeland is real, direct, and growing, that we are not winning this war and that time is not on our side," said Senator John McCain, the Republican chairman of the Senate committee, using an acronym for Islamic State.
ROLE FOR SUNNI ALLIES
Carter acknowledged a missing element in the campaign: a more assertive role by Sunni Arab allies from the Gulf in the effort against Islamic State, a Sunni extremist group.
He said the United States had spoken to Gulf Cooperation Council leaders at a Camp David summit in the spring about creating a "Sunni Arab combined force" to help in the fight.
"That has not materialized among them," Carter said.
He suggested Sunni forces might not need to occupy territory but instead work at "enabling local forces."
That's a strategy that the United States moved decisively toward in October, when it announced it would send dozens of special operations forces to Syria to coordinate with rebels.
The United States last week announced plans to deploy elite American military teams to Iraq to conduct raids against Islamic State there and in neighboring Syria.
Carter told the Senate hearing that he was in touch with coalition partners to ask them to contribute special operations forces, including from the Gulf. The United States also sought other capabilities, like strike and spy aircraft, weapons and munitions.
"I too wish that particularly the Sunni Arab nations of the Gulf would do more," Carter said.
(Reporting by Phil Stewart and Yeganeh Torbati; Editing by David Alexander, Frances Kerry, Alistair Bell and Jonathan Oatis)
© Copyright Thomson Reuters 2023. All rights reserved.