US Reinforces East Asia Ballistic Missile Defense As Trump-Kim Summit Nears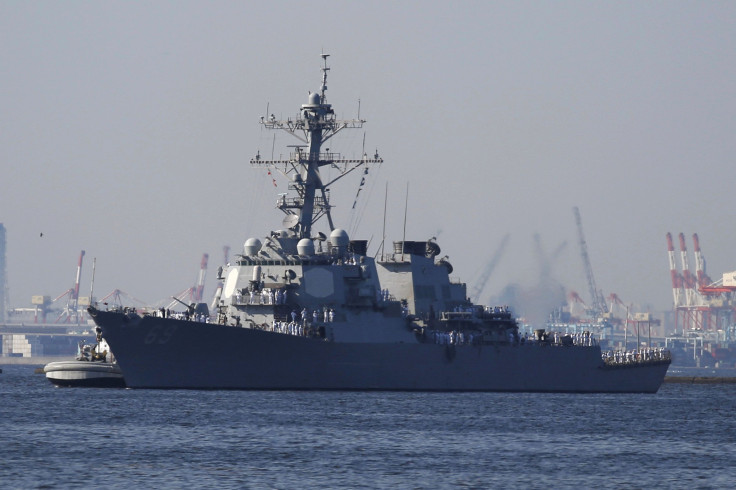 The USS Milius, one of the United States Navy's most advanced guided missile destroyers, arrived in Japan on Tuesday to reinforce defenses against any ballistic missile attacks by North Korea, or anyone else in East Asia.
The warship's arrival at Yokosuka Naval Base comes three weeks before an unprecedented meeting is supposed to take place in Singapore between President Donald Trump and North Korean leader Kim Jong Un.
The show of force is a reminder of the military pressure that can be brought to bear on North Korea as the United States seeks to press it to abandon its nuclear weapons and its ballistic missile program.
The Milius will "support security and stability in the Indo-Pacific region by bringing enhanced missile defense capabilities as a ballistic missile defense platform," the U.S. Navy said in a statement.
The Milius's dockside welcome in Yokosuka, which is the headquarters of the U.S. Seventh Fleet, comes after doubts emerged last week over whether the Trump-Kim meeting will go ahead.
North Korea said it was reconsidering the summit after calling off separate talks with South Korea in a protest over U.S.-South Korean air combat drills known as Max Thunder.
North Korea said it would walk away from dialogue if the United States insisted on it unilaterally abandoning its nuclear arsenal, which it says it needs to defend itself against U.S. aggression.
Trump has and warned that failure to reach a denuclearisation agreement could lead to "decimation" of Kim's rule.
The deployment of the Milius to Japan was delayed by almost a year so it could undergo upgrades to its Aegis air defense system to enhance its ability to detect and target missiles.
Armed with missiles designed to shoot down warheads in space, the Milius will be part of a naval destroyer force that would be the first U.S. line of defense against any long-range ballistic missiles fired at it by North Korea.
It joins two other ships in the Seventh Fleet with similar upgrades and brings the fleet's destroyer unit back to full strength after two other U.S. warships in the region were crippled in collisions with commercial ships last year.
© Copyright Thomson Reuters 2023. All rights reserved.