US Retail Sales Rise 0.3% In May, Showing Consumer Spending Is Holding Up - IBT Graphics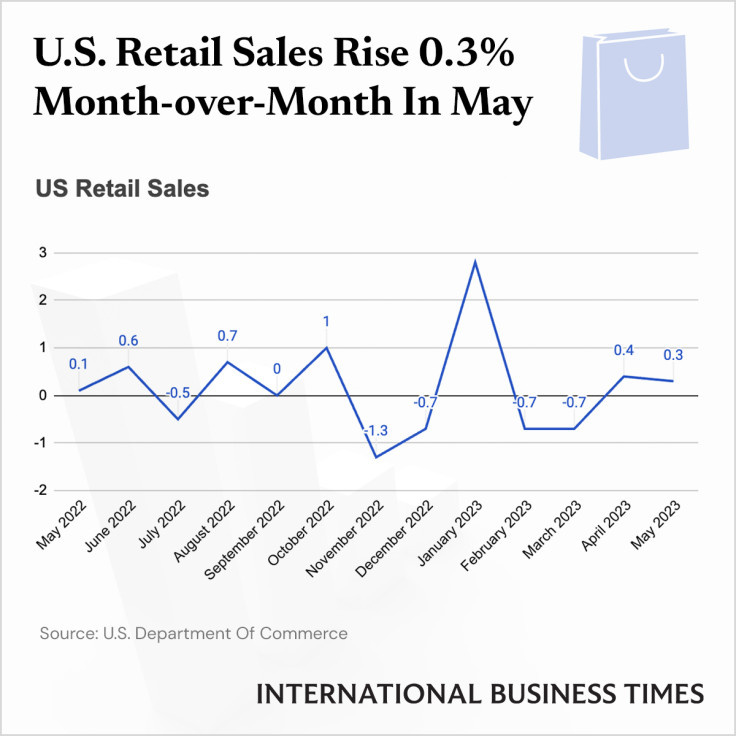 Retail sales in the U.S. rose 0.3% in May to $686.1 billion, even as analysts were expecting a 0.1% decline. The surprise data indicates that consumer spending has remained resilient despite an elevated inflation rate and the headwinds in the economy. Construction materials and garden equipment rose 2.2% while motor vehicles and parts rose 1.4%. Sales at gasoline stations declined 2.6%.
The retail sales report, by the U.S. Census Bureau of the Department of Commerce, provides an aggregated measure of the sale of retail goods and services across the United States over a period of a month.
In April, retail sales rose 0.4% month-on-month from March when it was down 0.7%. This was the first increase in retail sales since January when a major surge in Social Security benefits catalyzed spending.
Online retail sales increased by 1.2%, with price-conscious consumers looking for discounts and deals. Sales at food services and drinking places, the only services category in the retail sales report, also grew 0.6%.
© Copyright IBTimes 2023. All rights reserved.