US Says Bangladesh Factory Safety Is Shared Burden Of Western Brands, Country's Industry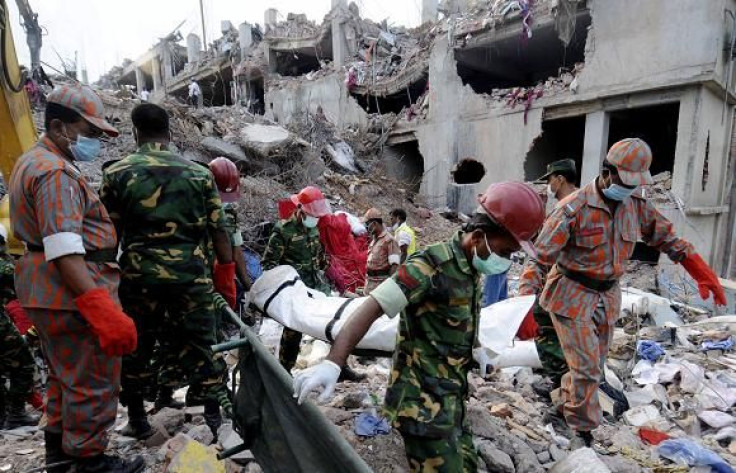 The U.S. is urging garment industry buyers around the world to ensure the safety and security of Bangladesh's garment workers. It's also insisting that the burden for improving safety lies mostly with Bangladesh.
Wendy Sherman, the U.S. Under Secretary for Political Affairs, said in a news conference in the Bangladeshi capital on Monday that Western brands in particular have a "critical role" to play in improving conditions in the textile production sector.
"We are encouraging international investors not to turn their backs on Bangladesh, because the solution is reform, not withdrawal," Sherman said. However, she stressed that the United States' position is that the burden of worker safety lies mostly with Bangladesh's government and industry, which must change the country's attitude toward workplace safety and workers' rights.
"I cannot presume to tell the people of Bangladesh or your leaders what issues demand attention, what wrongs must be righted, or what approach your country must take as it faces the grave challenges of the future," said Sherman. "In Bangladesh, as in any democracy, this is for the people alone to decide."
Some Western retailers and brands are reassessing safety risks at Bangladesh's thousands of garment factories following multiple fatal incidents at factories, including the April 24 collapse of the Rana Plaza building outside Dhaka that killed 1,130 people. That incident focused global attention on the industry's safety standards.
International workers' associations such as Swiss-based UNI and IndustriALL Global Union have pressured Western retailers to sign a legally binding agreement that would commit them to various obligations, including independent building and fire safety inspections.
While major European brands such as H&M Company Inc.; Zara; Marks & Spencer; and major supermarket buyers have signed the agreement, U.S. groups like Wal-Mart Stores Inc. (NYSE:WMT) and The Gap Inc. (NYSE:GPS) have refused because of disagreements over their legal liability. Japan's popular Uniqlo brand, a big customer for Bangladeshi factories, is the latest company to refuse to sign the pact, according to the International Herald Tribune.
"We will continue to work in every way to get the buyers to come to the table and every appropriate way to play the part that they must play for a sustainable solution," Sherman said.
Worker safety rules present challenges to Bangladeshi factories because the industry lacks sufficient safety rules, safe equipment and trained building inspectors. In addition, there is widespread concern about corruption in Bangladesh. Sherman addressed these issues by announcing that a number of engineers and architects in the United States who emigrated from Bangladesh have agreed to recruit independent safety inspectors.
Sherman added that the U.S. is funding labor and civil society organizations that promote workers' rights and workers' freedom to join trade unions. These efforts are designed to help secure those organizations' support for better safety inspections and practices.
© Copyright IBTimes 2023. All rights reserved.