US To Send More Troops To Join Annual Military Drill With South Korea In March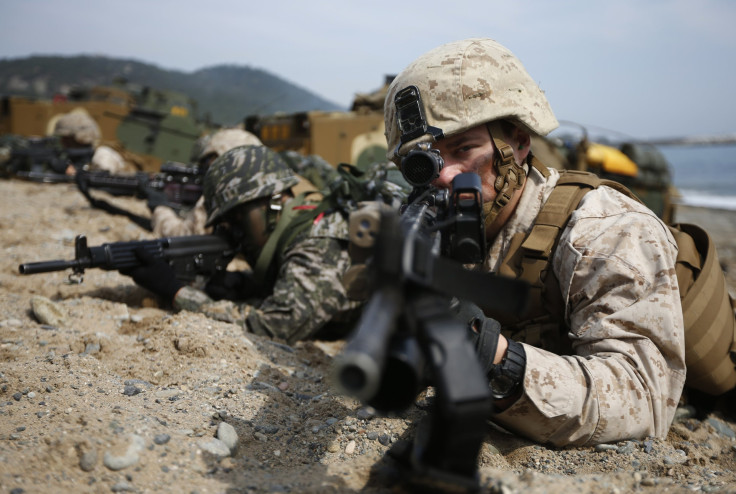 The U.S. government will send more troops to South Korea to participate in an annual joint military drill scheduled for March, Seoul's defense ministry announced Monday, adding that the number of U.S. soldiers joining the military exercises would be larger than that of the previous year.
Both countries are set to stage the drills -- a computerized command post exercise (Key Resolve) and a field training exercise (Foal Eagle) -- in early March in order to enhance troops' combat readiness while also improving coordination between the two countries' military forces, South Korea's Yonhap News Agency reported.
"As for the Key Resolve and Foal Eagle exercises, the total number of the U.S. service members will be slightly larger than the previous year," a defense ministry spokesperson was quoted by Yonhap as saying. "Fewer soldiers will take part in the Foal Eagle drill, while more will be mobilized for Key Resolve."
In 2014, the U.S. sent about 5,200 troops for a two-week Key Resolve drill and about 7,500 troops for the Foal Eagle exercise with South Korea. The number of South Korean troops were 10,000 and 200,000 for Key Resolve and Foal Eagle exercises, respectively.
Last week, about 200 South Korean troops and 20 American military personnel conducted a small joint maritime drill near Ganghwa Island in the Yellow Sea, close to the North Korean coast. This was the first time that the two countries had carried out a drill in the region bordering the reclusive North.
"The bigger emphasis on the CPX [command post exercise] indicates that the allies need more time to analyze and review diverse scenarios for North Korea's provocations as the communist country has come up with evolving tactics, including hacking attacks," a military officer in Seoul told Yonhap.
North Korea said last month it was willing to call off nuclear tests if the U.S. agreed to cancel its annual drills with the South. But, the U.S. government rejected the proposal and urged Pyongyang to "immediately cease all threats … and take the necessary steps toward denuclearization needed to resume credible negotiations," Reuters reported.
© Copyright IBTimes 2023. All rights reserved.