US Stock Futures Point To Flat Open Ahead Of Consumer Sentiment Index, Corporate Earnings, GDP Data, FOMC Minutes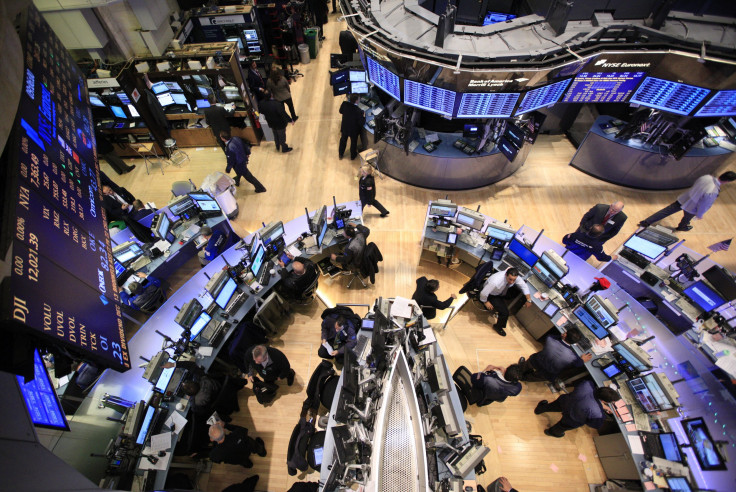 U.S. stocks could open flat on Tuesday, going by the direction futures have taken ahead of the publication of a consumer confidence report and the S&P/Case-Shiller house price index later in the day, even as investors keep an eye out for GDP data and the outcome of the two-day meeting of the Federal Open Market Committee, or FOMC, on Wednesday.
Futures on the Dow Jones Industrial Average were up 0.06 percent, while futures on the Standard & Poor's 500 Index were up 0.05 percent and those on the Nasdaq 100 Index were up 0.15 percent.
Investors will await the outcome of the FOMC's two-day policy meeting, which is scheduled to start on Tuesday. Investors will closely watch for further hints on how long the Fed intends to continue its massive asset-purchase program when the committee is expected to release a statement at 2 p.m. EDT on Wednesday.
"Markets will be searching for clues about the future of QE3. There also are no forecast updates or a press conference at this meeting, so markets are likely to hang on every word change in the statement," economists at Bank of America-Merrill Lynch wrote in a report on Friday.
Although the Fed, in recent weeks, has assured markets that it will continue an accommodative monetary policy for now, analysts and some Fed officials believe that it cannot sustain its $85 billion-a-month bond-buying program for an indefinite period, and instead, it would choose to maintain low interest rates to support growth while winding down the asset-purchase program.
Meanwhile, GDP data for the second quarter is due to be released at 8.30 a.m. EDT on Wednesday and analysts polled by Reuters expect that the U.S. economy is likely to have slowed from an annualized 1.8 percent growth registered in the first three months of the year to 1.4 percent growth in the second quarter.
The GDP data will be closely watched by both the Federal Reserve and financial markets as the Fed has indicated that the future of the bond-buying program will depend on the strength of economic indicators.
"The Federal Reserve will no doubt read the GDP report for the second quarter with great interest," Chris Williamson, chief economist at Markit wrote in a research note.
Investors are also likely to focus on the Conference Board's Consumer Confidence report, which measures the level of consumer confidence in economic activity, scheduled to be released at 10 a.m. EDT. The index, which gained 7 points to reach 81.4 points in June is expected to decline marginally to 81 points in July.
The S&P/Case-Shiller House Price Index, which measures the change in the selling price of single-family homes in 20 metropolitan areas, is due to be released at 9 a.m. EDT. The index is expected to show a reading of 12.4 percent in May, up from the 12.1 percent recorded in the prior month.
On the earnings front, 3D Systems Corporation (NYSE: DDD), Aetna Inc. (NYSE: AET), Coach, Inc. (NYSE: COH), Corning Incorporated (NYSE: GLW), Occidental Petroleum Corporation (NYSE: OXY), Office Depot Inc (NYSE: ODP), Pfizer Inc. (NYSE: PFE), The Western Union Company (NYSE: WU), JetBlue Airways Corporation (Nasdaq: JBLU), Sprint Nextel Corp. (NYSE:S) and Merck & Co., Inc. (NYSE: MRK) will report their quarterly earnings before the market hours, while Amgen, Inc. (Nasdaq: AMGN) will report its quarterly earnings after market hours on Tuesday.
European markets gave up some of their gains after trading higher earlier on Tuesday when upbeat consumer confidence data from Germany boosted investor sentiment. The Stoxx Europe 600 index rose 0.04 percent, London's FTSE 100 was up 0.25 percent, Germany's DAX-30 was up 0.30 percent and France's CAC-40 was trading up 0.17 percent.
The market research institute GFK's forward-looking consumer sentiment index rose for the seventh-straight month to 7 points in August, from a 6.8 reading in July, according to data released on Tuesday. The index showed that the consumer sentiment was at a six-year high.
In Asia, most markets traded higher on Tuesday with Japan's Nikkei closing up 1.5 percent as the yen weakened against the dollar. In China, the Shanghai Composite index ended up 0.70 percent and Hong Kong's Hang Seng Index gained 0.48 percent. Australia's S&P/ASX 200 ended flat.
South Korea's KOSPI Composite index closed up 0.90 percent while India's BSE Sensex was trading down 1.15 percent in late-afternoon trade, after India's central bank, earlier on Tuesday, picked helping its rapidly depreciating currency over aiding anemic economic growth, and left key interest rates unchanged.
© Copyright IBTimes 2023. All rights reserved.