As US Troops Left Bagram At Dead Of Night Without Telling Afghans, Looters Took Over
KEY POINTS
US forces left Bagram Airfield without informing the base's Afghan commander
Millions of items were reportedly deserted, but the base's air hangars were locked
Many of the abandoned vehicles had no keys
American troops pulled out of the Bagram Air Base in Afghanistan that they occupied for two decades, but they reportedly did not inform the base's new Afghan commander, offering an opportunity for looters to move in as the base was left unguarded for some time.
The new commander of Bagram, Gen. Mir Asadullah Kohistani, said the Afghans had heard "some rumor" that American troops vacated the area but the news was confirmed only hours later, AP reported.
Afghan military officials said several looters had already ransacked barracks and storage tents when they arrived. The looters, who were initially thought to be Taliban members, were later evicted from the base by the Afghan troops.
The New York Post reported that after the American troops cut off electricity when they departed the base, looters entered the base through the north gate.
However, it appears that the looters were at the base only briefly as Afghanistan opened the airfield Monday, allowing the media to get a closer look at base activities following the exit of the American troops.
Photos from the Bagram base showed dozens of abandoned vehicles. Afghan security officials were also photographed examining facilities that housed the U.S. troops.
A senior Afghan government official told Reuters that the base is now "under our control," including radio equipment, a hospital, and watchtowers.
It appears that not all sections of the air base have been abandoned for Afghan forces to use – at least not immediately.
During CNN correspondent Anna Coren's tour of the site, it was found that air hangars were locked by the U.S. forces before their departure.
Many of the abandoned vehicles also had no keys. Small weapons and ammunition were left behind, but heavier weapons were taken along by the U.S. troops.
While it remains to be seen when the Afghan military will be allowed access to the locked hangars, Gen. Kohistani said the U.S. troops abandoned 3.5 million items that included energy beverages and bottles of water.
Three days after the U.S. left the Bagram Air Base, Afghan soldiers were spotted cleaning up the area, including emptied bottles left by looters. Scrap vendors have also started collecting unusable items.
The departure of U.S. forces comes at a time when the Taliban has stepped up its activity. Taliban fighters have been taking over territories across Afghanistan with more zeal over the past few months.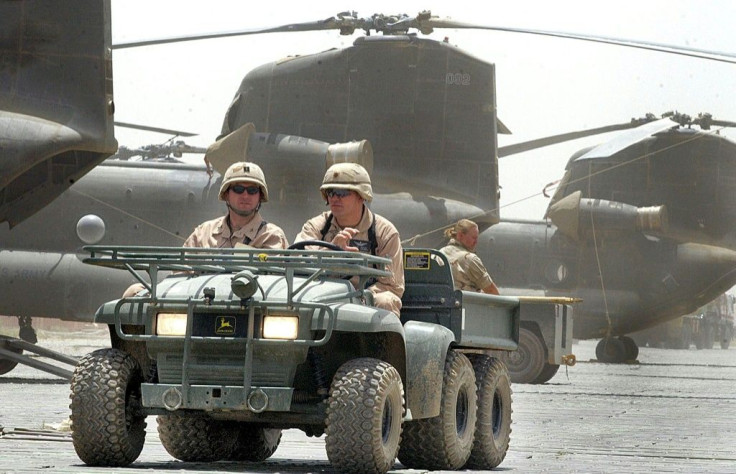 © Copyright IBTimes 2023. All rights reserved.