US Unemployment Rate Likely Stuck At 8.2% in July, With Tepid Job Gains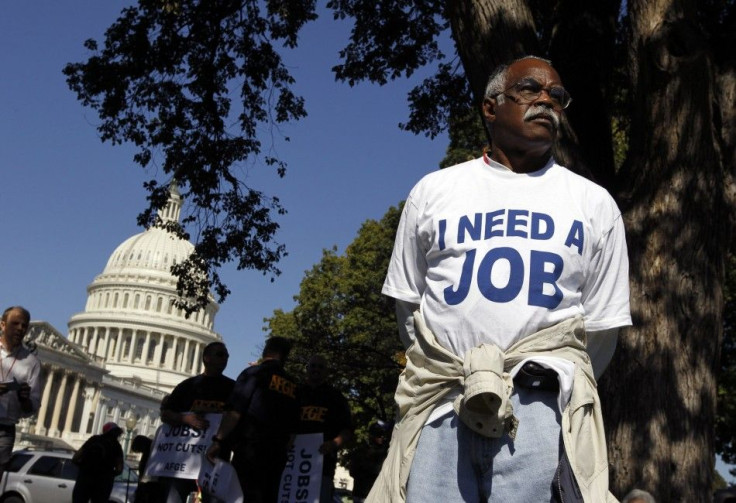 The jobless rate in the U.S. has stubbornly remained above 8 percent for more than three years, and the labor market likely saw little improvement in July, economists say in anticipation of the July nonfarm payrolls report due Friday.
"The number that we are going to get for July is definitely going to be disappointing," said Gus Faucher, senior macro economist at PNC Financial Services Group.
Payrolls are estimated to have climbed in July by 100,000, slightly higher than the 80,000 jobs created in June, according to the median forecast of economists surveyed by Reuters ahead of Labor Department figures due on Aug. 3. The public sector will continue to shed jobs, with a decline of 13,000 expected in July.
"As we turned the corner into 2012, there was a lot of expectation -- given that we were at plus 200,000 on a monthly basis -- that this was the turnaround and that the recovery was finally here," said Lindsey Piegza, economist for FTN Financial. "But as we moved further into the year, we saw that the momentum driving employment faltered quite significantly."
Piegza expects the headline payrolls figure to come in below consensus.
"We are probably at about 85,000 to 90,000, simply because the momentum just isn't here," Piegza said, adding that the "very unimpressive job growth" is eating into consumer confidence and businesses' willingness to expand and grow.
In the April to June period, job gains slowed to an average 75,000, down from 226,000 in the first quarter and the weakest in almost two years, Labor Department figures show.
The U.S. suffered epic job losses during the 2008-2009 financial crisis. From peak to trough, nearly 9 million American jobs evaporated. While the job market has rebounded off its early 2010 nadir, it has only managed to restore 45 percent of the lost jobs.
"We have yet to recover all the job lost during the recession, let alone create new jobs to absorb all the first-time entrants into the labor market," Piegza said. "So if we continue at this very tepid pace, we are talking about seven years before we reach the previous high in terms of employment."
High Unemployment Rate
The unemployment rate, which has exceeded 8 percent since February 2009, will likely hold steady at 8.2 percent in July, economists say.
And that figure isn't coming down any time soon -- not as long as the economy grows as slowly as it did in the second quarter.
U.S. gross domestic product grew at a 1.5 percent annual rate in the second quarter after posting an average growth of 3 percent over the prior two quarters, the Commerce Department said on July 27.
Inventory accumulation added 0.3 percentage points to second-quarter growth, something that is unlikely to be repeated in the third quarter. This means that growth is likely to remain sluggish in the current quarter.
"Assuming some growth payback in inventories, we estimate that growth in the current quarter will be around 1 percent," Bank of America Economist Michelle Meyer and her team wrote in a note to clients.
"That's not really enough to keep up with growth in the labor force," Faucher said.
Moreover, American consumers cut back sharply on spending in recent months. Household purchases, which account for about 70 percent of GDP, also grew 1.5 percent, the slowest pace in a year and down from a 2.4 percent advance from January to March.
Rapid economic growth is what leads to more hiring, and consequently, further declines in unemployment.
About 50 years ago, the economist and presidential adviser Arthur Okun identified a rule of thumb that has come to be known as Okun's law.
Okun noted that, because of ongoing increases in the size of the labor force and in the level of productivity, real GDP growth close to the rate of growth of its potential is normally required just to hold the unemployment rate steady. To reduce the unemployment rate, therefore, the economy must grow at a pace above its potential.
"Based on Okun's law, you are talking about 3 percent increase in output to translate into a 1 percent decline in the unemployment rate," Piegza said. "So if we are at 2 percent starting, you are talking about 5 percent growth needed in order to get the unemployment rate down to 7.5 percent."
"So we are very likely going to be stuck at this 8 percent level for quick some time," Piegza added.
Federal Reserve
In the face of much market speculation, Federal Reserve policy makers will announce its decision on whether to adopt any additional policy stimulus on the second day -- Aug. 1 -- of its two-day meeting.
"The Fed is looking for confirmation that this is a long-standing misstep in the economy and the labor market in order to justify additional action," Piegza said.
Last month, the Federal Open Market Committee decided to extend Operation Twist to the end of the year. This move gave the Fed a few more months to sort out whether the recent softness in data is mainly payback for gains during the warm winter weather, or a more prolonged slowdown.
"We are looking carefully at the economy, trying to judge whether loss of momentum is enduring," Bernanke told lawmakers on July 17 during his semi-annual testimony to Congress. He repeated that the central bank is ready to take further action to boost the recovery, if needed.
"I don't expect the Fed to act (at the August meeting)," Faucher said. "But certainly if job growth stays below 100,000 over the next couple of months, they will do something, whether it's another round of quantitative easing, lowering the interest rate on excess reserves or something else."
© Copyright IBTimes 2023. All rights reserved.