US Will Reach Deal With China But Strategic Competition Will Continue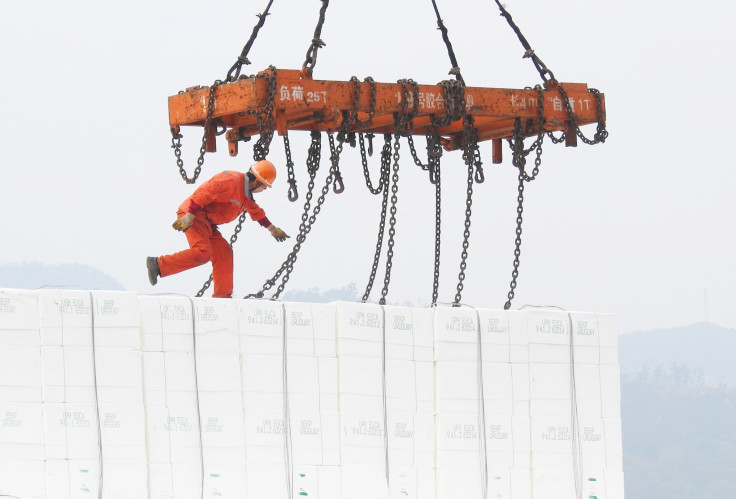 The U.S. and China are expected to hammer out a deal to settle some of their immediate trade differences, a senior economist said, adding the slowdown in China's trade growth is already bottoming out and its economy is expected to stabilize in the second quarter.
A deal between the countries will see a halt in tit-for-tat tariff action but the strategic competition between the two will continue, Arjen van Dijkhuizen, senior economist at ABN Amro, told International Business Times.
"What we need to understand is that even though we will see some sort of a short-term agreement, it does not mean the strategic competition between the U.S. and China will be over anytime soon. It will linger on probably," he said.
Dijkhuizen said some conflicts between the world's two largest economies are longer-term issues that are harder to tackle. "How to organize the economy -- China will not become a market capitalist economy anytime soon; that's not realistic," he added.
Dijkhuizen said a deal would also throw up the possibility of some cancellation of tariff hikes.
Markets have responded positively after the U.S. said trade talks with China have been "constructive." The S&P 5oo index has gained more than 18 percent since Dec. 24 when it closed at 2,351.1, its lowest level in a year. The widely-tracked index traded at 2,783.3 Monday.
"It would be great of course if everything is settled, but looks like there will be some ongoing dialogue with an enforcement mechanism," Van Dijkhuizen said.
"The easier (issues) to tackle are trade balance," he said. "China could step up imports from the U.S. and has already indicated they are prepared to do so."
"What is also probably at least discussable is the protection of property rights, technology transfer, cyber issues, but these will need some sort of enforcement mechanism."
He said while a deal with the U.S. is in China's best interest, it's also important for President Donald Trump who is "particularly keen to fight next year's elections with a strong economy and stock markets," Dijkhuizen said.
"I think it's a balancing act: at one time he wants to show markets that there is a deal, at the same time there are some loose ends which you cannot neglect," he added.
GROWTH AND TRADE DATA
While recent data from China indicates a slowdown in the economy, Dijkhuizen sees stabilization ahead. "We expect China will start stabilizing from Q2 2019. GDP growth might fall further in Q1, but will stabilize around 6.3 percent in Q2 - Q3 2019," he said.
China's GDP advanced 6.4 percent in the last quarter of 2018, down from a growth rate of 6.5 percent in the third quarter. Earlier this month, in Premier Li Keqiang's annual report to the National People's Congress, Beijing set a lower economic growth target range of 6.0 - 6.5 percent for this year.
"It's quite natural for a country that grew at 10 percent a couple of years ago to gradually slow, but it's not something to panic about -- its normal for countries to slow like that," he said.
But he added: "Even if things work out with the U.S., in the longer term China needs to stabilize leveraging or even maybe reduce financial leveraging."
China reported weaker-than-expected trade data in February. Dollar-denominated exports plunged 20.7 percent from a year ago. January exports rose 9.1 percent. Imports fell 5.2 percent in February from a year ago, after falling 1.5 percent in January. February trade balance was $4.12 billion, after a reading of $39.16 billion in January.
Dijkhuizen said the distortions in the trade data was likely because of the Lunar New Year. "We have to be very careful at the start of the calendar year looking at annual growth of imports and exports given the change in timing of the Chinese New year which makes annual comparisons always tricky," he said.
Referring to the January trade data, Dijkhuizen said the "slowdown is already bottoming out and the worst of the slowdown is behind us."
There has also been a policy focus shift since mid-2018 to macroeconomic stabilization, from financial deleveraging, Dijkhuizen said. "That's become top of their priority list, while financial deleveraging has shifted downwards a little bit," he said.
"Sometimes I compare Beijing with a cook -- simply tasting the soup and adding salt and pepper as long as it is needed. If headwinds fade, and China feels they are okay again, then they [China] will shift their priority list again with financial deleveraging coming back on top. That's a bit of how I see it," he said.
Dijkhuizen said he sees a sort of a piecemeal way of fiscal and monetary easing. "But no large-scale big bazooka type of stimulus given that China does not have to re-accelerate the economy, but to rather stabilize it," he said.
"It's not that bad I would say. We see some signs of stabilization already," he said.
© Copyright IBTimes 2023. All rights reserved.