USA Basketball 2012: Durant and Love Propel the Americans Over France, 98-71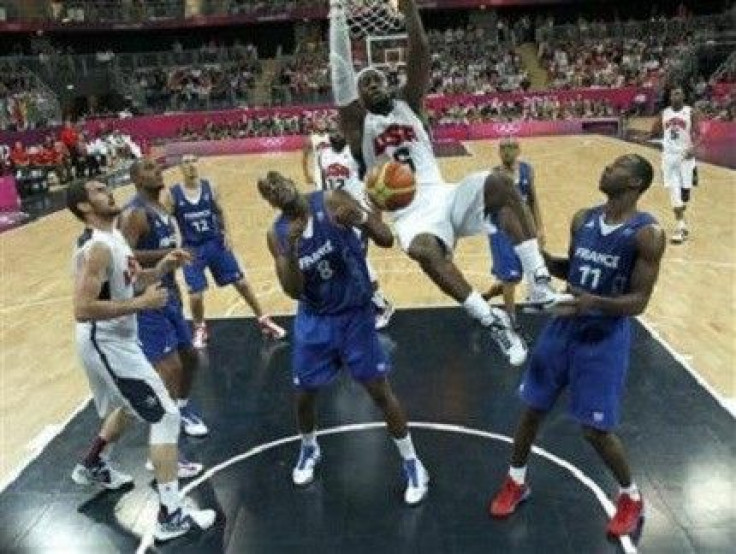 It wasn't pretty, but the U.S. men's basketball team held off France in their first game of the London Olympics on Sunday, 98-71.
Kevin Durant led all scorers with 22 points, and Kevin Love added 14, as the Americans got their gold-medal hopes off to an auspicious start with a victory over one of their top challengers. despite 14 turnovers in 40 minutes and sub par shooting.
Durant converted six-of-13 shots, and made three of his five three-point shots, while grabbing nine rebounds. Love shot five of eight from the field.
France have five players on NBA rosters, but were unable to put together a second-half run to make the game more competitive after being down 52-36 at halftime. NBA All-Star Tony Parker, playing with goggles to protect a surgically repaired left eye that resulted from a New York night club fracas, scored 10 points. Ali Traore, who plays in Russia, led France with 12 points. NBA stars Nicolas Batum scored nine points and Ronny Turiaf added seven for France.
The U.S. team's lead ballooned to 78-51 after three quarters, as the Americans looked more comfortable as the game progressed. Head coach Mike Krzyzewski rested top players LeBron James, Kobe Bryant, and Durant for most of the fourth quarter.
The Americans shot just 43.1 percent from the field. Bryant made just two shots on six attempts, while Deron Williams ended the game on one-of-six shooting. Since the style of basketball in the Olympics differs from the NBA, the Americans' uneven performance wasn't that surprising.
"We're trying to figure out how to play with the rhythm of the game," said Carmelo Anthony. "Once we figured that out, we were good."
© Copyright IBTimes 2023. All rights reserved.