USA Basketball Team vs. China: Start Time, TV Channel, Live Stream, Starting Lineup For Olympics Group-Round Opener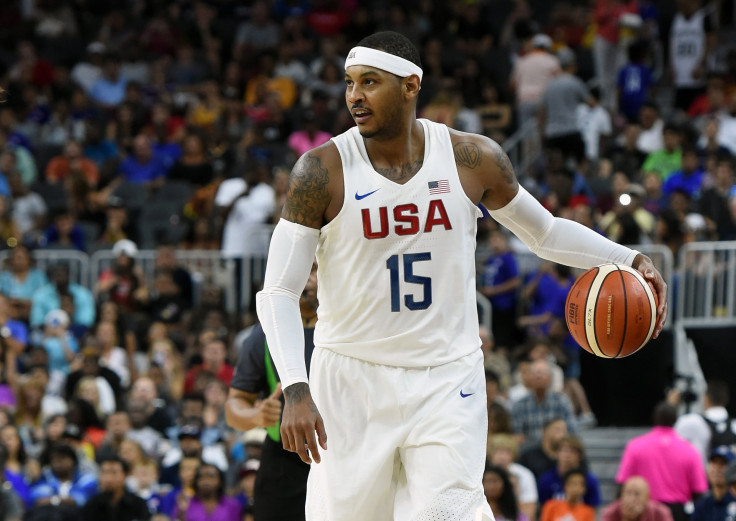 Basketball has been part of the Summer Olympics for 80 years, and over the course of 18 games, the United States has claimed 14 gold medals, one silver, two bronze, and failed to medal just once. It's the kind of dominance that's rare even for the Olympics, but while history suggests the United States' men's basketball team should walk away with yet another gold, this group is largely untested on the Olympic stage.
As head coach Mike Krzyzewski leads Team USA against China in Group A play on Saturday night to start the 2016 Rio Games' run, only two of the 12 NBA players making up the roster in Brazil have even whiffed an Olympics atmosphere.
However, that's allowed New York Knicks small forward Carmelo Anthony, eyeing up a record third gold medal, and even new Golden State Warriors forward Kevin Durant to stand out as leaders for a squad that will face challenges throughout the tournament.
This is Anthony's fourth Olympics, and he was part of the 2004 squad that fell to eventual champion Argentina in the semifinals and wound up with that second bronze. The massive letdown resulted in USA Basketball bringing in Krzyzewski to completely overhaul the program and get long-standing commitments from the NBA's best players.
"I've been a part of (the Olympics) since 2004 and I know what it felt like when the rest of the world was supposedly catching up with the U.S. from a basketball standpoint," Anthony said at a press conference Thursday. "So I know what it felt like to be at the bottom and I know what it feels like to be at the top of the game and the world. For me, to be here representing the USA is … saying it's an honor or a blessing is an understatement. For me being the leader and representing all four of these teams and now here in Rio one more time, my goal is to help this team and lead this team to a gold medal and enjoy the process and enjoy the journey. "
And while Durant, who led the team with 15.6 points and 46 percent three-point shooting over five exhibition victories, admitted the tournament will be arduous with stars like LeBron James and Stephen Curry sitting out, he fully believes in the talent around him.
"It's going to be challenging either way," he said. "It would be challenging even if they were here as well. But, we have some great players here. Just because they haven't been here before, or they might not be MVPs, or ten-time all-stars, but we got some damn good players on this team. It doesn't matter what anybody says, I got nothing but confidence in everybody here, and I feel as though we have a great chance to do something special."
Krzyzewski will certainly lean on Anthony and Durant from the get-go and the entire tournament, but even against a very tall Chinese front line, Team USA does have the requisite size and talent to quickly upend China for the third straight time. The U.S. dominated China for 49 and 50 point victories last month.
Depending on the matchups, the starting lineup will likely change from game to game. Cleveland Cavaliers point guard Kyrie Irving and Toronto Raptors floor general Kyle Lowry should take turns running the offense, while Sacramento Kings big man DeMarcus Cousins and Los Angeles Clippers center DeAndre Jordan will be splitting time down low depending on whether the U.S. needs more post scoring or defense, respectively.
Irving, who's coming off his first NBA title with the Cavs, still expects group play to be a challenge and the team isn't looking past the Chinese.
"Every single game is a chance for us to get better," Irving said. "We have to find out lineups, we have to find out just what rhythm we want as a team. And, going in, what we want to expect from one another. In order to do that, we have to play high-level games and against other great countries."
Krzyzewski​ usually tinkers with his starting lineups and allows for each player to play a minimum of 15 minutes and a maximum of about 25 in the 40-minute games.
When the U.S. faced China in an exhibition game at Oracle Arena on July 26, Krzyzewski started Durant, Draymond Green, and DeMarcus Cousins in the frontcourt, with Klay Thompson and Irving in the backcourt. DeMar DeRozan played the most minutes (19:42) off the bench. ​Krzyzewski may consider starting Anthony over Green and perhaps Jimmy Butler in place of Thompson.
Zhou Ki, a second-round draft pick of the Houston Rockets, is among China's top players. The 7'2 center scored 13 points against the U.S. in their last meeting. He is joined by shooting guard Guo Ailun and small forward Zhou Peng.
The U.S. enters the game with a 17-game winning streak at the Summer Olympics.
Tip Off: Saturday, 6 p.m. ET
TV Channel: NBC Sports Network
Live Stream: NBC Sports Live Extra
© Copyright IBTimes 2023. All rights reserved.