USA Basketball Team 2016: When Is The First Group Game Of The Rio Summer Olympics?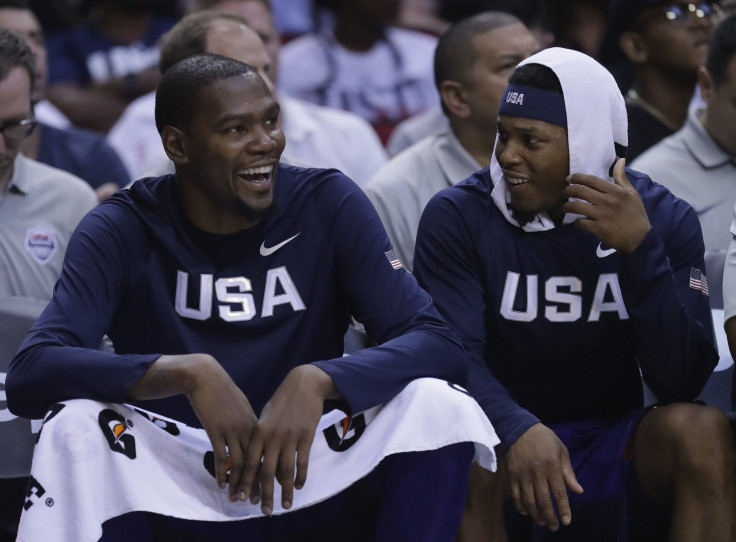 Putting aside its formality of an exhibition schedule and all the cracks about songstress Vanessa Carlton's "A Thousand Miles" and Carmelo Anthony's hatred of early mornings, the United States' men's basketball team opens its 2016 Rio Summer Games against old foe China Saturday night at the Barra Carioca Arena 1.
Head coach Mike Krzyzewski's squad, gunning for a third-consecutive gold medal, claimed all five of their exhibition matchups, including two over China, by an average of 43 points and yet Team USA still has room to improve as it enters Group A play.
With Golden State Warriors Kevin Durant and Klay Thompson, along with Anthony, acting as the leading scorers, Team USA's notched 102.8 points and shot better than 49 percent from the field while taking down fellow Group A contenders China and Venezuela and Group B's Argentina and Nigeria.
The team's certainly enjoying their time together, and its lavish cruise ship accommodations compared to what the rest of Rio's participating athletes are dealing with, but the squad's long-range and free-throw shooting have left much to be desired in the early stages.
Krzyzewski, ever the cerebral motivator and players' coach, canceled his team's last practice on Tuesday after Monday's victory over Nigeria to allow them time to mentally prepare.
"A lot of times, that's what they need more than practice," Krzyzewski said. "They need to get back to their individual routines so that they're ready. And then when we leave, it's off, hopefully, to a gold medal."
Together Team USA is knocking down only 33.9 percent of its three-pointers and just 66.7 percent from the charity stripe, two areas that are essential for success in the NBA and international levels.
Defensively, however, Team USA's relied on its superior athleticism and All-Star-laden roster to deny opponents any wiggle room for an upset. The squad's force 19.6 turnovers, or 11.6 steals per game, and protected the rim well with 5.4 blocks a game and first-time Olympian DeAndre Jordan racking up better than two swats a contest. All told, exhibition opponents have shot barely 35 percent from the field.
Still, the Chinese and head coach Gong Luming represent a literally huge challenge for Team USA. China rolls out a roster rife with size, including five players at 6-foot-10 or taller and four seven-footers capable of disrupting guards Kyrie Irving and DeMar DeRozan as they slash to the rim.
In particular, China can send out two players recently selected in the 2016 NBA Draft in starting center Wang Zhelin and power forward Zhou Qi. Zhelin was taken by the Memphis Grizzlies with the 57th overall pick in last June's draft and Qi was picked 43 rd overall by the Houston Rockets.
Though they fell 107-57 in the second exhibition, Qi led China with 13 points and Zhelin notched five rebounds against the U.S. over roughly 24 minutes apiece.
Guard Guo Ailun, a star for the Chinese Basketball Association's Liaoning Flying Leopards, put up 11 points and six assists with three steals in the last matchup and forward Zhou Peng added another 11 points and three boards.
Krzyzewski has acknowledged the competition will become far more intesnse once the real tournament is in full swing, but Durant and his compatriots appear to have the right attitude.
"We've just got to win," Durant said. "No matter how well it goes, we just want to win. That's all we worry about. Everything else will take care of itself. We've just got to win."
© Copyright IBTimes 2023. All rights reserved.