VA Denies Holding Back Missing Information On War On Terror Veteran Casualties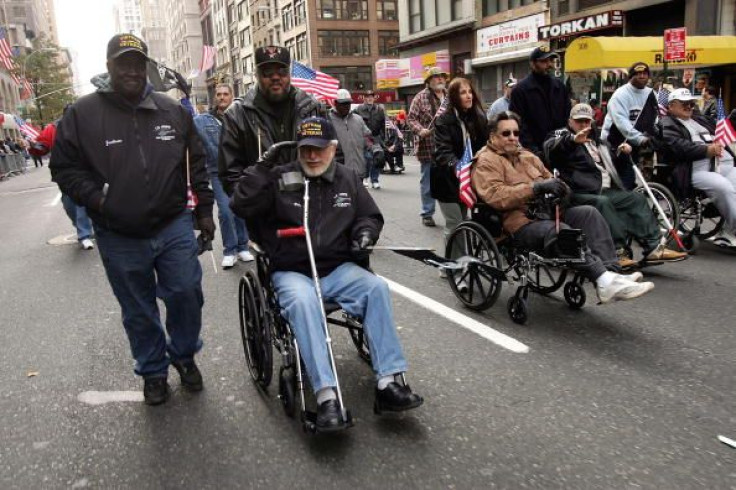 The Department of Veterans Affairs denies that it is holding back information on veteran casualties, despite a months-long drought of information on Iraq and Afghanistan vets.
Earlier Friday, the International Business Times reported that VA had stopped releasing to the public statistics on non-fatal war casualties, just as the number of servicemen wounded in the post-9/11 "war on terror" was set to hit 1 million. VA officials have denied intentionally suppressing this information, claiming that a report is due out later this fall.
VA typically publishes information on non-fatal casualties sustained in Afghanistan's Operation Enduring Freedom, Iraq's Operation Iraqi Freedom and Operation New Dawn four times a year. But the most recent report was published in March 2013, reporting data from the previous December. So far, no data for 2013 has been released by Veterans Affairs, which has outraged many veterans' advocates.
Until Friday, VA's only response to calls for further reports was a short message buried on its website: a simple statement that the department would not release veteran casualty information for the foreseeable future, citing vaguely defined security issues.
"VA and the Department of Defense are currently enhancing their existing security arrangements for the delivery of the data VA uses for these reports. At this time, it is unknown when the next reports will be released."
Several hours after the IBT report went live, VA quietly updated the statement with a projected release time for the data.
"VA and the Department of Defense have enhanced their existing security arrangements for the delivery of the data VA uses for these reports. The 2nd Quarter FY 2013 reports should be released in November 2013," the statement now reads.
Officials from the agency also spoke out about the issue, stating that the security concerns leading to the reports' suspension have been resolved. A VA representative did not specify which security efforts were updated, but did add that the reports on veteran casualties should return within the coming weeks.
"Some VA reports on OIF/OEF veterans have been delayed while enhanced data security measures were implemented," the VA told Stars and Stripes blog the Ruptured Duck on Friday. "Those measures are complete, and we anticipate releasing the next OEF/OIF/OND health care utilization report within the next few weeks."
No date has yet been announced for the next VA report.
© Copyright IBTimes 2022. All rights reserved.
FOLLOW MORE IBT NEWS ON THE BELOW CHANNELS