VA Secretary Shinseki Under Fire: To Face His Senate Critics Thursday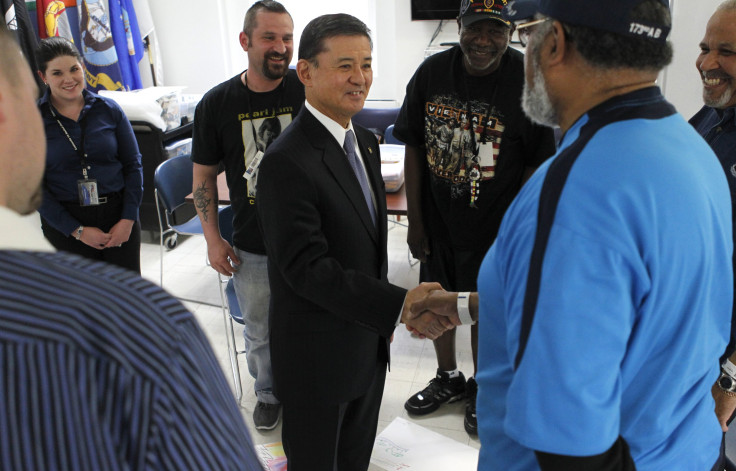 Thursday's Senate Veterans Affairs hearing was supposed to be a relatively benign meeting to take a "broader look" at what the Department of Veterans Affairs does well and "how it can improve care for veterans." But with allegations surfacing about cover-ups involving treatment delays that may have cost the lives of dozens of veterans, the hearing is certain to be contentious, especially with VA Secretary Eric Shinseki as the star witness.
The American Legion -- whose director will also appear at the hearing -- has called for Shinseki and two other senior VA officials to resign over emerging revelations about problems at VA facilities.
And the VA's Office of Inspector General, which is now investigating a host of allegations by whistleblowers, also has a representative on the witness list.
Committee chair Bernie Sanders (I-Vt.) has said that the Senate committee will not hold hearings on whistleblower allegations about the Phoenix VA, which is the epicenter of the widening controversy, until after the department's inspector general completes its investigation. Sanders released a statement today noting that the committee "will not rush to judgment. As soon as the inspector general completes its independent investigation in Phoenix, we will hold a hearing or series of hearings regarding what happened there."
But Taylor Foy, a spokesperson for Sen. Mike Johanns (R-Neb.), who's on the Senate committee, said senators want answers from Shinseki now.
"Some of the senators may not wait for the IG report," Foy said. "I think some will want to go on the record at the hearing with their sentiments about what's going on at VA and that they are closely watching the situation. I don't know if Sen. Johanns will weigh in; he generally likes to wait until he has more information. But these senators can't pretend this situation doesn't exist."
Shinseki will be accompanied by Dr. Robert Petzel, VA's under secretary for health. Others scheduled to appear are Daniel Dellinger, national commander of the American Legion; Tom Tarantino, chief policy officer of Iraq and Afghanistan Veterans of America; Rick Weidman, executive director for policy and government affairs of Vietnam Veterans of America; Richard Griffin, VA's acting inspector general; and Debra Draper, director of healthcare at the Government Accountability Office.
Sen. Richard Blumenthal (D-Conn.), who's also on the Senate committee, told IBTimes he plans to ask Shinseki some tough questions. "I look forward to hearing from Secretary Shinseki on a range of issues related to VA hospitals, the specific handling of the situation in Arizona, and what the Veterans Administration is doing to reduce wait times, so that veterans can receive the care they deserve when they need it," he said.
Blumenthal added, "My guess is Gen. Shinseki expects tough questions and feels they are justified. These are hugely consequential issues, they can be a matter of life and death, and I know he'll be anticipating these questions and I will be asking some of them."
Sen. John Cornyn (R-Texas), who is not on the committee but who last week also called for Shinseki's resignation, was more blunt about Shinseki's upcoming appearance. "With veterans' lives on the line," Cornyn said, "the only thing more tone-deaf than not having an emergency hearing on the VA failures would be to hold a hearing, invite the secretary, and not allow questions related to recent scandals. Veterans' family members and Americans across the country deserve answers."
In the three weeks since CNN broke the story that, according to whistleblowers, as many as 40 veterans died while waiting for care at the Phoenix VA, eight more VA health care facilities -- including three this week -- have been accused by present or former VA employees of manipulating data so that wait times for veterans seeking care appeared shorter, sometimes harming veterans in the process.
The latest accusation came on Tuesday when Germaine Clarno, a VA social worker and employee representative in Chicago, told CBS News that multiple secret waiting lists of veterans are kept at the Hines VA Medical Center. Clarno said the purpose of the lists is "to make numbers look better for their own recognition and for bonuses."
The director of the Hines VA, Joan Ricard, responded with a statement that said he has no direct evidence of any falsified wait times.
CBS noted that VA investigators are due at the Hines facility today as part of a national audit ordered last week by Shinseki to determine how long veterans are waiting for health care. When announcing the audit, Shinseki promised "swift and appropriate" action if wait-time records were falsified.
Also this week, the Washington Examiner reported that patients at a VA medical center in southeast Texas faced denials or long delays for getting routine medical tests because of cost-cutting measures, and some patients may have died as a result, according to a whistleblower.
Dr. Richard Krugman, former associate chief of staff at the Harlingen, Texas, VA, told the Examiner that his boss instituted a policy in 2010 that colonoscopies (to check for colon cancer) would be approved only if a patient tested positive in three successive screenings for bloody stool. Krugman told the newspaper that as many as 15,000 patients who should have gotten colonoscopies either did not get them or were examined only after long delays, and that many likely died.
An internal investigation by VA acknowledged that some of Krugman's allegations were true, but said that its investigative team "did not find gross mismanagement, a gross waste of funds, an abuse of authority, or a substantial and specific danger to public health or safety."
The third charge this week came from a VA employee in Durham, North Carolina, who said workers there may have falsified appointment records between 2009 and 2012 to make veteran wait times appear shorter, according to WRAL TV in Raleigh-Durham.
VA spokesperson Drew Brookie confirmed to IBTimes that two Durham VA employees have been placed on administrative leave for allegedly engaging in the scheduling practices, and that a VA audit team will be at the hospital this week to look into the allegations.
Similar charges have come from VA whistleblowers in Fort Collins, Colorado; Cheyenne, Wyoming; St. Louis, Missouri; and other cities in Texas including Austin and San Antonio, where CNN reported last week that a VA clerk said his superiors ordered him to hide the fact that some veterans had to wait weeks or months for appointments.
VA's public affairs office told CNN that the San Antonio allegation has been investigated and no evidence of wrongdoing was found. VA released a statement to the network saying that "based on our internal fact-finding conducted April 25-28, we found the claims by this employee were not substantiated." CNN also noted that VA's Inspector General said it is conducting its own investigation.
Shinseki, who has brushed off calls by politicians and veterans advocates to resign, placed Cheyenne VA nurse David Newman on administrative leave after seeing an email containing directions on how to "game" the system and hide long delays in treating veterans.
According to USA Today, the Cheyenne VA was investigated late last year by the VA's medical inspector in connection with allegedly falsified wait-time records at a VA clinic in Fort Collins. An e-mail dated June 19, 2013, that appears to have been written by Newman explained how to alter records to show that veterans saw doctors within a 14-day goal established by the VA.
"Yes, it is gaming the system a bit," the email said, according to USA Today. "But you have to know the rules of the game you are playing, and when we exceed the 14-day measure, the front office gets very upset."
Shinseki released a statement last week saying he has ordered an investigation of the Cheyenne VA by the IG. "VA takes any allegations about patient care or employee misconduct very seriously," Shinseki's statement said. "If true, the behavior outlined in the email is unacceptable."
While the Senate committee prepares for tomorrow's VA hearing, the House Committee on Veterans' Affairs last week voted unanimously to issue a subpoena to Shinseki and other senior VA leaders who, committee members say, have not fully cooperated with its probe of allegations by four whistleblowers in Phoenix. The subpoena covers all emails by VA executives from April 9 to the present that may have discussed the destruction or disappearance of a so-called secret list of veterans waiting for care at the Phoenix VA.
Members of the House committee have been tight-lipped about the contents of those emails. One congressional staffer who asked not to be identified said the inspector general insisted that House members not share any information until the office's Phoenix probe is complete, and added that Shinseki had not yet supplied the committee with the requested documentation. The secretary's deadline for providing the information is 9 a.m. on May 19.
"If Secretary Shinseki doesn't comply with the subpoena, and we fully expect that he will, the next step could be for the House committee to vote to hold him in contempt," the staffer said. "Then the speaker would have to certify the citation, and send it to the Justice Department, and then it would go to a grand jury. That's just the procedure. We're hoping it doesn't go that far."
Sen. Blumenthal said that he still supports Shinseki, despite the problems at VA. "Here's a man who has devoted his entire adult life to public service in the military, and nobody feels more keenly or appreciates more deeply how important the integrity of the VA health care system is," he said. "So as much as the personal criticism may hurt him, I believe he is determined to try to make things right."
FOR FREE to continue reading
✔️ Unlock the full content of International Business Times UK for free
offer available for a limited time only
✔️ Easily manage your Newsletters subscriptions and save your favourite articles
✔️ No payment method required
Already have an account?
Log in
© Copyright IBTimes 2023. All rights reserved.