Eric Shinseki: The Man Behind The Troubled VA
When Eric Shinseki assumed the role of secretary of veterans affairs in January 2009, he seemed the perfect man to lead an agency that had for years been criticized as unresponsive to the nation's veterans.
"There is no one more distinguished, more determined, or more qualified to build this VA than the leader I am announcing as our next secretary of veterans affairs -- Gen. Eric Shinseki," the newly inaugurated President Barack Obama said in making the announcement. "No one will ever doubt that this former Army chief of staff has the courage to stand up for our troops and our veterans. No one will ever question whether he will fight hard enough to make sure they have the support they need."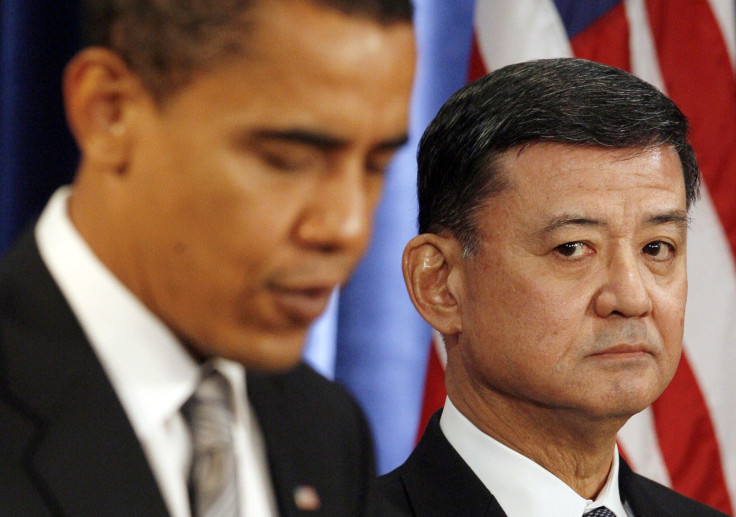 Unfortunately, those words -- "no one will ever doubt" and "no one will ever question" -- have proved untrue. With escalating problems at the agency, Shinseki's ability to lead the VA is now being questioned by, among others, the country's oldest veterans group, the American Legion, which has called for him to resign.
At the time of Obama's pronouncement, Shinseki seemed unassailable. The four-star general was viewed as a soldier's soldier, rather than a yes-man for government. He had earned a reputation for commitment and honesty, even bucking his superiors' Iraq war strategy at the cost, ultimately, of his own job.
Shinseki himself said at his VA swearing-in that he saw no greater responsibility than to ensure that veterans get adequate medical treatment. Yet five years later, amid mounting evidence of VA dysfunction, Shinseki must defend both the troubled agency and his own leadership.
On Thursday, he testified before the Senate Veterans' Affairs Committee about accusations of poor care and deceptive record-keeping at VA clinics in at least six states. At a Phoenix facility, whistleblowers have alleged that long waits for medical appointments may have caused the deaths of at least 40 veterans, and that a "secret list" of waiting times was destroyed to cover up the alleged negligence.
Shinseki has a great deal to explain, including why it took a whistleblower to bring his agency's shortcomings to light, and why a man admired for his candor didn't respond to critics until he could no longer evade them.
In his life and career, Shinseki has been an outsider and an insider. He was was born to Japanese-American parents in Hawaii during World War II, on Nov. 28, 1942, just a year after Pearl Harbor. As government-designated "enemy aliens," his family members had to carry special ID cards and check in with authorities once a month, although they were not interned like the Japanese on the mainland. Still, the young man clearly saw himself as an American, enlisting in the Army at age 18. He saw action in Vietnam and Bosnia, and served multiple postings to Germany in the 1980s and '90s. A landmine explosion in Vietnam cost him part of one foot, and in the course of his career he earned two Purple Hearts.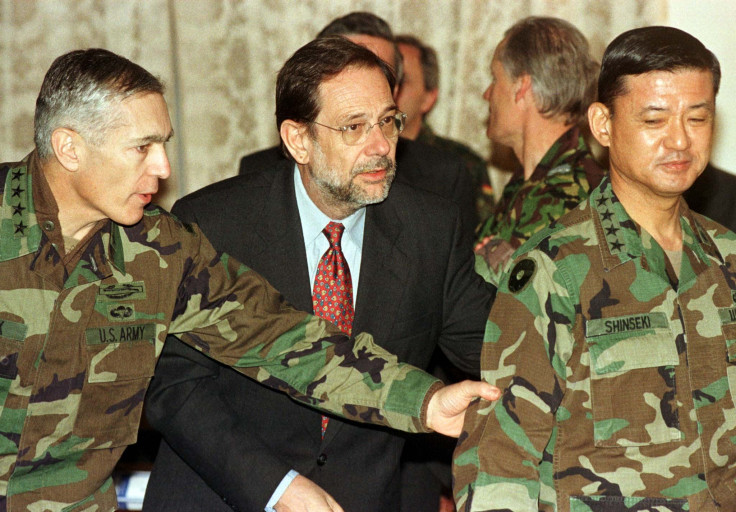 President Bill Clinton named Shinseki Army chief of staff in 1999. Sen. Daniel Inouye, D-Hawaii, a World War II hero, referred to the treatment that Japanese-Americans like himself and Shinseki had endured when he said of the general's appointment, "The shame that has been on our shoulders all these years has been completely washed away." Shinseki's four years in the job were challenging as he confronted issues of funding, recruitment and staffing, but he was well-thought-of, inside the military and the government.
In 2003, though, his blunt assessment of what an Iraq war would require turned the Bush administration's hawks against him. Appearing before the Armed Services Committee a month before the invasion of Iraq, Shinseki said that occupying the country would require "something on the order of several hundred thousand soldiers." That estimation put him at odds with the war's chief architects, Defense Secretary Donald Rumsfeld and Deputy Secretary Paul Wolfowitz, who dismissed his opinion as "wildly off the mark." Their plans called for only 100,000 soldiers.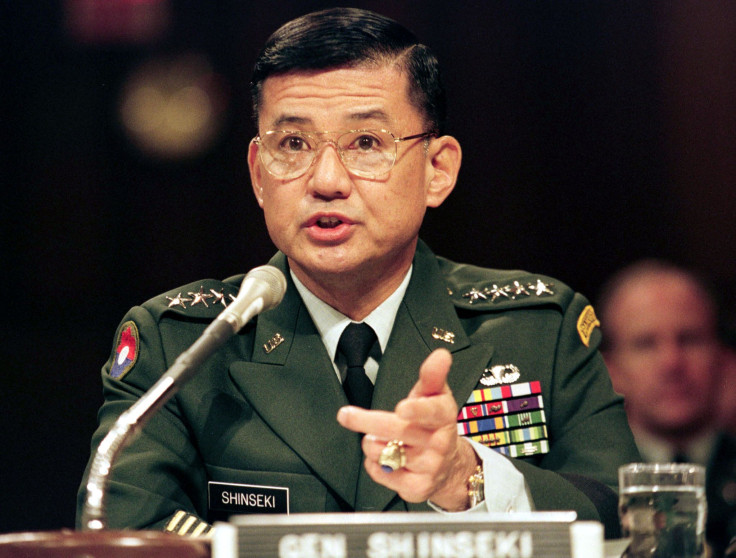 After that face-off, Shinseki's standing began to wane and his relationship with his superiors became strained. He retired in June 2003 after a 38-year military career, just four months after his Iraq testimony.
President George W. Bush, Rumsfeld and Wolfowitz did not attend his retirement ceremony.
In his resignation letter to Rumsfeld, Shinseki wrote that it had been a privilege to serve, but acknowledged that his relationship with the Office of the Secretary of Defense had been troubled. He stated that his troop estimate had been misinterpreted--that he had overstated the number of soldiers required in order to give Rumsfeld and the military the "maximum flexibility in arriving at the final number."
Shinseki's brutal ouster dismayed many Army insiders. And his prediction that the administration's deployment plans were inadequate was proved correct, although he loyally refrained from discussing it in public. "I do not want to criticize while my soldiers are still bleeding and dying in Iraq," he said.
Retired from the military, Shinseki spent time with his wife Patty, with whom he has two children, Lori and Ken, and served as a director for several corporations, including Honeywell International, Ducommun, Grove Farm Corporation, First Hawaiian Bank and Guardian Life Insurance Company of America. He served on the advisory board of the John F. Kennedy School of Government at Harvard and remains a member of the Council on Foreign Relations.
He continued to be highly regarded by military comrades. "His leadership is an inspiration for a whole generation of leaders in the Army," said Maj. Gen. Eric Olson at the dedication of a Shinseki gallery at the U.S. Army Museum in Hawaii in 2004.
Shinseki was publicly vindicated in January 2007 when Bush, on primetime TV, admitted that among the mistakes of the Iraq war was that "there were not enough Iraqi and American troops to secure neighborhoods that had been cleared of terrorists and insurgents."
"We never had enough troops to begin with," Sen. Lindsey Graham, R-S.C., conceded. "A month or two ago, we found out the Army is broken, and they agreed that General Shinseki was right."
Shinseki, now 71 years old, could have rested on his refurbished laurels, but he returned as secretary of veterans affairs at Obama's request.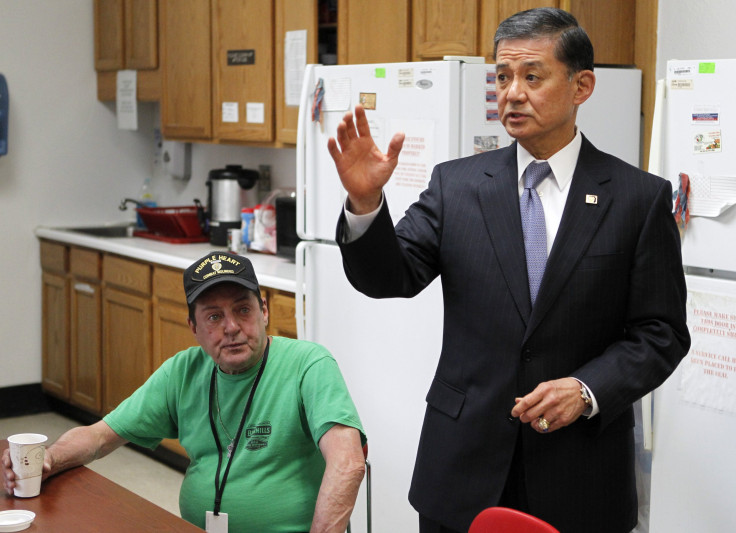 On the same day Shinseki agreed to testify to the Senate committee, the House Committee on Veterans Affairs, frustrated by what it saw as agency stonewalling, subpoenaed Shinseki, several of his aides, and all emails relating to the "destruction or disappearance of an alternate or interim wait list" at the department's Phoenix medical center. Shinseki has promised face-to-face audits of personnel at all VA clinics, and several staffers have been put on administrative leave. So far, no one has been fired.
"Shinseki may be a good guy at heart …. but at some point we have to have answers, and I want to see massive, massive changes to the VA," Rep. Adam Kinzinger R-Ill., a pilot in the Air Force reserves, told Megyn Kelly of Fox News. "It's offensive, it has to stop and this is something America ought to be incensed about. ... It's not Republican or Democrat. It's American."
The nation's oldest veterans' group believes it is too late for him to vindicate himself in this controversy.
Just a year ago, the American Legion had aggressively defended Shinseki as an "honest man" who had been "unfairly maligned" by his critics.
Calling for his resignation "was probably the hardest thing I've ever had to do," said Legion Commander Daniel Dellinger.
This story was updated after Shinseki's testimony on Thursday, May 15.
© Copyright IBTimes 2023. All rights reserved.