Valentine's Day 2012: Music to Get You in the Mood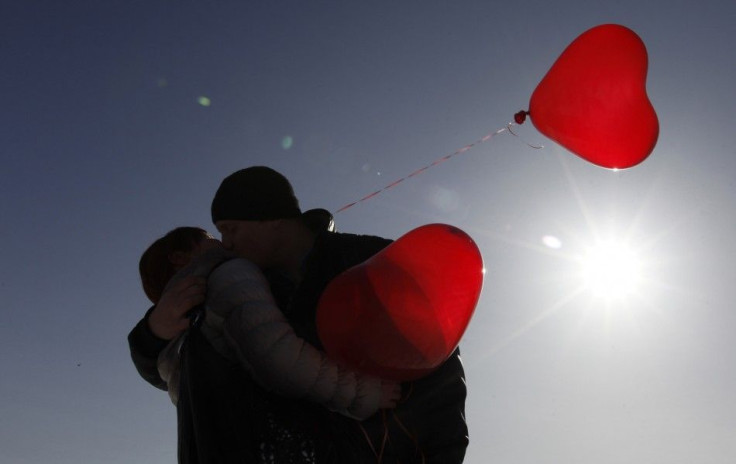 Valentine's Day just isn't the same without the right music to get you in the right mood. Here, we bring you 10 of the most lovable tunes. (PHOTO: REUTERS / Eduard Korniyenko).
On any other day, music like this would be considered just plain wrong. But we think of Valentine's Day as a free pass to bust out those cheesy, steamy, slow-jams. From R. Kelly to Roberta Flack, everyone loves a good love song. And what better way to celebrate than with a compilation of music meant to get you in the mood?
This list of bedroom tunes consists of music meant to please lovers of all kind. From hip-hop to R&B, rock and pop, there is something on here for everybody. So don't worry -- we understand if you don't make it to the end of this list. Its Valentine's Day 2012 and this is music to get you in the mood!
10. Let's Get It On, by Marvin Gaye
We had to get it out of the way. Let's Get It On, by Marvin Gaye is just one of those songs that doesn't resort to subtleties. The track, released in 1971, helped establish Gaye as a sex icon and furthered his influence on many of the other artists on this list. As one of the most flagrant sex songs of all time, the chorus alone pretty much guarantees your dinner be followed by dessert.
9. Afternoon Delight, by Starland Vocal Band
Afternoon Delight, by Starland Vocal band is a harmonic '70s pop classic that takes a more melodic route in getting across its underlying message. In reality, the song is a lunch break teaser disguised as a chart topping pop song. Famously covered in Will Ferrell's 2004 Anchorman, you could say Afternoon Delight, is an ode to those who like it with the lights on.
8. I Touch Myself, by Divinyls
Musically, the early '90s was a time of good R&B, loud grunge-rock and pop tunes about doing the deed. I Touch Myself, by Divinyls, is a clear example of the third one on that list. From the songwriter who wrote, Like a Virgin, came the unapologetic tune that when released in the United States, caused much controversy. With lyrics like, When I think about you, I touch myself, we consider this one to be pretty much self-explanatory.
7. Feel Like Making Love, by Roberta Flack
Roberta flack sealed her place in baby makin' music history with her 1974 hit, Feel like Making Love. Earning three Grammy nominations, the song is considered by many to have set the scene for the R&B takeover that took place a decade later. The tune is simple, to the point and a perfect pre-game for any Valentine's Day celebration.
6. Sexy Can I? by Ray-J
Trying to get things going at a faster pace? Sexy Can I? by Ray-J, is a bedroom tune that was made to do all the talking for you. And with his past sex tape history with Kim Kardashian, Ray-J can be considered a professional at things like this. The 2008 song freaks and flirts with lyrics like, It's a Kodak moment, let me go and get my camera.
5. Bump N' Grind, by R. Kelly
Bump N' Grind, by R. Kelly is a testimonial to sexy dancing that will most likely lead to some serious bedroom antics. The R&B bad boy puts his desires out there for all to see as he sings to his women, letting them know that he can do a better job than their current man.
4. Love In This Club, by Usher
Usher is famous for making confessions.Love In This Club, is no exception. Let's go get undressed right here/ Keep it up girl and I swear/ I'ma give it to you nonstop/ And I don't care who's watching, he sings on the 2008 smash. Be careful where you listen to this one -- it might have you and your friend running for the nearest coatroom.
3. Freak Me, by Silk
Freak Me, is all sorts of soul goodness from the smooth men of Silk. As an R&B group, they team up on this 1993 hit to seduce their prey with suave harmonies and love sounds. It's soft, freaky and very deserving of the number three spot on this list.
2. I Want To Sex You Up, by Color Me Bad
It's simple for the guys of Color Me Bad. I Want to Sex You Up, is a slick R&B song that tells you everything you need to know. Let me take off all your clothes/ Disconnect the phone so nobody knows, yeah, they sing. Recently covered on Fox's hit show, Glee, it shows that even a nerdy guy can get away with playing this song in hopes of some Valentine's Day action.
1. I'll Make Love To You, by Boyz II Men
Boyz II Men has a lot of songs that could've made it on this list. But their 1994 smash, I'll Make Love To You, Is the only one worthy of the number one spot. With its sexual innuendos, the four-man R&B group went all out on this Billboard ballad. Subtle and sexy at the same time, the lyrics say it all. Throw your clothes, on the floor/ I'm gonna take my clothes off too/ I made plans to be with you. Valentine's Day plans, that is!
© Copyright IBTimes 2023. All rights reserved.