'Vampire Diaries' Season 6 Spoilers: Episode 2 Synopsis Released Online; What Will Happen In 'Yellow Ledbetter'? [VIDEO]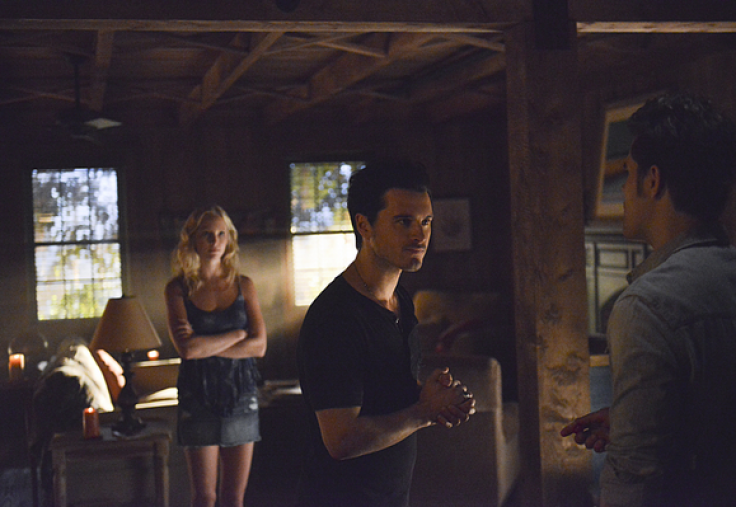 Bring on the blood, guts, and tears, because "The Vampire Diaries" is back! Season 6 of the hit CW series premiered on Thursday, Oct. 2, showing viewers what the Mystic Falls gang has been up to in the four months that passed since the death of Bonnie (Kat Graham) and Damon (Ian Somerhalder). And needless to say, not everyone was flourishing due to the life-changing events that occurred in the Season 5 finale.
For those who missed the Season 6 premiere, it was revealed that Mystic Falls is still supernatural free. Matt (Zach Roerig) has been taking advantage of the situation, training with a community group to be able to protect himself and others if the Travelers curse ever falls down. But not everyone has been able to move on like Matt. Caroline (Candice Accola) dropped out of school to focus all her efforts on taking down the Travelers curse in order to return home. Jeremy (Steven R. McQueen) has resorted to drinking, hooking up with girls and playing video games. Alaric (Matt Davis) isn't happy with his new vampire self -- and the bloodthirsty urges that come with it, while Tyler (Michael Trevino) is struggling to contain his rage and not trigger the werewolf curse … again. As for Elena (Nina Dobrev) and Stefan (Paul Wesley)? Despite Elena claiming all was good and focusing all her efforts on her pre-med degree, the Whitmore College student became dependent on a witch herb that allowed her to hallucinate Damon. Meanwhile, Stefan tricked everyone into believing that he's been tracking a way to bring Bonnie and Damon back, but in reality, he's just been shacking up with a girl and working as a car mechanic.
Episode 1 concluded with Elena asking Alaric to use his powers as a vampire created by the Original witch … and wipe her memory clean of ever loving Damon. The synopsis and promo video for episode 2, "Yellow Ledbetter," teases that Alaric might follow through on Elena's heartbreaking request.
As Alaric and Elena try to help each other, Enzo (Michael Malarkey) will reappear to convince Caroline to accompany him as he "tracks down a lead to get Damon and Bonnie back." However, Caroline will get more than she bargained for when Enzo takes her on a little detour to reveal what Stefan has really been up to in all these months.
Back in Mystic Falls, Matt will continue to worry about Jeremy -- especially when he begins to spend time with Sarah (Gabrielle Walsh), the mysterious out-of-towner that Elena almost drained on the outskirts of Mystic Falls. But Matt will find himself with more on his plate when Tripp, the new leader of the community protection program, reveals his "connection to the town."
Finally, those wondering about Damon and Bonnie will finally get some answers. The synopsis for episode 2 of "The Vampire Diaries" teases that Damon and Bonnie will "reluctantly band together to uncover the mystery of where they are and how they are going to get back home."
"The Vampire Diaries" Season 6 episode 2 will air on the CW on Thursday, Oct. 9, at 8 p.m. EDT. What do you think will happen in "Yellow Ledbetter"? Tweet your thoughts to @AmandaTVScoop.
© Copyright IBTimes 2023. All rights reserved.