Van Rompuy may get top euro zone role - sources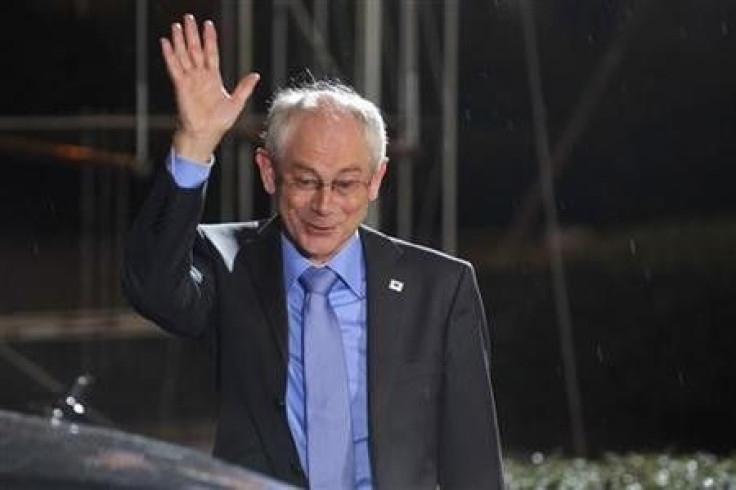 European Council President Herman Van Rompuy may get an enlarged role as coordinator and spokesman for the euro in an effort to impose greater policy discipline in the single currency area, EU sources say.
France and Germany are to make proposals on strengthening euro zone governance later this month and the executive European Commission is also working on ideas to put to an EU summit in October.
The French daily Le Monde reported in its weekend edition that President Nicolas Sarkozy was among those pressing for Van Rompuy to be given more power in the management of the 17-nation euro zone. French officials did not respond to requests for comment.
Two senior EU sources said a central issue was trying to put an end to the cacophony among multiple policymakers which has undermined markets' confidence in Europe's ability to surmount its sovereign debt crisis over the last 18 months.
"There has to be one voice," said a senior official involved in preparing the monthly meetings of the Eurogroup finance ministers of the currency zone.
Another senior EU official said the Commission was working on ideas about "how we can enhance verbal discipline in the Eurogroup."
The European Central Bank has enforced much greater discipline in conveying its policy message to markets, but it exercises greater power over national central bankers than Brussels has over member governments.
Van Rompuy chairs all summits of the 27-nation EU under the Lisbon Treaty that came into force in late 2009. He has no official role in the euro zone but he did chair two emergency summits of euro zone leaders this year.
The former Belgian prime minister has the confidence of Sarkozy, who has long pressed for more frequent summits of leaders of the euro area to act as an economic government for Europe, and of German Chancellor Angela Merkel, who has in the past been reluctant to institutionalise such summits.
"The feeling in Paris, and possibly elsewhere too, seems to be that most important issues for the euro area can only be decided at the level of heads of states," a third senior euro zone source said, stressing that there was no formal proposal on paper yet and the German position was not yet clear.
LEADERSHIP VACUUM
Many EU officials say the crisis has been exacerbated by a leadership vacuum, partly due to the lacklustre performance of Eurogroup chairman Jean-Claude Juncker, the veteran Luxembourg prime minister who has been an EU deal-broker for two decades.
"The Eurogroup is dysfunctional," said the senior official.
"There's a personality issue. Juncker is clearly tired and fed up. He's really exhausted," the official said. "He goes to meetings without preparing. He doesn't direct and doesn't conclude the discussions. It's messy."
The second source said national finance ministers kept aggravating the crisis with discordant statements and could not resist the temptation to set out their divergent positions to reporters on arrival at Eurogroup meetings.
Van Rompuy effectively grabbed the steering wheel last month after an inconclusive July 11 Eurogroup meeting on a second bailout for Greece sent euro zone markets into a tailspin. He pressed for an emergency summit to force an agreement.
The key deal was struck by Merkel, Sarkozy and Trichet in Berlin, while diplomats said Van Rompuy's role was largely to steer preparatory staff work and ensure that other euro zone governments accepted the compromise they reached.
Juncker himself, asked about reports that Sarkozy wanted to give Van Rompuy the key coordinating role, told the French daily Le Figaro that the European Council president would be a "logical and natural candidate" to head a "council of the euro."
Merkel was long opposed to holding separate euro zone summits, officially arguing that it would be divisive in Europe. Unofficially, diplomats said the German leader did not want to be stampeded into concessions by a French-led southern European majority in the currency bloc.
However, she agreed in March that the euro zone would hold at least one annual summit to review progress on a "Euro plus pact" on economic competitiveness.
In a joint article in the Financial Times last Friday, the French and German finance ministers said: "Only by evolving the European monetary union's institutional structures in such a way that euro members are obliged to adopt a fiscal and economic policy that reflects their joint responsibility for the common currency will we master the challenges that lie ahead."
However, one euro zone source warned that creating a council of euro zone leaders could emasculate the Eurogroup, the central policymaking body of specialist finance ministers since the single currency was launched in 1999.
"The reason why van Rompuy might be picked to chair it is because the French do not like Juncker, ever since that first summit when Sarkozy by-passed Juncker with decisions on the summit and Juncker made clear he should have been more involved.
"But if it were to become reality, it would take a lot of power from the Eurogroup of ministers," the source said.
© Copyright Thomson Reuters 2023. All rights reserved.