Venezuela Forex System Sells Dollars At Eight Times Official Price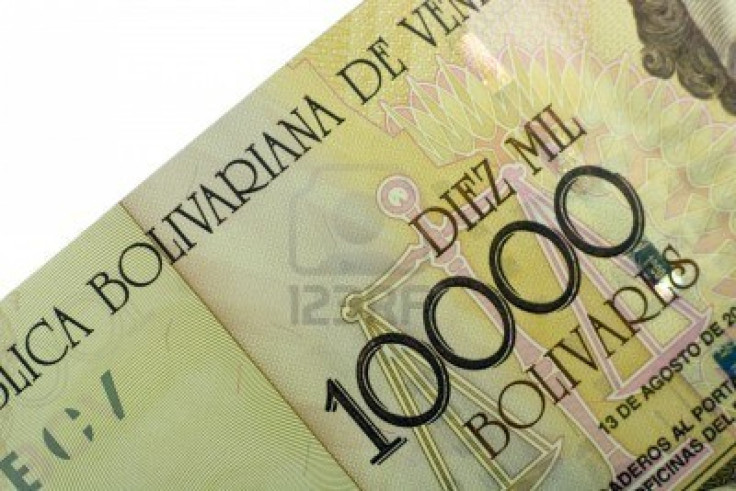 (Reuters) - Venezuela launched a new free-floating foreign exchange system on Monday that offered dollars for eight times the official price in a move the government says will tame the black market but which critics see as a massive devaluation.
The central bank said the price for dollars on the inaugural day of the Sicad 2 system was 51.8 bolivars. Private bank operators who took part said demand was high but offers thin.
The new platform added a third state-sanctioned exchange rate to the South American OPEC member's 11-year-old currency controls, with dollars selling at 6.3 bolivars for preferential goods and around 11 bolivars for other items.
On the black market, greenbacks currently fetch around 57-58 bolivars. That price has fallen from 85 bolivars a couple of weeks ago on expectations of greater dollar flows via Sicad 2.
Though overseen by the central bank, the new system works on a supply-and-demand system, with individuals and companies allowed to participate in daily trading.
"Without doubt, it's the biggest monetary adjustment in Venezuela's history," said Henkel Garcia, of private think tank Econometrica, referring to the unexpectedly high price for dollars fetched on the first day of Sicad 2 trading.
President Nicolas Maduro denies that, saying the new market will account for only about 7-8 percent of dollar sales in Venezuela, with the 6.3 rate still applying for 80 percent of goods considered priority imports.
"To see the impact of this devaluation, we will have to see its weight in imports and the payment of things such as private debt and repatriation of profits," Garcia added.
Foreign companies have long complained of difficulties in getting profits out of Venezuela in hard currency. Sicad 2 gives them a clear legal alternative, reducing the temptation to turn to the illegal market.
Maduro's predecessor, the late Hugo Chavez, set up currency controls in 2003 as part of a socialist-style overhaul of the economy that he said would channel more wealth to workers rather than to wealthy people with bank accounts abroad.
BONDS RISE
Critics say the controls spawned corruption, curtailed business and gave birth to the black market for dollars.
Wall Street economists and bondholders have welcomed the new system as a much-needed easing of controls, though they want Maduro to go further across the economy.
Most Venezuelan bond prices were up on Monday, with the benchmark sovereign global 2027 gaining 2.22 percent to a bid price of 76.750.
Sicad 2 trading takes place daily until 1 p.m. local time (1730 GMT), with the bank announcing the average price afterward.
The new system revives a previous one, known locally as the "permuta" or "swap" market, which Chavez shuttered in 2010 after accusing speculators of manipulating it.
Opposition politicians have long criticized the government's currency controls. Still, they are lambasting Maduro for what they call a "stealth devaluation" via the new system.
"Today will be 'black Monday' ... This mega-devaluation is a harsh blow to all Venezuelans," opposition leader Henrique Capriles said on Twitter.
Venezuela's annual inflation rate, currently at more than 56 percent, is the highest in the Americas.
Analysts expect the price of Sicad 2 dollars to remain around the opening level in the short term, with the high rate likely to encourage initially reluctant private businesses to offer dollars alongside Venezuelan state institutions.
State oil company PDVSA is likely to be a big player.
"I think it's positive they are allowing the market to sell, to clear that price rather than trying to massage it as much as they can in order to avoid the price signal that the economy is demanding," said Goldman Sachs analyst Alberto Ramos.
"I think it is a reasonable range, between 50 and 60... It is indeed a stealth devaluation as many of the transactions in the economy are going to close at this rate, not the official rate. This is a massive devaluation, there's no doubt about it."
(Editing by Daniel Wallis, Dan Grebler and Eric Walsh)
© Copyright IBTimes 2023. All rights reserved.