Venezuela Protesters Clash With Police On Anniversary Of Anti-Government Demonstrations That Left Scores Dead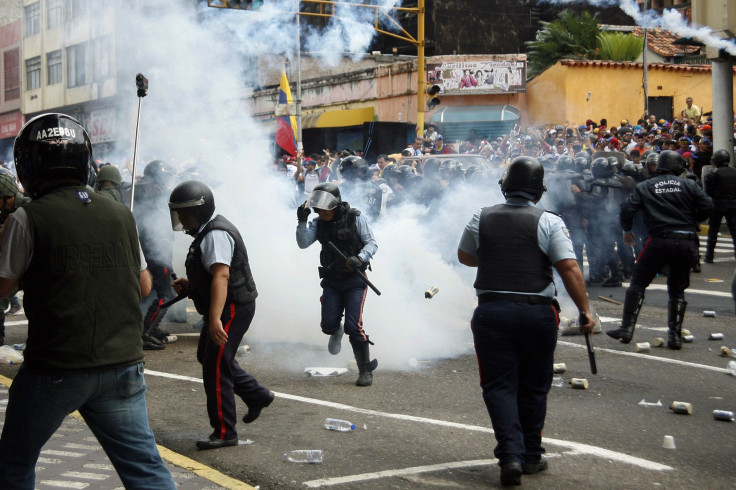 Police in Venezuela have used tear gas and rubber bullets against anti-government demonstrators, who took to the streets on the one-year anniversary of protests that resulted in 43 deaths last year.
Protesters and police clashed on the streets of the western city of San Cristobal, and the capital, Caracas. The confrontations recalled four months of anti-government protests that shook the OPEC member country last year.
In San Cristobal, National Guard soldiers and police fired teargas and buckshot against demonstrators who hurled pipes and Molotov cocktails when a march was blocked. Five security officials and three demonstrators were hurt in the nearly two-hour standoff, some shops vandalized, and four students arrested witnesses and authorities told Reuters.
In Caracas, demonstrators blocked one of the city's main thoroughfares, and threw rocks and Molotov cocktails at security forces, who responded with shotgun blasts and the arrests of at least six protesters.
About 200 students tried to march toward a church in the capital Thursday, but were forced back by riot police and gathered on the campus of Venezuelan Central University instead. Another 100 students chanting anti-Maduro slogans marched on the capital's east side, an opposition bastion, carrying posters with images of the victims of last year's protests, according to AFP.
In addition to the unrest on the country's streets, President Nicolas Maduro said Thursday that state intelligence agencies had foiled a coup attempt, which he alleged involved a plot to have a commandeered jet bomb the presidential palace, the Miami Herald reported.
In a televised speech, Maduro said that "Washington," had bought the loyalty of a number of air force officials, who were reportedly arrested in connection with the alleged plot.
"Behind this coup there were officials of the United States involved," Maduro said.
Maduro frequently denounces what he says are coup attempts without providing specific details, and last year arrested several members of the military who he said were plotting to overthrow him, the Associated Press reported.
Venezuela's government has faced significant public discontent in the last year, as the country suffered from widespread shortages of basic consumer products. In addition, falling oil prices have presented the country's petroleum-based economy with significant challenges.
Late last month, the government passed a law that would allow security forces to use deadly force against demonstrators, provided that officers felt their lives to be threatened. The move was widely seen as an attempt by the country's authorities to crack down on dissent.
According to Human Rights Watch, there has been little accountability for abuses that were alleged to have been committed by security forces during last year's deadly protests. The group alleges that killings, arbitrary arrests, beatings, and torture were committed by authorities during the protests.
© Copyright IBTimes 2023. All rights reserved.