Venezuela's Discount Oil Program Feared To Be On Shaky Ground As Caribbean Eyes Alternatives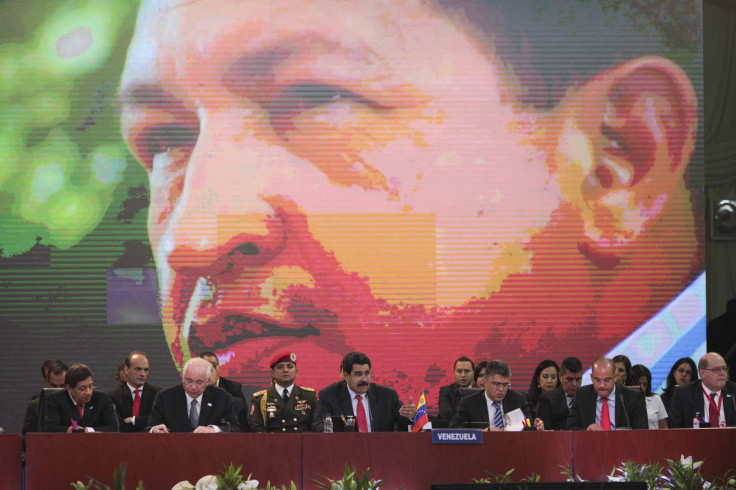 Venezuela's economy has been staggering in recent months, trying to find some relief in the wake of the global drop in crude-oil prices. But Venezuela may not be the only victim of Caracas' cash shortfall: Economic woes could also swallow several of the 13 countries that take part in its famous discount oil program, Petrocaribe.
Haitians took to the streets this week to vent frustration at their government over gas prices, which were recently cut to around $4.25 a gallon, down from $4.62. But for Haitians, most of whom make less than $2 a day, the cut wasn't steep enough.
The government "cannot lower the price of gas," said Prime Minister Evans Paul in a statement, according to Reuters. "It's not that we do not want to, it's because we are not able to." It's a cruel irony, given the wealth of cheap gas that countries around the world have been enjoying in recent months, and Haitians have railed against the government's fiscal management. But debt makes up another part of the equation: Port-au-Prince owes Caracas a whopping $1.5 billion for Venezuelan oil shipments it's received as a member of the Petrocaribe program.
Haiti isn't alone. Together, the 13 active participants in the regional oil alliance owe some $14 billion to Caracas for oil shipments received since the program began a decade ago. The heavy debts and Venezuela's urgent need for cash have invited a flurry of questions over whether the program, a foreign-policy legacy of late leader Hugo Chavez, can survive.
Chavez began the program in 2005 as a way to shore up alliances in Central America and the Caribbean region. Venezuela ships an estimated 206,000 barrels of oil a day to member countries, which in turn pay 40 percent to 60 percent of the bill, with the rest financed at low interest rates over a 25-year period. In some cases, countries send food or goods to pay off the debts. (Venezuela's arrangement with Cuba, in which Havana sends thousands of medical professionals to Caracas every year in exchange for oil, is a separate bilateral agreement.) Member countries can then use the savings to invest in social programs or infrastructure. Haiti's President Michel Martelly previously credited Petrocaribe for 90 percent of the government's investment budget.
But Petrocaribe countries have been nervously searching for alternatives as Venezuela's economic troubles continue to deepen. Venezuela has already started cutting back: The Wall Street Journal reported Caracas reduced oil exports to member countries by 20 percent last year compared with the year before. If crude prices stay where they are, Venezuela will have increasingly less means to finance this generosity.
Member countries are scrambling to prepare. Cuba, Venezuela's closest ally, began diversifying its investment and income sources years ago, establishing relationships with countries such as Russia, China and Brazil. Jamaica, with about $3 billion owed to Venezuela, is reportedly building its foreign reserves to create a buffer in case the program vanishes. The International Monetary Fund warned Caribbean countries last October to prepare contingency plans in case they no longer have access to the discount program.
Venezuela's opposition has relished criticizing the oil giveaways in the wake of rampant domestic shortages and a constantly deteriorating economic outlook. Opposition leader Henrique Capriles, who battled Chavez and current President Nicolas Maduro in the 2012 and 2013 presidential elections, pledged to end the program outright.
But Maduro doesn't appear ready to give up on Chavez's famous alliance just yet. In December, he declared his intent to expand the program even more. "Petrocaribe, what it must do at this stage, is consolidate, strengthen, grow and deploy itself with even more strength," he said, speaking to members of Latin America's leftist bloc Bolivarian Alliance for the Peoples of Our America, or ALBA.
In January, Venezuela also struck a significant deal to let the Dominican Republic pay off 98 percent of its $4 billion debt with $1.9 billion in cash, raised through a bond sale. The gains -- debt relief for the Dominican Republican and short-term cash flow for Venezuela -- marked wins for two desperate situations.
Still, some observers are forecasting that Petrocaribe may be on its last legs, and the U.S. government is paying close attention, too. In January, U.S. Vice President Joe Biden hosted a summit of Caribbean leaders, the first summit of its kind in Washington, to discuss how the U.S. and international agencies could help wean the region off oil. During the meeting, Biden pledged U.S. help to Caribbean countries looking to diversify their energy sources and lay the groundwork for private investment, a move that could pave the way for the booming U.S. natural-gas market to net a new batch of customers.
FOR FREE to continue reading
✔️ Unlock the full content of International Business Times UK for free
offer available for a limited time only
✔️ Easily manage your Newsletters subscriptions and save your favourite articles
✔️ No payment method required
Already have an account?
Log in
© Copyright IBTimes 2023. All rights reserved.