Venezuela Refinery Explosion Linked To Lack Of Safety Investments By State Oil Firm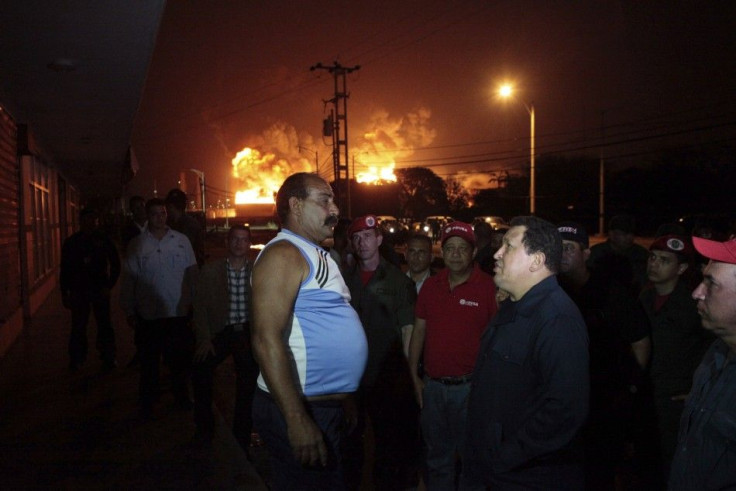 Plumes of thick, black smoke continue to rise from the inferno that has engulfed Venezuela's main oil refinery and left at least 41 people dead and dozens more injured, following the country's worst oil accident on record.
Three refining tanks exploded at the state-run Amuay plant early Saturday morning, calling into question safety protocols and warning systems at the country's largest refinery.
Venezuelan President Hugo Chavez denied that there were early indicators of an issue at the complex despite claims that local residents had detected the strong smell of gas days before the blast.
"What you say you heard suggests something that is practically impossible in an installation of this kind, the largest refinery in the world. It is completely [automated] and it has thousands of responsible workers here day and night, civilians and military," Chavez said.
"There is no way that there could have been a gas leak during three or four days and that no one did anything."
The cause of the explosion has yet to be determined, but responsibility for the accident is being politicized as presidential elections approach in October.
Former oil executives in Venezuela allege that maintenance standards at the plant declined following a general strike in 2002 that ended with the firing of over 20,000 employees.
Since 2003, there have been 79 other accidents at the Paraguana complex, comprised of the Amuay and Cardon plants, resulting in 19 deaths, according to Gente del Petroleo, an organization of retired oil executives, the Guardian reported.
Critics have placed the blame on Venezuela's national oil company Petróleos de Venezuela, S.A (PDVSA), alleging that it has failed to invest in regular maintenance and safety precautions, while directing funds into government social and housing projects.
"In my time there we knew what the objectives of the oil industry were. Now PDVSA diverts its resources into politicking," Mario Theis, a former operations manager in the Amuay complex, told the Guardian.
Chavez responded to criticisms of the PDVSA, saying they were the result of a political agenda as he seeks re-election to a fourth term in office.
"I recommend to all those who claim this [lack of maintenance] not to speculate. This all coincides with a line of opinion being generated," Chavez said.
The PDVSA is central to Venezuela's oil industry, accounting for $88.4 billion in revenue in 2010. Crude oil and petroleum products account for over 95 percent of the country's exports and make up over a third of its GDP.
In 2011, the state invested $27 billion in social programs compared to $15 billion spent on energy projects.
"The lack of direction, investment and maintenance are wrecking [Venezuela's] oil and natural gas industries," Jose Bodas, secretary general of the FUTPV, one of the country's largest oil unions, told USA Today.
"PDVSA is falling apart."
© Copyright IBTimes 2023. All rights reserved.
FOLLOW MORE IBT NEWS ON THE BELOW CHANNELS