Venezuela-US Tensions: Maduro's Rule By Decree Powers Won't Change Much, Analysts Say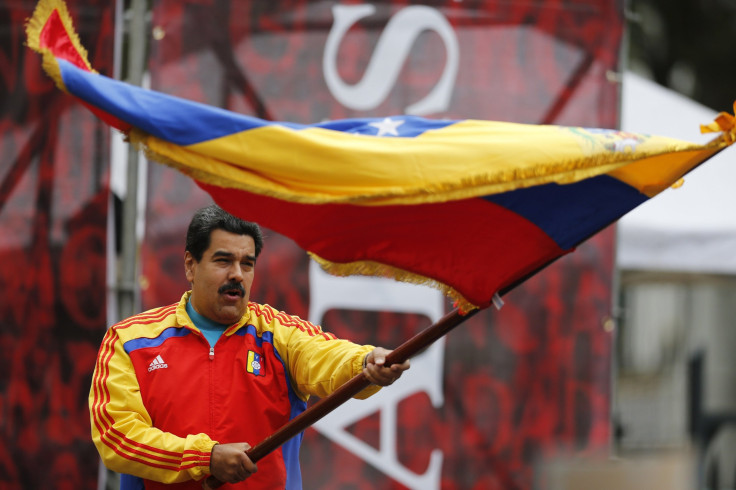 Venezuela's President Nicolás Maduro received special powers this weekend to rule by decree on matters of national security in light of a perceived threat posed by the U.S.'s recent sanctions on Venezuelan officials. But while critics are cautioning against a potential abuse of power, analysts say the law gives the president few new abilities that he didn't already have.
The National Assembly on Sunday finalized approval for the Ley Habilitante (Enabling Law), which allows Maduro to bypass the legislature on matters "in the area of freedom, equality, justice and international peace, independence, sovereignty, territorial integrity and national self-determination." The law, which is in effect until December, stipulates that it is meant to protect against "interference" from other countries and transnational authorities.
It's the second time Maduro has been granted such decree powers. In 2013 the legislature approved a similar law allowing the president to exert more control over the economy as Maduro accused businesses of driving up prices and sabotaging the market. During the year those powers were in effect, he passed around 40 new laws – the majority of them passed a week before the powers expired – implementing profit-margin limits on businesses, tackling corruption and streamlining the distribution of agricultural products.
It's unclear how Maduro will wield his new abilities, but the law appears to give him much more far-ranging authority this time than the law in 2013 did. "The language is broad enough that he could really interpret almost any aspect of the national agenda in Venezuela to fall under this rubric of security, especially given the dynamics of confrontation he's established with the U.S.," said Harold Trinkunas, director of the Latin America Initiative at Brookings.
Maduro's critics have already sounded alarms over the decree powers. The law will ultimately allow the president to "persecute anyone who thinks differently from Maduro," said opposition lawmaker Angel Medina during the National Assembly debate Sunday, according to local reports. "We cannot delegate powers in important matters like sovereignty."
But Maduro hasn't had a difficult time getting his agenda through the National Assembly. His United Socialist Party of Venezuela (PSUV) has a majority in the legislature as well as the national electoral council. And fears of government crackdowns on political dissent were already realized last month, when federal authorities arrested the mayor of Caracas on accusations that he had participated in a U.S.-backed plot to overthrow Maduro's government.
Trinkunas said the law was likely another way for Maduro and his party to shore up support, as economic and political troubles have heightened criticism against his administration from inside and outside the country. U.S. President Barack Obama issued an executive order last week that slapped sanctions on seven Venezuelan officials and described the country as a "threat to national security," language that has given Maduro an opportunity to steer the national conversation away toward anti-imperialism and perceived threats from abroad.
The decree powers are "more of a way of providing a visible response and accentuating the dynamic of confrontation with the U.S., which he finds useful as a way to rally his support base," Trinkunas said.
"There's not really much he can really do additionally in terms of pure security that they have not already done," he added. "He already has the internal power he needs."
Opposition leader Henrique Capriles, who ran against Maduro for the presidency in 2013, tweeted that the new powers were an attempt by the government to "buy time because they don't know how to resolve the crisis that they themselves created."
Venezuela has been going through rocky times since last year's dramatic drop in global oil prices took a hit on the country's main source of export revenue. The oil price situation exacerbated existing deep-seated problems with the economy, which was already suffering from inflation over 60 percent and rampant shortages of basic goods. Those shortages have grown more severe since the beginning of the year, leading to hours-long wait times in supermarket lines.
Meanwhile, relations between the United States and Venezuela have been on especially shaky ground in recent months. In February, around the one-year anniversary of mass antigovernment protests that erupted last year, the president accused the U.S. of working with political opposition members to overthrow his government, a charge White House officials have vehemently denied. The Maduro administration arrested the Caracas mayor shortly thereafter – a move sharply criticized by the U.S. – and lobbied a series of measures against Washington: It demanded the U.S. embassy in Caracas reduce its staff from over 100 employees down to 17, put new visa requirements on U.S. tourists traveling to Venezuela, and issued travel bans on a handful of U.S. politicians, including former U.S. president George W. Bush.
The latest round of sanctions signed by President Obama last week referred to Venezuela as a national security threat, which the White House said was a technical necessity required in issuing sanctions abroad. But Maduro has instead ramped up defensive rhetoric against the U.S., spearheading "anti-imperialist" rallies and launching military exercises over the weekend to defend against the perceived foreign threat.
© Copyright IBTimes 2022. All rights reserved.
FOLLOW MORE IBT NEWS ON THE BELOW CHANNELS