Venezuela Wants To Fingerprint Grocery Shoppers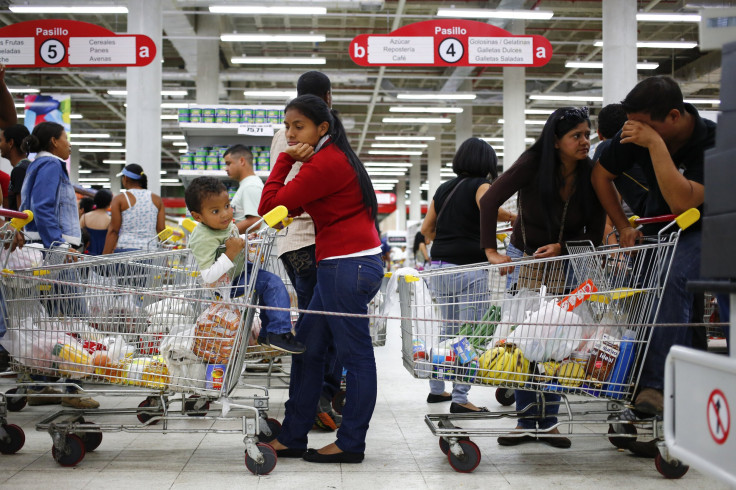 Grocery shoppers in Venezuela will soon be fingerprinted at checkout. President Nicolas Maduro announced this week that his government would introduce a mandatory biometric system in stores nationwide to limit customers' purchases in the latest effort to combat chronic shortages.
Under the plan, fingerprint scanners in stores around the country will track buyers' purchases and prohibit people from buying large quantities of the same item within a given time period. Maduro said the system was an anti-fraud measure meant to crack down on hoarding and smuggling, which he has blamed for ongoing shortages of food and household staples.
Many details of the new system – which goods it will affect, what the caps on purchases will be, and precisely when the scanners will be introduced – are still unknown. Andrés Eloy Méndez, the superintendent of fair prices, said the system would go into effect by the end of the year.
Maduro this week also announced a plan to monitor the "production, distribution, sale, imports, storage and commercialization" of all food, personal care goods and medicine in the country through tracking codes for each item.
The newly announced biometric system would extend a similar program Venezuela introduced in April that used fingerprint-based ID cards in government-owned stores to track purchases and flag any "suspicious" buying patterns. But while consumers could voluntarily sign up for the "Secure Supply Card" program, the new system would be mandatory and apply to both government-run and privately run stores.
Maduro assured citizens that it would be a "perfect system," likening it to Venezuela's fingerprint-based voting system, which he called the best in the world.
But the plan has already triggered vocal protest from the political opposition. Henrique Capriles, the governor of Miranda state, who ran against Maduro for the presidential title last year, said on Twitter that the new system was "nothing more than a ration card." Robert Leon Parilli, the president of the National Alliance of Users and Consumers, also criticized the plan, saying it would "subject all citizens to [more government] control."
"We don't believe that this will be the solution to scarcity in the country, because it is a problem of local production and imports that are insufficient to meet domestic market demand," Parilli told news agency EFE. "This will not be solved with fingerprint readers."
Venezuelans have long struggled with widespread shortages of basic household staples like milk, flour and toilet paper. Government-mandated price controls on consumer goods, a scarcity of U.S. dollars and an import-dependent economy have all contributed to scarcity across industries and a system that makes it profitable to smuggle goods outside of the country to fetch higher prices. Long wait times at grocery stores and scarcity on the shelves are common facets of daily life for many Venezuelans.
Maduro estimated that 40 percent of the country's food was smuggled out into neighboring Colombia. The Venezuelan government has lately cracked down more heavily on smuggling operations: Most recently, it began closing down its border with Colombia during nighttime hours and dispatching troops to prevent smugglers from moving contraband across the state line.
Meanwhile, Maduro's popularity within the country has taken a dive. A poll released this week by Hinterlaces, a Venezuelan polling firm, showed Maduro's approval rating dipping to 39 percent, down from 57 percent in January.
© Copyright IBTimes 2023. All rights reserved.