Venezuela's Maduro Jets To China, OPEC Countries For Help With Cash-Strapped Economy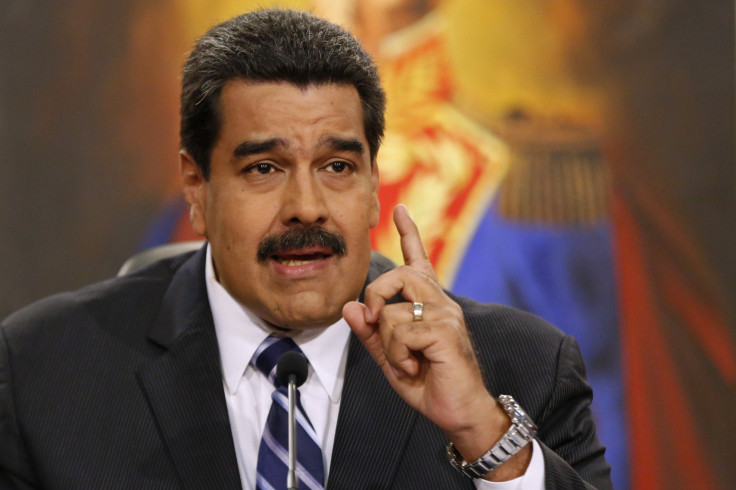 Venezuelan President Nicolás Maduro is taking a tour through China and several countries in the Organization of Petroleum Exporting Countries (OPEC) this week to rally financial help for his tumbling economy in the wake of sliding oil prices. The trip is "very important to take on new projects in the circumstances that our country faces in the depletion of income caused by the drop in oil prices," Maduro said in announcing the tour in a national broadcast Sunday evening. He has not specified which OPEC countries are on his travel itinerary, but said he would work with member countries to formulate a strategy for bringing oil prices back up.
China is Venezuela's top financier, with nearly $50 billion loaned to Caracas since 2007. Venezuela supplies more than 500,000 barrels of oil a day to China, about two-thirds of which are repayments under the countries' oil-for-loans agreement. Venezuelan consultancy firm Ecoanalítica said on Twitter a $4 billion credit line expiring in February likely would be renewed. But the firm also noted it was "skeptical that China would grant resources for a higher amount."
Maduro will meet with Chinese President Xi Jinping during his visit and take part in a meeting between China and the Community of Latin American and Caribbean States Jan. 8-9 in Beijing.
The price of Venezuelan oil, which makes up some 95 percent of its export market, has fallen by more than 50 percent in the past six months, dipping to $46.97 at the end of 2014. Venezuela unsuccessfully lobbied for OPEC to cut oil output to temper the price plunge in November. Last week Caracas announced the country had officially entered a recession, with annual inflation at 63 percent.
Venezuela's financial woes, already mounting before oil prices began slipping during the summer, have triggered analysts' predictions of a default on its external debt. In December, Fitch lowered Venezuela's credit rating to CCC, and Bloomberg estimated a 97 percent chance of default by the end of 2015.
While Maduro has slammed default speculation and blamed foreign media for stoking an "economic war," he has turned the government's attention to the faltering economy. Last week he announced Caracas wants to reform currency controls to boost foreign reserves. Meanwhile, Maduro's popularity is plummeting, sinking to a record 22 percent in December, polling firm Datanalasis reported.
© Copyright IBTimes 2023. All rights reserved.