Verizon Strike 2011: Two Female Strikers Arrested in Virginia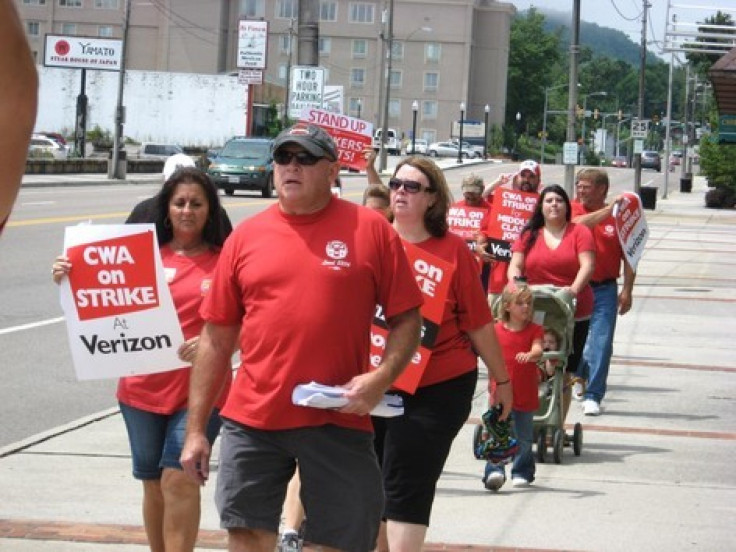 Two female Verizon employees who are out on strike were arrested during a rally in far southwestern Virginia.
The two women -- Leabern Kennedy, 44 years old, and Susanna Short, 37 -- were charged with two misdemeanors for obstructing free passage and failing to obey a conservator of the peace for prohibiting a vehicle from entering a local Verizon facility last week, according to local papers.
If convicted, each woman faces up to 18 months in jail and a $3,500 fine. Both have been released on their own recognizance.
About 300 workers -- including call center employees and technicians -- have walked off the job in far southwestern Virginia. The local workers are picketing Verizon facilities in Wise County and the city of Norton. In all, nationwide about 45,000 Verizon workers -- mostly from its struggling landline business -- have been on strike since Aug. 2.
In an interview with a local newspaper, Short said, "Sitting in front of her [a co-worker's vehicle] lets her know that we do not approve of her crossing the picket line when she should be standing out there suffering as much as we are."
"Whatever we fight for and win, she's going to get … and that's not fair."
Short added that both she and Kennedy, who is also a union representative, have received letters of suspension from Verizon following the arrests.
"We were not on company property. Of course we're not on company time," she said. "There was no violence… and yet they're suspending us."
Kennedy, the mother of three children and the grandmother of two, has worked for more than 12 years at Verizon. Short, the mother of two children, has worked for Verizon for 11 years.
Both women are due to attend a hearing scheduled in Wise County General District Court on Oct.11. The women will be represented by Patti Church, the widow of former United Mine Workers of America President Sam Church.
A spokesman for Verizon, Harry Mitchell, told reporters that managers have repeatedly been harassed by strikers in the area and equipment has been vandalized.
"We have had dozens of instances where picketers have blocked our employees' ability to enter our facilities and do work or to leave those facilities, and we have engaged the local law enforcement to uphold our legal ability to do that," he said.
"It's unfortunate that the actions of a few bad apples in the unions are really marring this for the entire employee body."
Mitchell also defended the company's demand for an overhaul of health care benefits for employees.
"The nature of the way we communicate has changed so much, he said. But our union contracts are pretty much following the same model as they did back when the rotary phone was the only thing going.
"Many of the union rules in place today were created back when there was only one phone company and that was us, and those days are long gone and the union leadership has got to step up and recognize that."
© Copyright IBTimes 2023. All rights reserved.