Vermont Flooding Leaves 3 Dead, 1 Missing, Hundreds Cut Off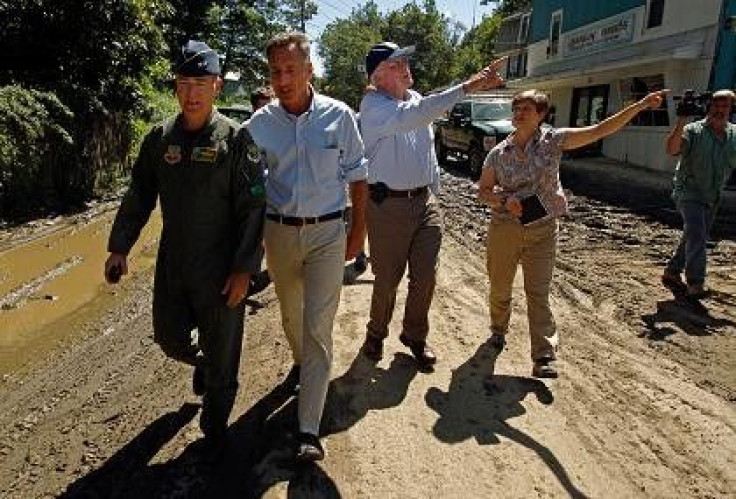 Three people are confirmed dead in Vermont on Monday after flood waters from Hurricane Irene somewhat reshaped parts of that state ? and upstate New York ? in what is said to be the worst natural disaster since an epic flood in 1927.
A fourth person is missing, state officials said at a news conference in Montpelier.
The deaths happened in Wilmington, Rutland and Ludlow, according to the Burlington Free Press. The son of the Rutland victim is missing and feared dead, according to state officials told the paper.
It is reported that one woman standing near the Deerfield River in Wilmington died after being swept away by flood waters and her body recovered, according to authorities.
A man was killed in Mendon when flood water took him away also, according to Vermont Emergency Management.
Authorities said another man was found dead in Lake Rescue in Ludlow earlier on Monday.
Irene, which had downgraded to a tropical storm on Sunday, transformed usually calm rivers in into powerful torrents that washed away at least three iconic covered bridges and closed about 250 of roads, trapping hundreds of people in cut off communities.
Gov. Peter Shumlin said the damage from Irene is the worst in 75 years.
It's just devastating, Shumlin said on Monday. Whole communities under water, businesses, homes, obviously roads and bridges, rail transportation infrastructure. We've lost farmers' crops.
Shumlin said the people in his state are tough, but Irene really hit us hard.
But exactly how many people remained trapped is unknown.
It's hard for us to know, frankly, because it's hard for us to get into the communities we need to get to, Shumlin said.
President Barack Obama signed a declaration of emergency on Monday for Vermont.
Authorities have said Irene is responsible for about 25 deaths along the East Coast and has left about six million people without electricity.
Cleanup and damage assessment is already underway in the areas hit and damage is estimated to be about $7 billion.
Homes and infrastructure aren't the only things that took a beating from Hurricane Irene.
The economy also took a hit, and the hefty economic toll ? with insured and uninsured damages - is expected to total between $5 billion and $7 billion, Jose Miranda of Eqecat Inc., a catastrophic risk management firm in Oakland, told the Los Angeles Times.
© Copyright IBTimes 2023. All rights reserved.