Vice President Joe Biden's Son Appointed As Head Of Legal Affairs At Ukrainian Energy Firm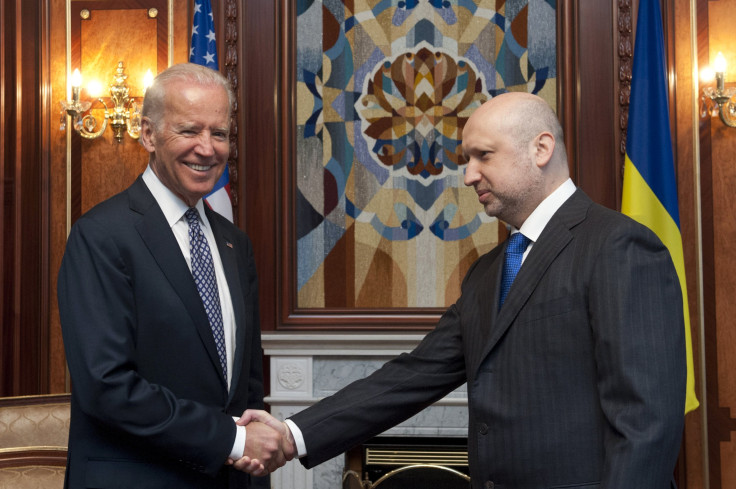 Hunter Biden, the youngest son of U.S. Vice President Joe Biden, has been appointed as head of legal affairs at Ukraine's largest private gas producer, Burisma.
The appointment comes just weeks after Vice President Biden visited Ukraine's capital to show support for the country in its fight against Russia's annexation of Crimea and troublemaking in Ukraine's east. He also warned of the dangers of government corruption.
"Russia already regards the U.S. as meddling in Ukrainian affairs, so this news won't change that perception," said Steven Pifer, a former U.S. Ambassador to Ukraine and a director of the Brookings Arms Control and Non-Proliferation Initiative. "Russia may, however, use it for propaganda purposes."
On Tuesday, Hunter Biden said he hoped his job will benefit Ukrainians and the Ukrainian economy.
When asked about the hiring on Tuesday at a daily press briefing, White House spokesman Jay Carney referred questions to the vice president's office and said the news did not indicate that President Obama was involved with or approved of the appointment.
"Hunter Biden and other members of the family are obviously private citizens, and where they work is not an endorsement by the president or vice president," Carney told the media.
When asked whether Hunter Biden discussed working for Burisma with his father before accepting a position with the company, Spokeswoman for the Vice President's Office Kendra Barkoff told IBTimes: "Hunter Biden is a private citizen and a lawyer. The Vice President does not endorse any particular company and has no involvement with this company. For any additional questions, I refer you to Hunter's office."
Hunter Biden's New York law office did not immediately respond to questions Tuesday.
Burisma Holdings said in a statement on its website on Monday that Hunter Biden would join its board of directors and lead the company's legal unit by providing "support for the company among international organizations." He currently serves as the managing partner and chairman of the board of Rosemont Seneca Partners, a financial and policy advisory firm, and he's an adjunct professor at Georgetown University's Masters Program in the School of Foreign Service.
"I believe that my assistance in consulting the company on matters of transparency; corporate governance and responsibility; international expansion; and other priorities will contribute to the economy and benefit the people of Ukraine," Hunter Biden said in a statement.
In late April, when the vice president made an official trip to Ukraine, Burisma appointed one of Hunter's business partners, Devon Archer, to its board, according to the Moscow Times, an English-language Russian news service. Archer is a wealthy investor and Democratic campaign fundraiser with long ties to secretary of state John Kerry.
According to the Website for his firm, Archer "was an advisor to John Kerry during his 2004 Presidential Campaign and co-chaired the National Finance Committee."
Burisma owns several Ukrainian oil and gas companies, including Esko Pivnich and Pari, and it has assets in several basins in Ukraine, including Dnepr-Donetsk, the Carpathian and Azov-Kuvan.
Vice President Biden has repeatedly criticized Russia for its military presence in Ukraine and seizure of Crimea, and he has promised to support Ukrainian efforts to reduce the country's dependence on Russian energy.
Burisma produced 11,600 barrels of oil equivalent last year and plans to increase its production in Ukraine by 35 percent to 40 percent this year.
© Copyright IBTimes 2022. All rights reserved.
FOLLOW MORE IBT NEWS ON THE BELOW CHANNELS