Video Allegedly Shows Russian Fighter Castrating Captured Ukraine Soldier Using Utility Knife
KEY POINTS
A video that surfaced online appeared to show a pro-Russian fighter castrating a captured Ukrainian soldier
The prisoner of war was tied and shot in the head in another clip
Ukrainian prosecutors have launched an investigation into the video
Ukraine has launched an investigation into a video that appeared to show a pro-Russian fighter castrating a Ukrainian prisoner who was reportedly executed following the abuse.
The roughly one-minute-and-a-half-long clip was among a series of videos that surfaced on pro-Russian Telegram channels, The Washington Post reported.
These videos showed a group of men, one of whom was wearing a "Z" symbol as well as an orange and black ribbon, castrating and executing a captive wearing military fatigues with patches that are blue and yellow, the color scheme of Ukraine's flag.
The letter Z, which does not exist in the Russian alphabet, has become a pro-war symbol following the invasion of Ukraine.
Meanwhile, the orange and black ribbon is likely a ribbon of St. George, a Russian patriotic symbol that is now associated with pro-Russian sentiments.
In the video that appeared to show the mutilation, the pro-Russian soldier cut the restrained Ukrainian prisoner with what was described as either a utility knife or box cutter. The genitals of the captive reportedly were shown to the camera.
The Ukrainian prisoner was tied up and shot in the head, another clip reportedly showed.
International Business Times could not immediately verify the footage, but investigative news outlet Bellingcat told The Moscow Times that it is likely authentic.
A Russian soldier wearing the same black hat and wristband as the man who appeared in the video previously appeared in a clip that was aired by Russian state-controlled broadcaster RT, according to Aric Toler, the head of research and training at Bellingcat.
The fighter is part of Chechnya's 141st Special Motorized Regiment, also known as the Akhmat Battalion or the Kadyrovites, who were shown in a clip published by Russia's state-run RIA Novosti news agency, some observers claimed. Others alleged he was from Russia's Kalmykia republic.
Geolitics, a Twitter account that maps conflicts, pinpointed the castration video's location to Severodonetsk, an eastern Ukrainian city that Russia captured in late June.
Moscow has not officially commented on the alleged mutilation, according to The Washington Post.
The prosecutor general's office in the Ukrainian capital of Kyiv has since announced that it has launched an investigation into the video. Ukraine's Ministry of Foreign Affairs also called on the International Criminal Court to launch a probe as well.
Both Amnesty International and the European Union have backed Ukraine's calls for an investigation into the incident.
The deliberate killing or abuse of POWs is considered a war crime under the Third Geneva Convention.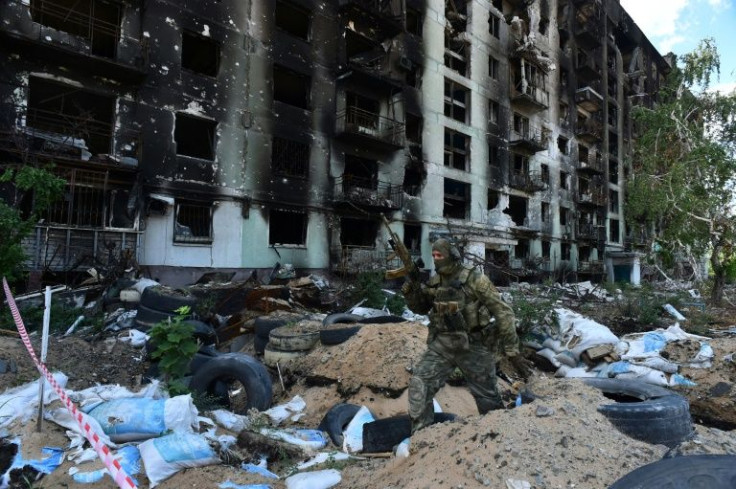 © Copyright IBTimes 2023. All rights reserved.
FOLLOW MORE IBT NEWS ON THE BELOW CHANNELS