VIDEO Australian Open Final Highlights: Novak Djokovic Beats Andy Murray To Claim 5th Title In Melbourne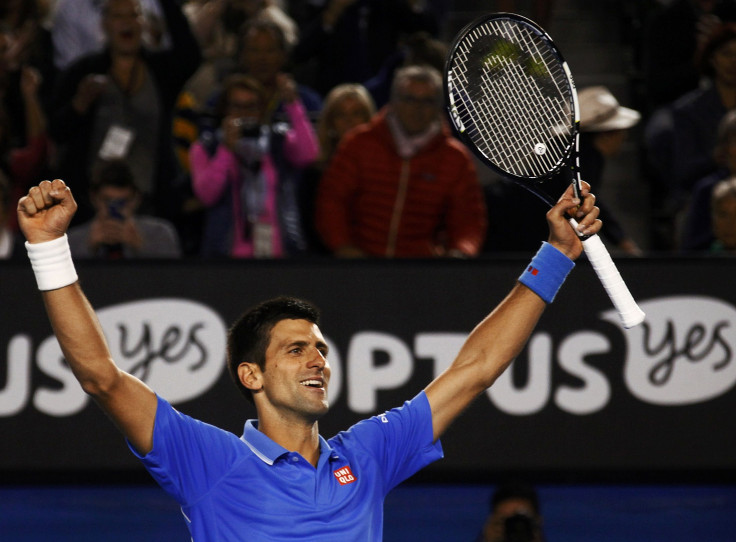 Novak Djokovic outlasted Andy Murray over more than three-and-a-half hours to secure an Open-Era record fifth Australian Open title. In a grueling encounter, for long stages full of exceptional tennis, punishing rallies and seemingly endless momentum shifts, Djokovic finally wrest control to win 7-6 (7-5), 6-7 (4-7), 6-3, 6-0 under the lights on Rod Laver Arena.
After the first two sets were shared in over two-and-a-half hours, it was Murray who wilted decisively midway through the third set and Djokovic who remained physically and mentally unwavering to sprint away with the match by taking the last nine games. As Djokovic took his record in Australian Open finals to 5-0, Murray's sunk to 0-4. Three of those defeats have now come against Djokovic, and this will surely have been the most frustrating of all. At points in each of the first three sets, Murray, playing with real aggression and purpose for long stages, appeared to have the momentum firmly going his way, only to see Djokovic strike back.
While Djokovic showed occasional theatrical signs of frustration and fatigue, he was never down for long, showing incredible powers of resilience. It was another emphatic display of why he remains the world No. 1. And with this win he further enhances his place in the record books. He now has eight Grand Slam titles overall, putting him level with greats Andre Agassi, Jimmy Connors, Ken Rosewall, Fred Perry and Murray's former coach Ivan Lendl. On this evidence, Bill Tilden on 10 and Bjorn Borg and Rod Laver on 11 will be in his sights. At the year's first Grand Slam he is already unmatched in the Open Era. His fifth win in Melbourne, takes him clear of Agassi and Federer and just one behind the all-time record number of titles, held by Australian Roy Emerson.
"I'm honored to be standing here with the trophy for a fifth time," Djokovic said after being handed the trophy by Emerson.
This was one that in which he had to produce his best in order to prevail. Fresh from his inconsistent five-set win over defending champion Stan Wawrinka in the semifinals, there were immediate signs that Djokovic was playing at a far higher level. Meanwhile Murray was operating with the same positivity and offensive instincts that had seen him through to his first Grand Slam final since winning Wimbledon 18 months ago and subsequently undergoing back surgery and losing Lendl from his corner.
Twice they exchanged breaks in the first set, but when Djokovic jammed his thumb on a fall it appeared that Murray had the upper-hand. But despite Murray twice getting the edge in the tiebreak, it was Djokovic who took it the set when a backhand return from the Scot found the net. Djokovic had won all 11 of his encounters against Murray in which he had taken the opening set, while he was 36-1 overall in finals when doing so.
Especially having already expended so much energy in vain, Murray needed an immediate lift. He got it when breaking Djokovic's first service game of the second set. Not for the last time, the Serbian was showing signs of weariness in his legs, stumbling about at the back of the court. Any hint of physical distress soon disappeared, however, when Djokovic got back on level terms and then went up a break. Murray was on the ropes when an off-court incident came to his aid. A group of protesters managed to unfurl a banner courtside and worryingly even make it onto the court before security intervened and a lengthy delay ensued. Murray used the time to regroup and refocus and he immediately broke back. Again they went to a tiebreak, and this time Murray held his early advantage and made it a set apiece with a blazing forehand pass down the line.
The man who beat Djokovic to claim the two Grand Slam titles to his name continued his surge to power ahead at the start of the third set. Djokovic had been broken and was again wavering at the back of the court. A knockout punch looked ready to be delivered. Against almost any other player it surely would have been forthcoming. Instead Djokovic again swing the momentum back in his direction and once more he looked free of any distress.
Murray, reacting to his inability to hammer his own advantage and Djokovic's rapidly altering signs of fatigue, became increasingly frustrated, expending vital emotional energy screaming at himself and his camp. The crucial moment arrived at 3-3 in the third set. Murray had a point to again go a break to the good and looked like he might have it as he chased down a drop volley. But his attempted pass found the tape of the net and Djokovic survived. The very next game Murray donated a break with a double fault and slammed his racket into the hard court in fury. The double fault had cost him on this occasion and it was his second serve that proved his undoing throughout. The shot has consistently been his bigger weakness through his career, and against the best player in the world he managed to win just 34 percent of points with it. It gave him too much to do.
And losing the third set left Murray facing a formidable uphill struggle against an opponent not giving an inch. Djokovic had proved too strong, with his body and his mind. The fourth set was a mere formality as Djokovic emphatically raced to the finish line to take his place in the history books.
© Copyright IBTimes 2023. All rights reserved.
FOLLOW MORE IBT NEWS ON THE BELOW CHANNELS