VIDEO Borussia Dortmund 4-1 Manchester United Highlights: Mkhitaryan Goal Not Enough For United In Shanghai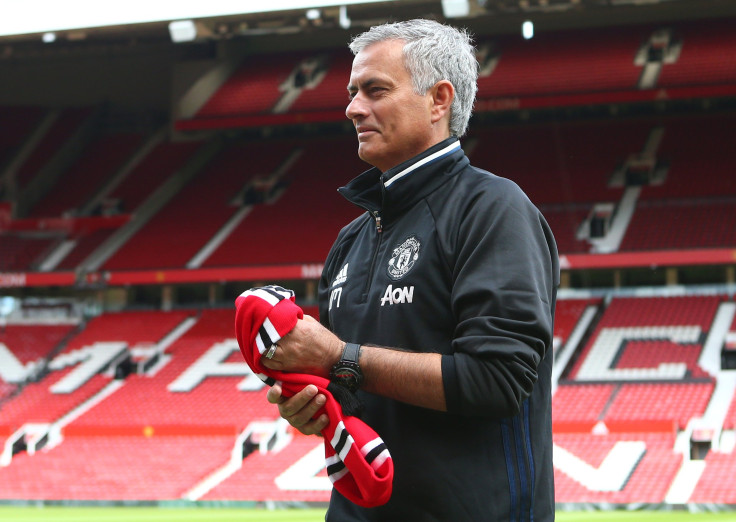 Jose Mourinho tasted his first defeat as Manchester United manager as Borussia Dortmund ran out emphatic 4-1 winners in Shanghai on Friday. In the first match of the China leg of the International Champions Cup exhibition event, Dortmund played with a far greater sharpness, befitting a team that already had four preseason games under its belt compared to United's one.
Unsurprisingly, Mourinho's new side found things far tougher going than in a relaxed 2-0 win over Wigan on Saturday. In stifling conditions, Dortmund's trademark intensity, while far from at full pelt, left United looking sluggish by comparison. Goals from Gonzalo Castro and, from the penalty spot, Pierre-Emerick Aubameyang in the first half were added to by a fine strike from Ousmane Dembele after the break.
The expected rash of second-half changes did give United some much-needed urgency, allowing Henrikh Mkhitaryan to get a goal back against the club he left for Old Trafford this summer. But Dortmund fittingly had the last word late on when Castro grabbed his second goal with an unstoppable strike into the top corner of the net.
It is a result that shouldn't be a great surprise and is unlikely to greatly deter Mourinho. Uniteds new manager even prefaced what might come by stressing Dortmund's more advanced preparations for the new season in his press conference ahead of the game. And his side was still unrecognizable from the one that is likely to line up against Bournemouth in three weeks' time to kick off its Premier League campaign. Perhaps only Mkhitaryan, Eric Bailly, and, maybe Mata, are likely to feature in the first XI of the season.
While those players who went out early at Euro 2016, excluding new signing Zlatan Ibrahimovic, are now with the squad, only Marcus Rashford featured off the bench. For captain Wayne Rooney and others, Friday offered only a watching brief. Dortmund, meanwhile, although without new signings Mario Gotze and Andre Schurrle and with Marco Reus still out injured, had some key parts in place and the advantage of already having a season with manager Thomas Tuchel under its belt.
And there was clear evidence of that, with Dortmund slipping into its trademark pressing, melded with the more possession-based approach that Tuchel introduced when he replaced Jurgen Klopp last summer. The runner-up in the Bundesliga last season also had the joint threat in attack of the lightning quick Aubameyang and teenage new signing Dembele.
Clearly aware of that speed, and also perhaps attempting to implement Mourinho's counter-punching approach, United sat deep, allowing Dortmund to dominate. United's only threat was through quick balls forward attempting to utilize the pace of lone striker Memphis Depay and Jesse Lingard. Yet Memphis struggled in the unfamiliar role and for the second game running failed to enhance his prospects of becoming a key part of Mourinho's plans in the coming season. Meanwhile, Lingard blew his team's best chance with a tame finish.
By the time Lingard fired straight at Roman Weidenfeller, Manchester United was already a goal behind. Sam Johnstone, who had earlier made a mess of a back pass, was another to fail to impress, spilling a long-range Aubameyang free-kick 19 minutes in, resulting a goal-mouth scramble that finally led to Castro bundling home.
Nine minutes before halftime it was 2-0. Again Aubameyang, scorer of 39 goals last season, was involved, this time seeing his miscued overhead kick strike the arm of Antonio Valencia. The penalty award may have been a little harsh, but United could have little complaint about the scoreline after Aubameyang fired his penalty down the middle to beat Johnstone.
Shortly before the hour mark it was the man with whom Aubameyang could form one of Europe's most feared strike forces this season who took center stage. Dembele, who chose Dortmund over a host of top suitors when leaving Rennes this summer, gave a full account of his potential, accelerating toward the box before turning Marcos Rojo into a tailspin and emphatically firing past Sergio Romero, who had taken over in goal at the halftime interval.
Despite that strike, United had improved at the start of the second half. The arrival of Rashford offered not only a more natural presence up front but far better energy. It was the young forward's clever step-over that helped United to almost immediately reduce its arrears. Rashford's skill allowed Mata to get in behind and unselfishly square for Mkhitaryan. While the Armenian had minutes earlier blown a fine chance, his second in two games in a United shirt, this time he couldn't miss.
Any hope of a dramatic fightback, though, was extinguished as Dortmund regained its superiority following a flurry of substitutions. And Castro's rocket finish from 20 yards was a fitting finish to a fine Dortmund display. While results are far from the most important thing in preseason, United will not want a repeat of the scoreline when it takes on neighbors Manchester City in Beijing on Monday.
<iframe width="560" height="315" src="https://www.youtube.com/embed/UkMYLpXo6PI" frameborder="0" allowfullscreen></iframe>
© Copyright IBTimes 2023. All rights reserved.