VIDEO: Humpback Whale Breaching Jersey Shore Nearly Crashes Into Boat During Fishing Trip
A humpback whale interrupted a father-and-son fishing trip in New Jersey when it breached the sea and nearly knocked over their boat.
Doug and Zach Piller of Bucks County were out on a fishing trip along the Jersey Shore on Wednesday when dozens of small fish emerged from the sea, followed by a humpback whale's head.
Zach Piller, 23, shared the moment on Instagram, along with footage of the humpback whale's descent back into the sea, which involved the mammal nearly crashing into their boat.
"Uh-oh," Piller is heard saying in the video before the whale breaches the surface. Amid his excitement over the incident, Piller said several expletives before telling his father, "Got that on video!"
All the while, Doug Piller held on to his fishing rod as he tried to wrangle in one of his catches of the day.
While feeding on small fish near shore is within a humpback whale's normal behavior, Eric Otjen, vice president of zoological operations at SeaWorld San Diego, revealed breaching the shore near a boat is unusual.
The day the incident occurred, Pillar said the water appeared calm and glassy, and the weather reached a high above 70 degrees.
"This whale just happened to chase bait fish right next to a boat," Otjen explained. "The feeding part is common. Being that close to the boat is not. You probably have a better chance of winning the lottery. It popped up where it popped up."
Otjen suggested the whale could have been using the bubble-net feeding method, in which the humpback dives below a school of fish.
The whale then blows bubbles in a circle around its prey to create a virtual net and proceeds to swim upward with its mouth open to swallow the fish.
"The guys on the boat had an experience of a lifetime," Otjen said. "A lot of people would pay a lot of money to see what they saw."
However, experts say humpback whales can use breaches to communicate because the collision with the surface creates sound waves that travel long distances. The mammals may also slap their fins as an alternative way to communicate.
Despite the rare incident, Doug Pillar was able to hold on to his fish and "wasn't fazed at all" by the humpback whale's appearance during his trip on the sea.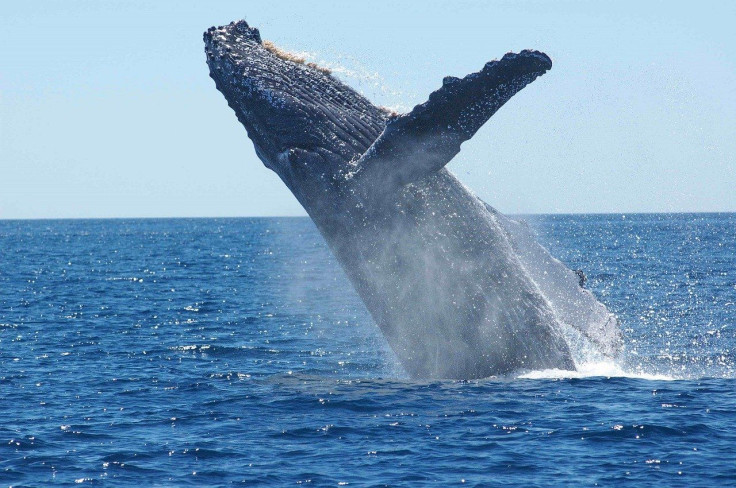 © Copyright IBTimes 2023. All rights reserved.