VIDEO Kobe Bryant Tribute: In Last Game, Bryant Puts On A Show Before Retirement, Scores 60 Points [Highlights]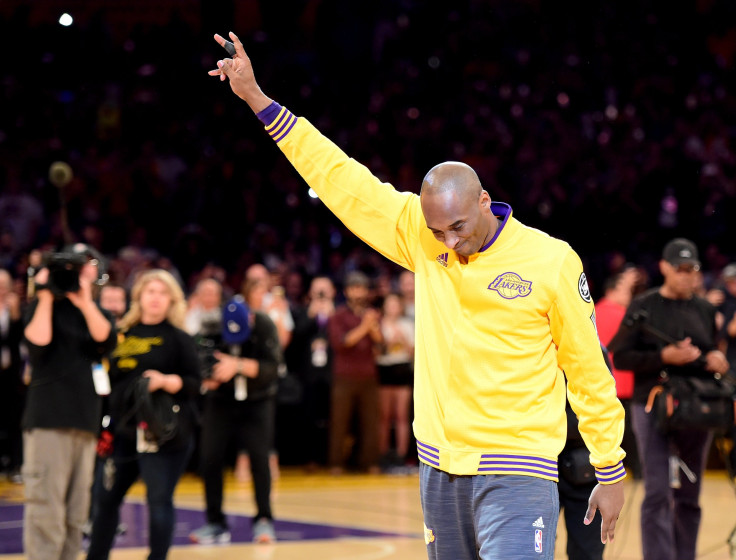 In the final game of his illustrious career, Kobe Bryant made sure to put on a show to remember. The future Hall-of-Famer scored a season-high 60 points in 42 minutes, leading the Los Angeles Lakers to a come-from-behind 101-96 victory over the Utah Jazz in arguably the best final game for any player in a team sport.
Bryant scored 15 of the Lakers' final 17 points, in a magical night at Staples Center on Wednesday. He shot 22-50 from the field, and added four assists and four rebounds.
On a night that began with a grand pregame special honoring the five-time champion, it was obvious that Bryant was going to make a big effort to score. It was his second-half surge that made the night so memorable.
The Jazz owned an 82-68 lead, but then Bryant took over. With driving layups and three-point shots, Bryant carried the Lakers on his back. The points came raining down in the final 3:04 minutes, with Bryant looking exhausted as he willed his team to victory.
It was a vintage performance by the third-greatest scorer in NBA history. The prevailing thought was that Bryant was looking to finish with 50 points and call it a night, but he would reach 51 points on a layup with 1:46 remaining and there was still time for the Lakers to earn a win. Bryant would drop another shot from 15 feet, and then follow with a three-point shot from the left side to keep the Lakers in the hunt.
With the Lakers trailing by one point, Bryant dribbled to the right side and drained a deep shot from just inside the arc with 31.7 seconds remaining. He would ice the game and score his 60th point on two free throws.
In the first half, Bryant took 20 shots, converting seven of them, to finish with 22 points. He missed a 24-foot three-pointer to start the game, and missed his next four shots.
But Bryant would also heat up in the early going, much to the delight of the home crowd that seemed to be there for him and nobody else. The 37-year-old would drill five consecutive shots including two three-pointers and a layup past Gordon Hayward.
"I can't believe how fast 20 years went by, this is crazy," Bryant told the crowd. "This is absolutely crazy.
"To be standing at center court with you guys, my teammates behind me, and appreciating the journey we've been on -- we've been through our ups and been through our downs. I think the most important part is that we all stayed together throughout.
"I grew up a die-hard, I mean a die-hard, Laker fan. I knew everything about every player that has ever played here. So to be drafted and then traded to this organization and to spend 20 years here -- you can't write something better than this."
Bryant acknowledged he "stunk it up" in the first five minutes, in an interview with ESPN's Lisa Salters.
The next stop for Bryant will be his number retired in the rafters of Staples Center followed by a visit to Springfield, Massachusetts.
It was a rare Lakers game from Staples Center, with fans soaking in the last game of one of the game's greatest players. With a palpable buzz, numerous celebrities in attendance and a national television audience watching, there was finally a reason to stand and cheer during a Lakers game. Los Angeles finished the season with the worst record in the Western Conference in what has been a rebuilding year.
The night began with a star-studded tribute for "the Black Mamba." Magic Johnson introduced the video montage that included fond farewells from LeBron James, Stephen Curry, Kevin Durant, Dwyane Wade and even actor Jack Nicholson.
© Copyright IBTimes 2023. All rights reserved.