VIDEO Preakness 2016 Winner: Underdog Exaggerator Holds Off Nyquist To End Triple Crown Hopes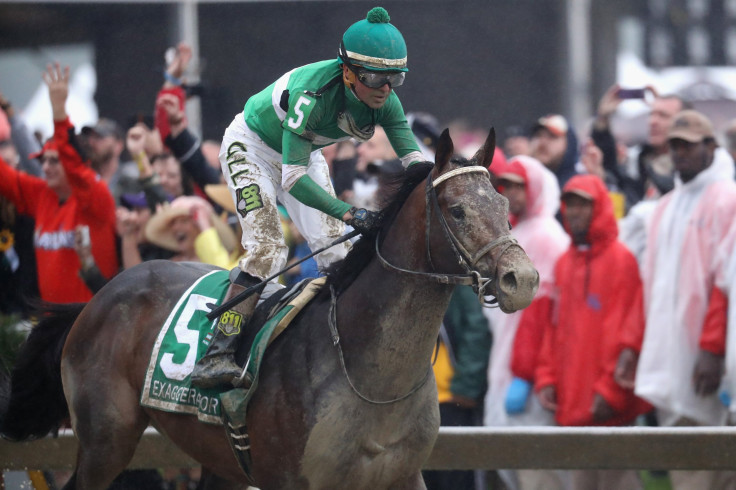 There's a new Triple Crown drought.
With the chance to claim the middle jewel of horse racing's biggest title, Exaggerator denied Nyquist a shot at the Triple Crown by claiming the 141st Preakness Stakes on Saturday at Pimlico Race Course in Baltimore.
Nyquist was hoping to be the 23rd horse in racing history to win the first two jewels of the Triple Crown and offer the sport a second straight crown after American Pharoah completed the feat last year.
Cherry Wine finished second and Nyquist third in the $1.5 million race. Exaggerator's connections will pull down an estimated $900,000 of the purse.
The loss snaps Nyquist's eight-race winning streak, Triple Crown bid, and shot at tying legendary Big Brown by remaining undefeated and winning the first two jewels of the crown.
With Nyquist bursting out of the gate with an early lead and sitting back in second after the first turn, jockey Kent Desormeaux kept Exaggerator away from the top pack for most of the race but much closer than in his previous four starts against Nyquist. Exaggerator suffered four straight losses to Nyquist before the Preakness, and he's the first Kentucky Derby runner-up to win the Preakness since 1993.
Desormeaux held Exaggerator back until the final turn, and cut off Nyquist and jockey Mario Gutierrez, who did take the favorite out perhaps a bit too wide down the stretch, for a huge bolt toward the finish line.
Exaggerator, trained by Desormeaux's brother Keith and owned by Big Chief racing, was considered Nyquist's biggest threat in the 11-deep field despite all those losses. His odds sat at 5-2 coming out of the No. 5 post compared to heavy favorite Nyquist's 3-5 odds at No. 3 leading up to the race.
It was the first Preakness victory for the Desormeaux brothers, but Keith didn't really consider the victory a family affair.
"I haven't thought about my brother one time," Keith said after the race. "I've thought about Exaggerator and his second Grade 1 win. I thought about WinStar getting on board and enjoying the ride with us. I'm gonna think about a beer for a little while and I might get to him later."
One of Exaggerator's owners was just as jubilant following the win.
"Wow. That is awesome!" Exaggerator owner Matt Bryan said as he hoisted the Woodlawn Vase trophy. "The people's trophy!
"Thank the good lord for raining on us today!"
Indeed, Exaggerator picked up his third career victory in the mud and knocked out what could have been a Triple Crown run.
WHAT. A. RACE! Congratulations Exaggerator!#Preakness https://t.co/P68bWvyEef

— NBC Sports (@NBCSports) May 21, 2016
© Copyright IBTimes 2023. All rights reserved.