VIDEO Spain 2-0 France: Highlights, Match Report; La Roja Ease Past Feeble French Into Euro 2012 Last Four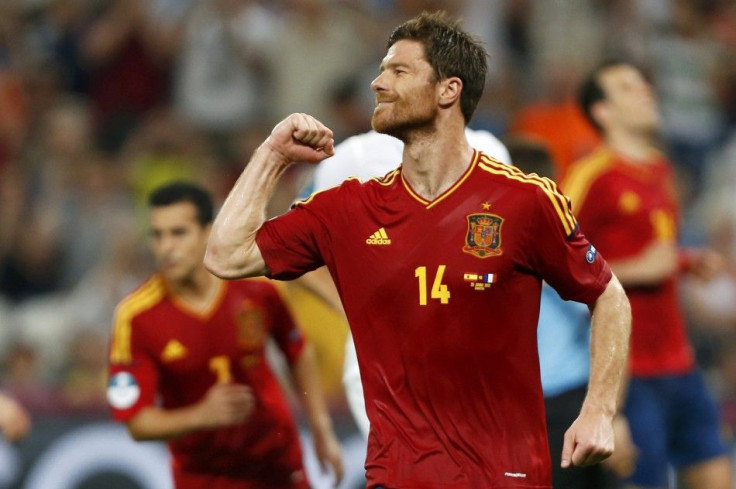 Spain cruised into the semifinals of Euro 2012 courtesy of a brace form Xabi Alonso that was more than enough to see off a listless France in Donetsk.
While Spain was far from their best, they always looked to have more than enough against a woefully ineffective performance from Laurent Blanc's side. Alonso gave La Roja a deserved first half lead with a back-post header before the Real Madrid midfielder put the result beyond doubt with a late penalty.
Blanc made some significant changes to his lineup, designed to cope with Spain's unique threat. Most notably Anthony Reveillere came in to play behind Mathieu Debuchy, which meant France essentially playing with five at the back when the opposition had the ball.
Two right backs were not enough to stop Jordi Alba from setting up the opening goal after 19 minutes. The left-back burst past both Anthony Reveillere and Debuchy, leaving the later on the turf before composing himself and picking out an unmarked Xabi Alonso at the back post, who stooped to head home. It was a fine goal from Spain, but enabled by some awful French defending. Florent Malouda and Yann M'Vila were conspicuous by their absence in the area as Alonso sauntered in and the midfield pair strolled back to the edge of the box.
The game plan that Blanc had set out seemed difficult to discern, with the players arguably more confused than anyone. While Debuchy sat back on the right, Franck Ribery appeared to have been given a free license on the left, leaving acres of space for Spain to exploit. If they possessed a better attacking right-back than Alvaro Arbeloa the score would surely have been more than one at the break.
By the time Spain had taken the lead they had already been denied a strong shout for a penalty as Cesc Fabregas tumbled under a challenge from Gael Clichy in the box. There was definite contact, but the unintentional nature of it made the referee's decision understandable.
France struggled to mount any kind of offense at the other end. Karim Benzema looked to threaten drifting wide and deep, while Ribery hanging forward had the potential to cause Spain problems on the counter.
It was little surprise that it took a set-piece to mount a first threat on Iker Casillas' goal. Yohan Cabaye hitting a curling free-kick from 30 yards that lacked the pace to beat the Spanish number one into the top corner.
It may not have been an onslaught by Spain but they still had further opportuniities to increase their lead.
Andres Iniesta played a typically Spanish one-two with Fabregas on edge of box, but Laurent Koscielny did well to recover and get a vital challenge in. France's defense was again nowhere to be seen, though, as Gerard Pique found himself utterly unmarked from a corner but was unable to get his header on target.
France began the second period in with the same lineup but with a noticeably more positive mind set, as Debuchy now operated as a more conventional right winger.
The Lille man even found himself in the box getting onto the end of Ribery's cross, but he put his header just over the bar from 12 yards out. It was to prove France's clearest chance of the match.
The more offensive outlook only made France's defensive lineup look ever more curious. Yet it wasn't until the 65th minute that Blanc brought on Samir Nasri and Jeremy Menez to restore what has been France's best combination going forward at Euro 2012. The offensive duo would prove unable to chanage the pattern of the game.
Spain largely seemed happy with to hold what they had. There was the odd spark of quality, noticeably when an incisive through ball by Xavi released Fabregas but Hugo Lloris was just able to prevent the former Arsenal star from taking the ball around him.
Despite the introduction of Fernando Torres and Pedro, Spain continued to display little desire to put France to the sword. The tempo had dropped off dramatically and Spain's passing was far from its imperious best.
Still a 1-0 defeat would have perhaps been an unfair reflection on France's meager efforts and Spain gave the score line a more fitting ring in injury time. Reveillere bundled down Pedro in the box and Alonso stepped forward to calmly slot the ball past Lloris.
Spain did enough, but against a Portugal side featuring an in-form Cristiano Ronaldo in the semifinals, they are likely to have to up their level considerably.
SPAIN 1 - 0 FRANCE But Alonso 19'
by medi1sport
SPAIN 2 - 0 FRANCE 90min But Alonso by medi1sport
© Copyright IBTimes 2023. All rights reserved.