Vietnam Sees Massive Foreign Investment Over Past Decade, Replacing China As Asia's New Manufacturing Hot Spot
Vietnam has replaced China and Taiwan as the newest favorite location of companies setting up overseas manufacturing operations, owing to its open economic policies, geographical position, political and economic stability, and, most importantly, abundant and cheap labor resources.
Samsung (KRX:005935), the South Korean electronics giant, plans to raise its investment in the northern Vietnamese province of Bac Ninh by two thirds, to $2.5 billion, according to Quartz. It is also building a $2 billion-plus factory in Thai Nguyen province to manufacture mobile phones, cameras and laptops -- the first of two plants that will eventually make up a $3.2 billion manufacturing complex.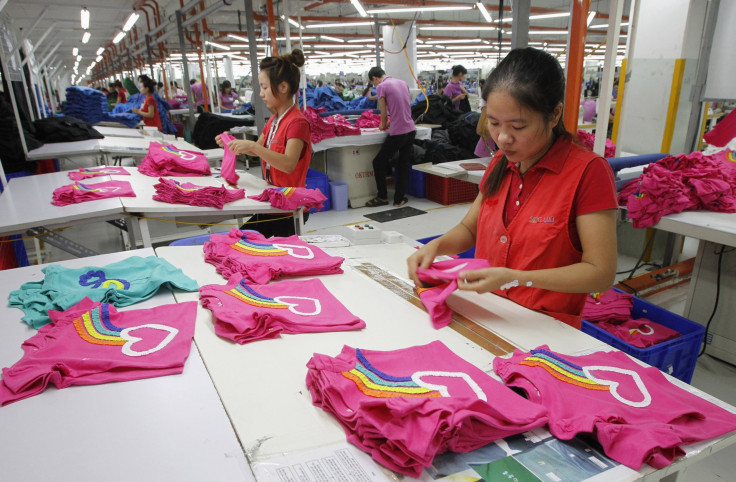 Previously, China, Hong Kong and Taiwan were known for their cheap labor, and many foreign companies chose to manufacture their products in these regions. The most well-known is Foxconn (TPE:2354), a Taiwanese company with productions in mainland China that makes the iPhone for Apple (Nasdaq:AAPL).
Now, however, the cost of labor is on the rise in China, and the country is thus not as competitive as before in low-cost electronics, according to Quartz. Further, Foxconn is planning to invest in researching its own products instead of just manufacturing for Apple, as the profit margin for a manufacturer is very small.
Vietnam, on the other hand, is offering foreign companies many incentives to invest, not just low-cost labor. Samsung is given huge tax breaks -- 10 percent corporate income tax versus a standard 25 percent. The country is also stable politically and has a young and increasingly well-educated workforce. In 2012, Samsung invested $11.3 billion in Vietnam and exported $12.5 billion worth of goods.
Vietnam is offering such incentives for good reason -- Samsung's plants already provide work for 24,000 people and have created an ecosystem of suppliers and subcontractors who employ another 50,000, Quartz reports.
Investment in Vietnam has grown tremendously. Foreign investment was virtually nonexistent a decade ago, according to a report by the U.S. Department of State on the 2013 Investment Climate Statement on Vietnam, but, over the last five years, it has been around $10 billion to $11 billion a year.
In 2011, 208 Japanese companies set up operations in Vietnam, investing more than $1.8 billion. In 2010, 114 Japanese companies came to Vietnam and invested $2 billion, according to the Financial Times.
Cheap wages are attractive to export-focused manufacturers like Bridgestone Corp (TYO:5108), the world's largest tire maker, and Panasonic Corporation (TYO:6752), the electronics group. Whereas unskilled workers in China now make $300 per month, Vietnamese workers receive half to a third of that amount. In addition, China's yuan has been on a steady rise, making investment less attractive there.
While Vietnam offers an attractive environment for investment, the country is not without its drawbacks, from the point of the view of foreign investors. In addition to widespread corruption, red tape and high inflation, Vietnam's infrastructure is still underdeveloped, the Financial Times reports.
FOLLOW MORE IBT NEWS ON THE BELOW CHANNELS