Vietnamese Rice Farmers Battle Vietnam Rat Infestation As Snakes, Cats Become More Popular With Diners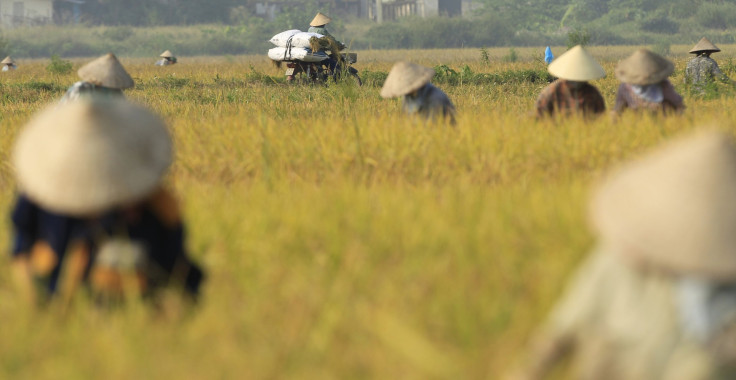 Vietnam's mighty rice industry is battling an ancient foe: Rats. The vermin, long a menace to the nation's robust rice farms, eat up to 20 percent of the annual grain crop and farmers have had enough. They are hiring workers to catch the rats and then dispose of them -- sometimes by eating them.
Rice is king in Vietnam. The communist country is the world's second-largest exporter of the grain and is expected to reap 45 million ton of paddy, or unhusked rice, this year, up 1.9 percent from 2013, according to Reuters.
But in recent years the rat population has imploded and threatened rice crops as snakes and cats have become increasingly popular protein sources in Vietnam. That's a huge problem for rice farmers. "Rats cause hundreds of millions of dollars of damage, before we even mention the risk of communicable diseases," said Nguyen Manh Hung of the Institute of Agricultural Sciences.
Part of the problem is that government officials want farmers to protects rice crops without using chemicals. But rats are difficult to catch. "We used to have to accept the loss of large chunks of our paddies -- the rats destroyed it. It made us wonder why we bothered working so hard," 46-year-old farmer Hoang Thi Tuyet told News 24. "It's hard to trap them, they're clever, they move fast and in Vietnam there are 43 different species of rat to contend with."
In Thai Binh, near Hanoi, government officials are encouraging farmers to kill rats by giving out cats to people who turn in rat tails. That means for some, rat killing has become a lucrative trade.
Tran Quang Thieu, who goes by the name "Rat King," catches about 10 kilograms of rats in rice paddies near Hanoi on a typical day. He uses a special rat trap he created himself that relies on very strong springs. He said he has killed millions of rats. "The agricultural losses caused by rats are enormous -- and these rodents can cause fires and explosions by chewing electric cables in houses and factories," he told News 24.
Thieu said he gets requests from all over the country from rice farmers asking him to catch their rats. He said he has sold 30 millions of his special traps to rice farmers in Vietnam and neighboring China and Cambodia.
Grant Singleton, a rodent expert at the International Rice Research Institute, trains farmers in Vietnam on how to kill the rats before they breed. More traditional methods include poisons, traps and electrocution, according to Radio Australia. Some rat hunters then sell their kill to restaurants or farmers to feed their livestock.
Vietnam's total rice export volume for 2014 is expected to be between 6.3 million and 6.5 million tons, excluding the grain sold to China, according to the Vietnam Food Association.
© Copyright IBTimes 2023. All rights reserved.
FOLLOW MORE IBT NEWS ON THE BELOW CHANNELS