Villarrica Volcano Eruption: Southern Chile Sees Lava, Ash And Thousands Of Evacuations [PHOTOS]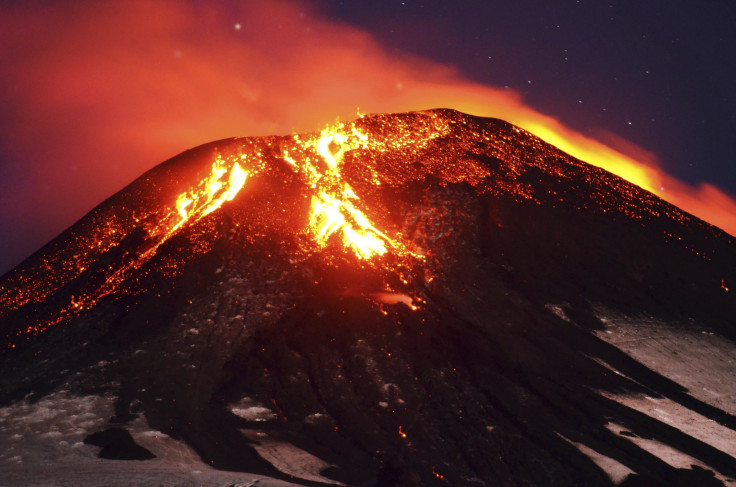 A volcano in Villarrica, Chile erupted early Tuesday morning, spewing lava into the sky and causing about 3,500 people to evacuate. The volcano, which the Associated Press reported is one of South America's most active, sent ash and smoke 3,300 feet into the air at about 3 a.m. local time. It did not cause any injuries to people or damage to infrastructure, according to Emol.com.
The volcano quieted about 20 minutes after the initial eruption. "There's no ash, no lava flow, the volcano is totally passive at the moment," local mayor Carlos Parra told BBC News.
Authorities have reportedly called an emergency meeting to debate how to proceed. President Michelle Bachelet announced plans to visit the area and urged people to keep calm. The National Emergency Office put out a red alert warning tourists and residents to stay away. "We are at the foot of the canyon making decisions," Parra said.
The incident did not come as surprise. Emol.com reported the volcano had been increasingly active in recent weeks, and officials had issued an orange alert Monday. School in the nearby towns of Pucon, Curarrehue and Villarrica was canceled, and residents evacuated as a precaution.
Going forward, ash -- not lava -- is the biggest issue because it can be spread easily by high winds. "It looks as though whatever ash there is should pass well south of Buenos Aires and mostly across the more sparsely populated parts of Argentina," said AccuWeather meteorologist Jason Nicholls.
The Villarrica volcano lies about 470 miles south of Chile's capital, Santiago. News outlets Tuesday disagreed on its recent activity:
Reuters reported
it last erupted in 2000, but
BBC News reported 1985
. The volcano is one of roughly 2,000 in the Andes cordillera, according to the Associated Press.
When the volcano erupted Tuesday morning, several local residents and media caught it on camera. See below for the best videos and photos:
© Copyright IBTimes 2023. All rights reserved.