Violence In Brazil: Police Killed Nearly 3,500 People In 2015, Report Says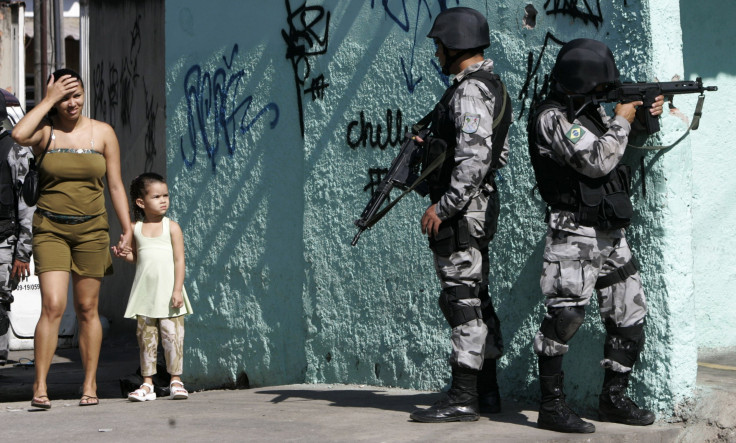 Brazil police, including officers who were off duty, killed nearly 3,500 people in 2015, and some of those incidents were extrajudicial killings, a report said. The report by Human Rights Watch (HRW), published Thursday, said the extrajudicial executions contributed to "a cycle of violence in Brazil."
"Chronic human rights problems plague Brazil's criminal justice system, including unlawful police killings, prison overcrowding, and torture and ill-treatment of detainees. Some recent reform efforts aim to address these problems, but other proposed moves would exacerbate them," the U.S.-based watchdog said in the report.
HRW found the number of people killed by law enforcement officers had increased by 6 percent compared to 2014, and a whopping 52 percent when compared to 2013. While the number of police killings in São Paulo, the country's most populated city, decreased by 17 percent in 2015, the number of killings in Rio de Janeiro — the state with the highest rate of police killings — increased by 11 percent during the year.
"While some police killings result from legitimate use of force, others are extrajudicial executions," the report said.
"The community's cooperation with the police is key to reducing the high levels of crime in Brazil," Maria Laura Canineu, Brazil director at HRW, said in a statement. "Turning a blind eye to police abuse not only denies justice to victims' families, it antagonizes communities and puts the police officers who patrol them at risk."
The nonprofit organization also noted that 395 law enforcement officers were killed in 2015.
The report also found that Brazilian prisons were overcrowded and violent. There are over 622,000 people in prisons currently, 67 percent more than the number prisons in the South American country were designed to hold. Officials documented cases of "torture and cruel, inhuman, or degrading treatment in 'most, if not all'" of the 17 prisons in six states from April 2015 to March 2016. Cells designed to hold nine people each held nearly 50 inmates in a jail in São Paulo state.
The report follows a series of prison riots earlier this month which left at least 100 inmates dead within a week. Many inmates were beheaded and dismembered in the riots. Brazilian President Michel Temer took three days to respond to the spate of violence, calling the riots "a terrible tragedy." He reportedly added that since the riots took place in privately-owned prisons, the state bore no responsibility.
Meanwhile, Justice Minister Alexandre de Moraes released a draft of a National Plan of Public Security last week in a bid to modernize Brazil's prison system and improve security. It includes the construction of five new federal prisons for dangerous inmates, along with nearly $250 million allocated for states to build their own prisons.
© Copyright IBTimes 2023. All rights reserved.
FOLLOW MORE IBT NEWS ON THE BELOW CHANNELS