Virgin Galactic To Start Commercial Spaceflight Service In 2 Months; Hundreds Already In Line
KEY POINTS
Virgin Galactic will first send a spaceflight in June with a team to conduct microgravity research
The company will then send commercial spaceflights every month starting early August
Some 800 tickets have reportedly been sold over the past decade, and early fliers have already been assigned seats
Virgin Galactic is all set to take customers to space with their long-awaited commercial spaceflights starting early August.
The aerospace and space travel company will first send a research flight in the last week of June before the monthly commercial flights begin.
Several hundred customers are already in line to travel aboard the rocket-powered space plane of Virgin Galactic, which is part of billionaire Richard Branson's Virgin Group.
Virgin Galactic announced Thursday it will first send its research spaceflight — Galactic 01 — between June 27 and June 30 with a team of specialists from the Italian Air Force and the National Research Centre of Italy. The team will conduct research on microgravity, reported AP News.
The company's second commercial spaceflight — Galactic 02 — will take off in early August with ticket-holding customers, some of whom have been waiting for years for the ride to space.
Monthly flights to space are expected to begin thereafter, the company said.
"We are launching the first commercial spaceline for Earth with two dynamic products — our scientific research and private astronaut space missions," CEO Michael Colglazier said in a statement. "This next exciting chapter for Virgin Galactic has been driven by innovation, determination and a commitment to delivering an unparalleled and truly transformative customer experience."
Some passengers have already been assigned their seats, the company noted.
Roughly 800 tickets for Virgin Galactic's trip to space have been sold over the past decade. The ticket currently cost about $450,000 per person, more than double the initial price of $200,000 each.
The company's spaceflight system is composed of two elements — the carrier plane and the six-passenger, two-pilot space plane.
During space trip, the carrier takes off from the runway with the plane under its wings. It will eventually release the plane after reaching an altitude of about 50,000 feet.
The space plane then fires up its onboard rocket motor and sends itself to suborbital space. Once in space, the plane is shut off, and passengers feel a few minutes of weightlessness as they take in the panoramic views of planet Earth from up above. Passengers are then brought back to the runway at Spaceport America in the New Mexico desert, the company says.
Virgin Galactic has poured years of research into making space travel a commercial experience for customers. The space tourism company has conducted different test missions, and their latest test flight was completed last month.
The company's shares saw a jump of over 40% Thursday following the announcement about the start of their commercial spaceflight service, CNBC reported.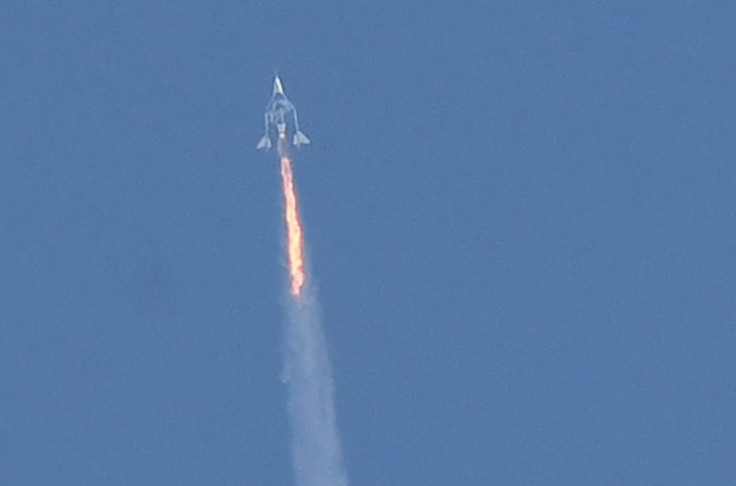 © Copyright IBTimes 2023. All rights reserved.