Volcanic Island In Pacific Ocean Growing Rapidly Due To Eruptions
KEY POINTS
A volcanic island in the Pacific Ocean is growing rapidly
Increased volcanic activity has been detected in Nishinoshima
The volcano on the island has been erupting continuously
Local agencies in Japan confirmed that an island formed by volcanic eruptions is currently going through a rapid growth spurt. Observations in the area revealed that its volcanic activity has been steadily increasing.
Located about 600 miles south of Tokyo, Japan, the island known as Nishinoshima first emerged from the sea during the 1970s. Then, following an eruption of an underwater volcano in 2013, another island emerged about 1,600 feet from Nishinoshima, Newsweek reported.
Satellite images taken in 2014 revealed that the two islands joined together to form one massive landmass. Since then, Nishinoshima has been growing steadily. As of January 2018, the entire island measures about 1 square mile with an elevation of about 500 feet.
For the past couple of months, authorities noticed that Nishinoshima had been rapidly growing. Observations conducted by the Japan Coast Guard in May revealed increased volcanic activity in the area in the form of ash and lava productions.
"The Japan Coast Guard observed strong explosions that generated a dense dark ash plume, which reached approximately 8,500 feet above the summit," Volcano Discovery stated in a report. "Volcanic ash is extending about 330 km to the northeast of the volcano. Lava effusions continue to be active on the northeastern slopes of the volcano."
On June 15, the Japan Coast Guard noted that the island's volcanic activity has resulted in continuous eruptions from the central crater. The eruptions caused lava to flow into the sea, creating new sections of land for the island.
Aerial observations conducted from June 19 to July 3 revealed that the southern part of the island has increased by almost 500 feet.
According to Volcano Discovery, a site that monitors global activity, the current status of Nishinoshima is erupting. On Saturday, the site reported that volcanic activity on the island produced a massive ash plume of about 27,230 feet tall. According to the site, it is considered as the highest ash plume produced by the volcano since 2013.
Based on the reports by the various agencies, it seems the eruptions on Nishinoshima will continue within the next couple of days or weeks. This means that the island may still continue to grow.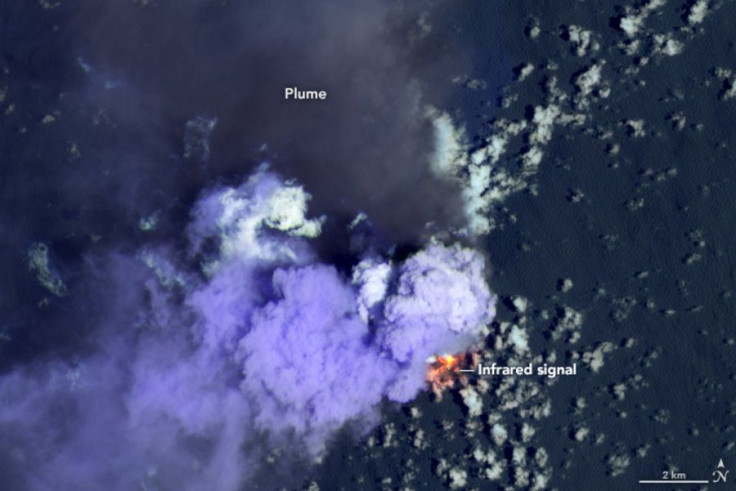 © Copyright IBTimes 2023. All rights reserved.