Volvo Execs Explain Swedish Carmaker's Relationship With Geely, Its Chinese Owner: 'Volvo Is Working On Its Own'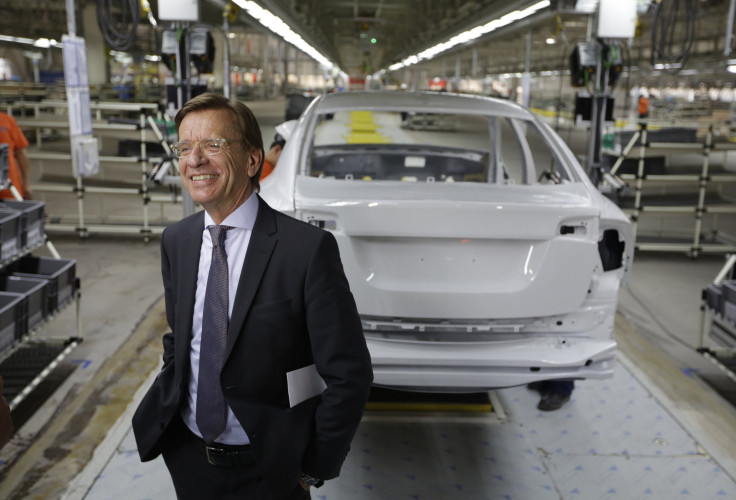 As Volvo Car Corp. embarks on its recovery from a lost decade, the company's leaders explain the relationship between Volvo and its new owner, Zhejiang Geely Holding Group Co. Ltd. Three years ago, the privately held Chinese automaker bought the struggling 86-year-old Swedish car company from Dearborn, Mich.-based Ford Motor Co. (NYSE:F) for $1.5 billion, which was a nearly $5-billion loss for Ford.
Since then, Volvo has been quietly investing $11 billion in a turnaround effort with the aim of reaching 800,000 unit sales by 2020, including 200,000 annual sales in China. The company is building factories in Sweden and China and working to wean itself off the platforms it used under 11 years of Ford ownership and direction. Volvo is scrapping V8 and V6 engines and focusing on V4 turbo engines with electrical assist. Like its engines, this is a smaller, leaner Volvo.
The company's 2014 U.S. lineup sheds the C70 convertible and C30 hatchback and includes significantly revamped versions of the S60 compact, the S80 mid-sized sedan, the XC60 compact crossover and the XC70 wagon. The 2015 XC90, a seven-passenger mid-sized luxury crossover due out in a few months, will be followed every six months by a new model. Volvo expects to be free of Ford components in all of its cars by 2016.
On Wednesday, Volvo's top executives met with a small group of reporters as part of their U.S. marketing campaign, which will also see the company seeking more modern and cost-effective ways to market to a younger audience (think: social media). Meanwhile, Volvo has its eyes firmly on its largest market, China, where it is seeing sales growing faster than anywhere else. This week the company opened a new factory in Chengdu and rolled its first elongated China-only version of the S60 off the assembly line.
International Business Times asked Volvo's top executives about the company's new owner and how the new boss is (or is not) just like the old boss.
IBT: What does Volvo have to gain with its relationship with Geely in China. Is Geely helping Volvo set up dealerships, for example?
Hakan Samuelsson (Volvo group president and CEO): The dealer network is totally separate; it's a standalone operation. We built three factories, and of course there we have had support from Geely with the red tape issues, licenses, with the contacts, and of course financial support. And we can do everything faster than we would have done on our own. So we're growing faster in China with their help, but there is no mix-up. The factories are all 100 percent Volvo; the dealers are 100 percent Volvo.
Alain Visser (Volvo Car Group senior vice president of marketing, sales and customer service): My sales and marketing organization is a two-hour drive from the Geely office. It's a separate organization. Our dealer network is either private groups or private investors in China. The relationship between those groups and Geely is nonexistent.
IBT: What kind of feedback do you get from Geely? I know you aren't going to get a lot of technical direction, but, for example, do you get advice on design of future vehicles?
Lex Kerssemakers (Volvo senior vice president of product strategy and vehicle line management): We always get advice on design. [Laughter]
Visser: There are some aspects of the car industry, like advertising, where we always get advice. [More laughter.] I think as Hakan said earlier: Volvo is working on its own. I've been with the company for a bit more than a year. I don't see Chinese walking around at our headquarters in Gothenburg [Sweden]. I don't see any reporting or information-gathering from Geely on the sales and marketing we're doing. What we do see in the context of Geely is they can learn from us; it's a learning experience from a product point of view as well as sales and marketing point of view. This is a perfect marriage. This is nothing at all like the Ford-Dearborn relationship of full ownership. It is two separate organizations where we act as an independent company and take our decisions.
IBT: But, again, I'm wondering about what Volvo is learning from Geely about marketing to the Chinese consumer.
Kerssemakers: When, for example, we started the production of the S60L, the extended version [exclusively for the Chinese market], we had an engineering team in China. Obviously they're not all Swedes. There are a very small number of Swedes; the rest are all Chinese, and of course they know the customers better than we will ever do. So in that respect, yes, you get influences and some input. But on a corporate level, no.
Visser: I would take that further and say that even if there were zero links with Geely, our knowledge of the Chinese customer would be identical, because my team in China is 99 percent Chinese – they are our experts on the Chinese market. We don't need to knock on Geely's door to get information about the Chinese culture. I knock on my team's door in China, who are Chinese and who have automotive experience in China. We brought in people from other manufacturers, so there is the automotive experience in China within the Volvo China team that is very independent of the Geely organization.
IBT: How long has that team been in place?
Visser: It's a relatively new team that we have been building over the last year. We're talking about between 250 and 300 people based in the Shanghai area that really run the entire sales and marketing units for China with this ambitious plan of growing from last year's 35,000 [unit sales in China] to 200,000 by 2020. I would dare to say that where we are today we're well on track. The Chinese market is growing at under 20 percent, and we're growing at about 40 percent a year, outpacing the market growth.
Kerssemakers: Unlike the 10 years that Volvo was owned by Ford, this is a totally different setup. We always had contact with the functions [of Ford] in Dearborn. Despite the fact that Volvo remained very independent just like Jaguar and Land Rover during the Ford period, there was always this connection, managed [by Ford] under a supervisory board. That's not our connection to the outside world anymore, with a supervisory board. Of course there are always informal contacts, because we try to help [Geely] and they try to help where they can. That happens, but from a reporting perspective it's the [Volvo] board [of directors]. Coming back to what Hakan said, we are operating as a normal, totally independent company. The Chinese are handling this extremely well. They have very high respect for the brand and they said, "OK, we have Geely and we have Volvo." In the beginning you think, "OK, that's a nice line at the beginning of a corporation" [when Geely bought Volvo from Ford in 2010], but after three years that's exactly the same setup.
© Copyright IBTimes 2023. All rights reserved.