Wal-Mart, Bharti End Their India Joint Venture; Companies To Operate Independently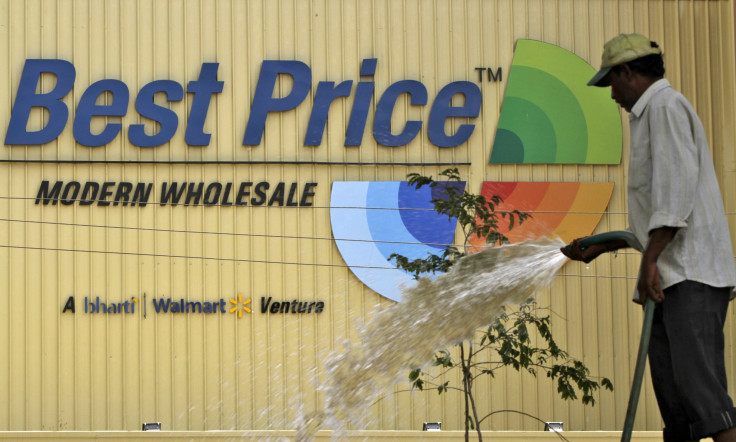 Wal-Mart Stores (NYSE:WMT) and Bharti Enterprises have called off their partnership in India and have decided to independently pursue their separate businesses in the country's retail sector, the companies said in a joint statement on Wednesday.
According to the agreement, Wal-Mart will acquire Bharti's 50 percent stake in their joint venture in Best Price Modern Wholesale stores that run cash-and-carry operations serving local businesses across India. Bharti will buy compulsory convertible debentures held by Wal-Mart in Cedar Support Services, which operates the Easyday chain of retail stores.
"Bharti is committed to building a world-class retail venture and will continue to invest in Bharti Retail across all formats. We believe that with our current footprint of 212 stores, we have a strong platform to significantly grow the business and delight customers," said Rajan Bharti Mittal, vice-chairman and managing director of Bharti Enterprises, in the statement.
The breakup was not unexpected as recent statements by Scott Price, president and CEO of Wal-Mart Asia, and Bharti's chairman, Sunil Bharti Mittal, had noted that the companies were reconsidering the partnership. Local media reports citing sources also had said that Bharti was growing wary of the partnership and was considering divesting in the joint venture.
Bentonville, Ark.-based Wal-Mart started its wholesale cash-and-carry and back-end supply chain management operations in India in 2007, along with Bharti Enterprises through their joint venture, Bharti Walmart Private Limited. The first store was launched in 2009 in Amritsar, in the northern Indian state of Punjab.
"Given the circumstances, our decision to operate independently will be beneficial to both parties," Price said in the statement, adding that the company will "continue to advocate for investment conditions that allow FDI (foreign direct investment) multi-brand retail in India."
Wal-Mart had plans to expand the wholesale joint-venture partnership to the country's growing retail sector and had announced that Bharti would be a natural partner for retail operations, after the Indian government allowed foreign retailers to own 51 percent of Indian operations in September 2012.
However, ambiguity in the rules and tough pre-conditions on investment patterns by the government have discouraged foreign retail players like Wal-Mart from entering the sector despite the much-awaited relaxation in FDI rules.
Moreover, the partnership between Wal-Mart and Bharti seemed to be fraying in recent years as corruption scandals and government inquiries into alleged malpractices by the companies hurt their expansion plans.
Wal-Mart is facing a probe in India for allegedly violating the country's foreign exchange norms, and has been accused of "clandestinely and illegally" investing $100 million in India's retail market through Bharti Enterprises from 2010.
In November 2012, Bharti Walmart suspended its chief financial officer and other employees, pending the outcome of an investigation into a bribery charge. Raj Jain, president and CEO of Wal-Mart's India unit was replaced by Ramnik Narsey as interim chief in June. The company did not specify the reasons for Jain's departure.
Wal-Mart announced last November that the company was investigating allegations of corrupt practices in foreign markets, including in India, as part of a worldwide review of its policies and practices to ensure compliance with the Foreign Corrupt Practices Act in the U.S.
© Copyright IBTimes 2023. All rights reserved.