Wal-Mart (WMT) Store Starts Food Drive For Its Own Employees So They Can Afford Thanksgiving Dinner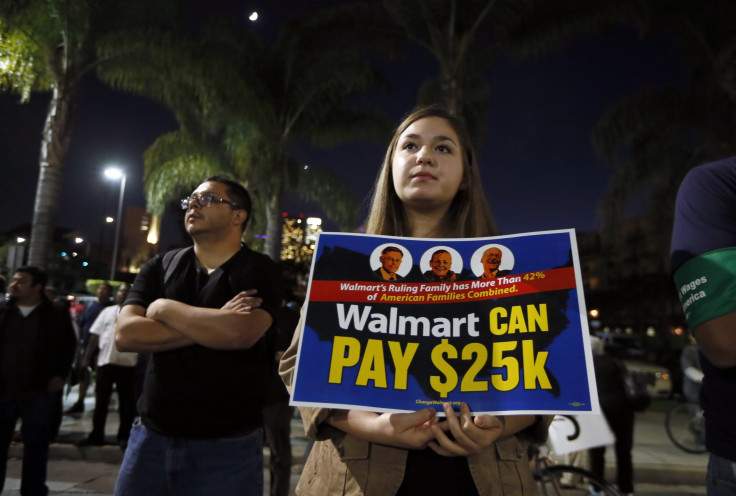 A Wal-Mart store in Canton, Ohio, has started a Thanksgiving food drive for its own workers.
In the latest can-this-really-be-happening moment in Wal-Mart (NYSE:WMT) land, the store put out several plastic bins in the employees-only area of the store and placed a sign on them that said, "Please donate food here so our associates in need can enjoy Thanksgiving dinner."
The move highlights the practices of Wal-Mart and other firms that pay low wages and provide skimpy if any benefits to part-time workers like cashiers, stock clerks and other positions, according to a report in the Cleveland Plain Dealer.
Kory Lundberg, a Wal-Mart spokesman quoted in the report, said the food drive is proof that Wal-Mart workers worry and care about each other. "It is for associates who have had some hardships come up," he told the paper. "Maybe their spouse lost a job. "This is part of the company's culture to rally around associates and take care of them when they face extreme hardships," he concluded.
Others, not surprisingly, were less generous in their interpretation of the action.
Norma Mills, told the paper that she felt "anger and outrage" at the circumstances. She went on to say, "That Walmart would have the audacity to ask low-wage workers to donate food to other low-wage workers -- to me, it is a moral outrage."
The report also pointed out that Wal-Mart workers in two other Ohio cities, Cincinnati and Dayton, are scheduled to go on strike Monday.
One Cleveland store worker called the food drive "demoralizing" and "kind of depressing."
Some employees supported the food drive, which they and the company pointed out to the paper has been going on for some years.
Canto store worker Erica Reed said past food drives have helped her feed her family after her children's father was unable to pay child support after he went to prison.
"It took a burden off me. I didn't have to worry about how I was getting my turkey to feed them Thanksgiving dinner," she told the paper.
Lundberg also added that while this food drive is hosted at the store level, it is indicative of Walmart's stance towards charity. The Walmart Associates in Critical Need Trust, Lundberg says, is a charitable organization offering employees grants up to $1,500 for problems such as homelessness and major illnesses. The trust, however, is largely bankrolled not by Walmart itself but by donations made by Walmart employees through payroll deduction.
Meanwhile, labor rights group the Organization United for Respect at Walmart (OUR Walmart) sees a different story, one implying that Walmart acknowledges it is deliberately denying its employees a living wage.
Vanessa Ferreira, an OUR Walmart supervisor, spoke out against the Canton Walmart's food drive for employees. "Why would a company do that?" she told the Plain Dealer. "The company needs to stand up and give them their 40 hours and a living wage, so they don't have to worry about whether they can afford Thanksgiving."
© Copyright IBTimes 2023. All rights reserved.