Wall Hastily Erected To Block View Of Slums Ahead Of President Trump's Visit To India
A brick wall has been hastily erected in the state of Gujarat, India, just days before President Donald Trump is set to visit the country. According to critics, the wall has been built to hide a slum area inhabited by at least 2,000 people.
On his 2-day trip to India, Trump will visit Ahmedabad city in Gujarat to attend an event called "Namaste Trump" being held at a cricket stadium. It is similar to the "Howdy Modi" rally attended by the Indian Prime Minister Narendra Modi in Houston. During the visit, Trump was supposed to pass through the road which is next to the slum.
"Since they are spending so much money on this wall, why not use that to improve our slum and provide better facilities for us. Why are they hiding us, poor people?" Keshi Saraniya, a resident of the slum told The Associated Press.
Prime Minister Modi's political rivals criticized the government's decision to build the wall and block the view of the slum. They questioned Modi's claims of having brought development to the state when he was the Chief Minister of Gujarat for 12 years.
However, a senior government official claimed that the wall was not built to conceal the slum and it was instead built for security reasons. According to her, the wall was also a part of a beautification process and cleanliness drive.
As per reports, the half-kilometer (1,640-foot) brick wall was initially planned to be 1.8-2.1 meters (6-7 feet ) high. However, it received widespread publicity and the height was later reduced to 1.2 meters (4 feet).
In addition to building the wall, eviction notices were served by authorities to 45 families living in another slum area, which is close to the cricket stadium where the event will be held.
A resident of the slum told Associated Press that they were told to vacate immediately due to "some important leader" visiting the city, terming the government's actions as unjust.
Ahmedabad's civic body, however, denied claims that the residents were being asked to evacuate due to the upcoming event at the stadium.
According to Kishor Verma, a government official, the evictions were under the law as the land belonged to the civic body.
Trump is visiting India on Feb. 24-25, aiming to calm the tensions escalated due to the trade disputes. He also sees this as a chance to woo tens of thousands of Indian-American voters ahead of the U.S. presidential election, the Associated Press reported.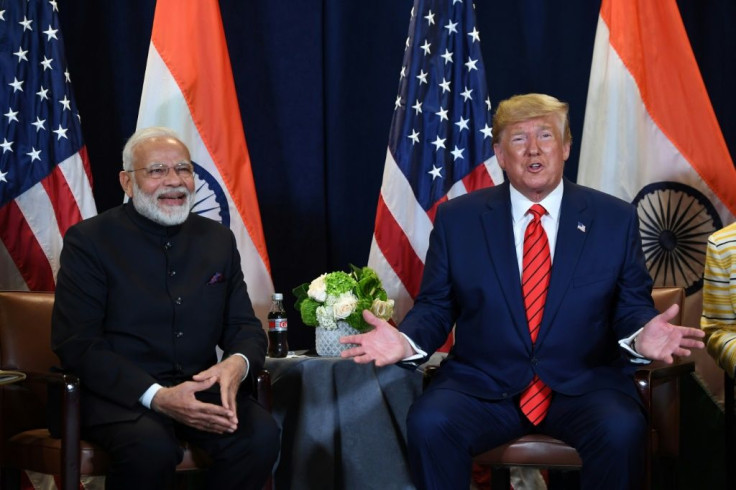 © Copyright IBTimes 2023. All rights reserved.